Scholarship celebration honors students and donors
More than $500,000 in scholarships awarded by LAS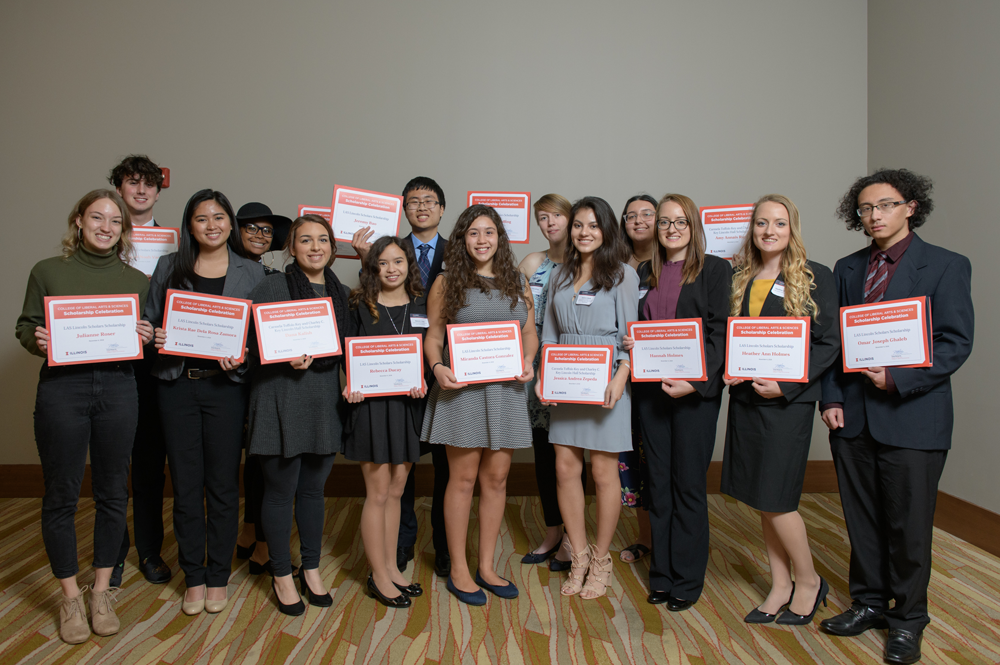 Almost 150 students in the College of LAS receive more than $500,000 in scholarship awarded through 51 different college-level scholarship funds for the 2018-19 school year. The recipients and donors were honored recently on campus for an LAS Scholarship Celebration.
The second annual event drew more than 160 people, including students, faculty, donors, and other guests, to the I Hotel and Conference Center. Attendees were able to meet and peruse descriptions of scholarships and the students who received them.
"Scholarships are a critically important means of support for many of our students, and all of the students who have received one have worked hard to be recognized in this special way," said Feng Sheng Hu, the Harry E. Preble Dean of the College of LAS.
"We share our appreciation with all of the donors who make these scholarships possible," Hu added. "As our campus conducts its most ambitious philanthropic campaign ever, empowering more students with scholarships remains one of our highest priorities."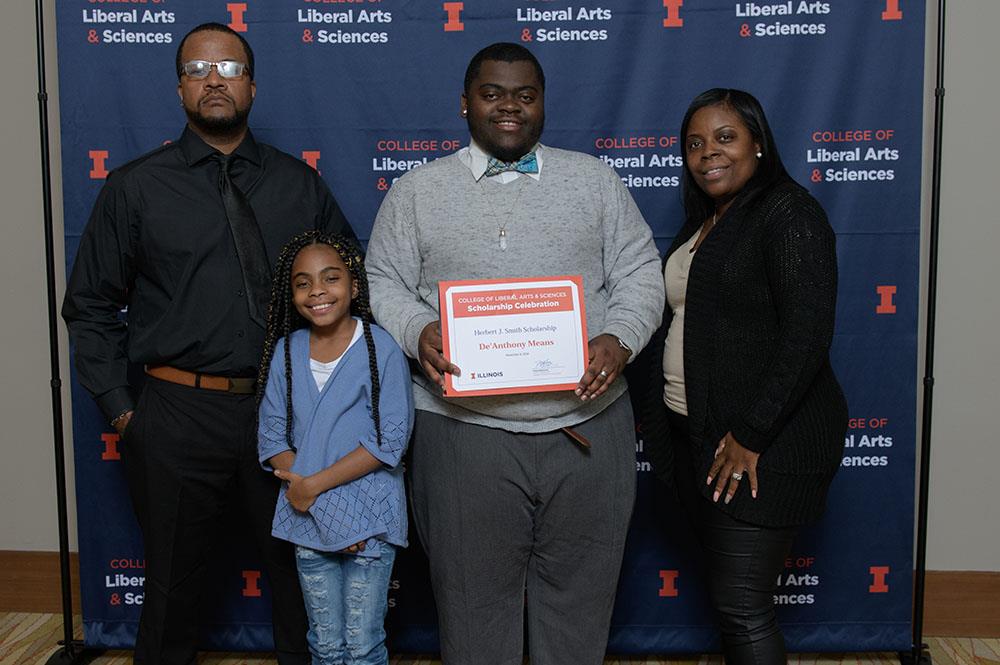 Students came from a variety of backgrounds and majors. Descriptions of just a few of the attendees at this year's event are below.
De'Anthony Means, a freshman from Chicago majoring in psychology and political science, is already active on campus through student organizations such as 100 STRONG, C.O.R.E., the Black Psychologist Association, and the Minority Association for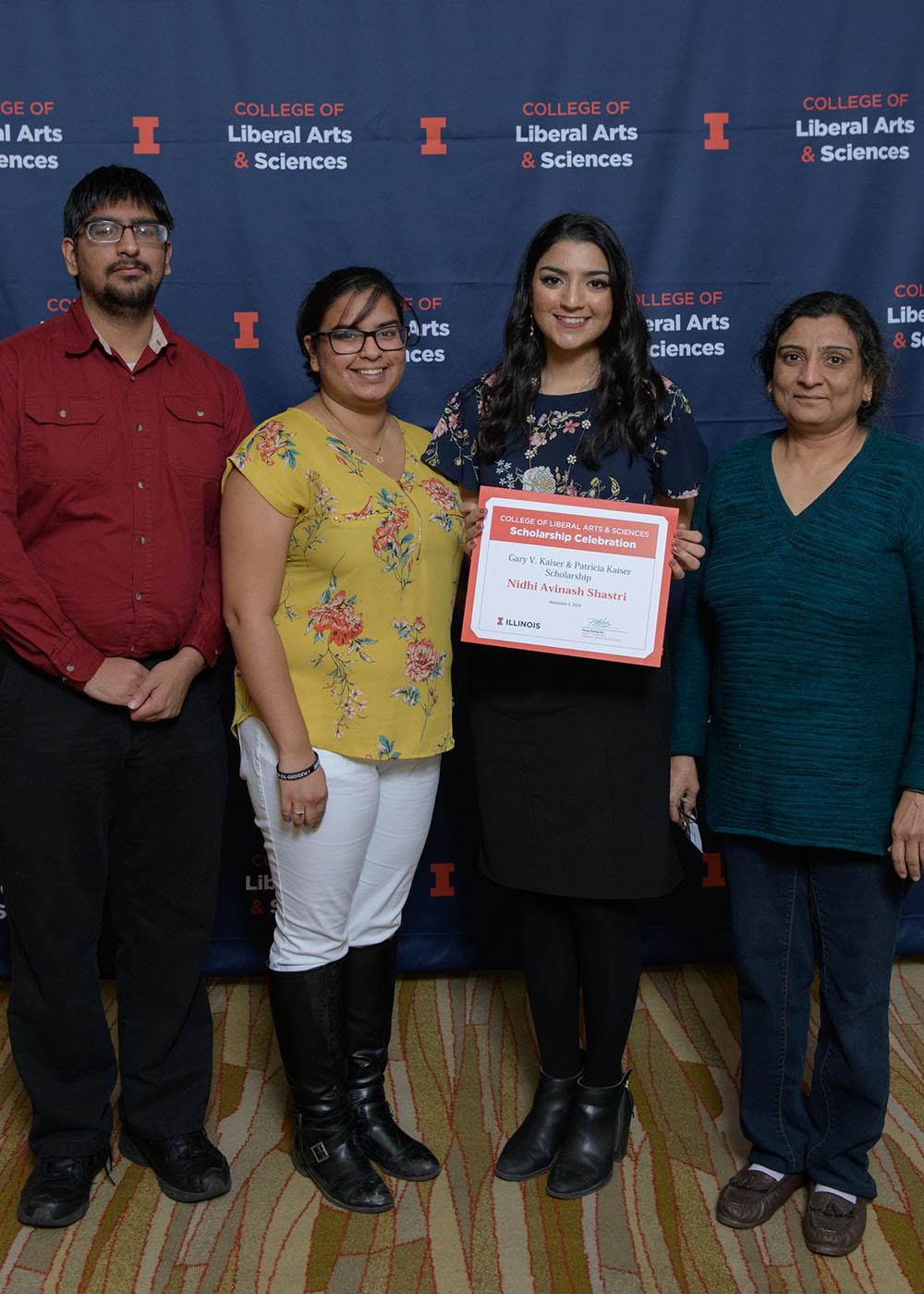 Future Attorneys. He is treasurer of the Salongo chapter of the Central Black Student Union, and he plans to attend law school to become a criminal defense and civil litigations attorney. He is a recipient of the Herbert J. Smith Scholarship.
Jeremy Bao, a freshman from Westmont, Illinois, majoring in statistics and computer science, wants to learn how to obtain and analyze important information for policy makers. He plans to pursue a master's degree in statistics, and he is a recipient of the LAS Lincoln Scholars Scholarship.
Molly Christine Banwart, a junior from Algonquin, Illinois, is majoring in linguistics and minoring in French. She is vice president of the League of Linguistics, and is also involved in the James Scholar Student Advisory Board, the Horticulture Club, and Cru. She plans to pursue a doctoral degree in historical linguistics, and she is doing so with help from the Clarence and Pauline Cohn Memorial Scholarship.
Michael Lars Pihl, a junior from Marseilles, Illinois, is majoring in history with a minor in secondary education. As a third-generation student at Illinois, his goal is to find a high school history teaching position that provides him with coaching opportunities. He is a recipient of Robert H. Bierma Scholarship.
Nidhi Avinash Shastri, a senior from Hoffman Estates, Illinois, is pursuing a double major in political science and earth, society, and environmental sustainability. She has worked on the boards of two student organizations as well as working as a multicultural advocate and on-air newscaster. She worked as an intern for the Natural Resources Defense Council in Chicago, and she is a recipient of the Gary V. Kaiser and Patricia Kaiser Scholarship.