Lincoln Hall art represents student journey
New display installed in LAS Student Academic Affairs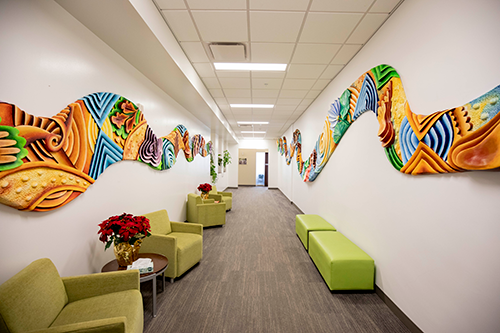 What better way to represent college life than as a long, winding—sometimes bumpy—and colorful journey? In the spirit of enhancing an encouraging atmosphere where students go for assistance on academic matters, the U of I has installed an art piece, "Journey Into Possibilities," by Indira Freitas Johnson, in LAS Student Academic Affairs.
"Journey Into Possibilities" aims to demonstrate students' movement through college both physically and metaphorically. Installed late last fall, it's a three-dimensional display stretching some 150 feet from the reception area to advising offices. Comprised of earthy tones of blue, brown, purple, yellow, and greens, the piece includes various shapes and textures to symbolize the different pathways, connections, and diversity in the college.
View a video featuring an interview with the artist here.
Johnson incorporated hands and feet, which, she explained, are very powerful symbols that resonate across cultures. Incorporating various cultural elements was a very important to Johnson in conceptualizing this piece.
"The hands, especially, are for caring and nurturing, and the feet are for following the footprints of your forefathers or foremothers as (well) as moving along in your own journey," Johnson said. She chose earth tones for their calming properties, and other symbols, such as spirals, represent growth and progression. Meanwhile, an interplay of colors, lines, and shadows are intended to inspire contemplation.
Johnson said that setting of an advising space for "Journey Into Possibilities" was a major consideration as she planned the piece. She wanted to portray student experiences and maturation in the art, as the office is where students seek help during some difficult times.
"Giving them something that was calming and (that) spoke on different levels was what I wanted to bring," Johnson said.
The piece was approved by the Illinois Capital Development Board. It's connected to the Lincoln Hall renovation, completed in 2012, which included money for public art displays. Johnson created the piece with ceramic and then cast it in polyester resin and fiberglass so that it would be light enough to mount on the walls. It was transported in a 26-foot truck from her studio in Evanston, Illinois, to Lincoln Hall.
Johnson hopes that students resonate with the piece by relating it to their own life experiences.
"I hope they see some of the different symbols in there, that they relate to some of them depending on how they interpret it themselves," Johnson said. "I think my interpretation is one thing but for them to bring their own experience and interpretation to it, hopefully, they feel a sense of calmness and encouragement from this journey."