Getting more girls into geoscience
Students organize unique summer camp for middle schoolers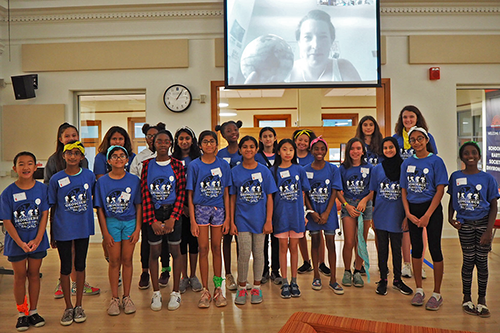 When Aida Guhlincozzi and Julia Cisneros were younger, they each attended science camps that helped spark their interest in the geosciences.
As they moved up the academic ladder, however, and each finished their undergraduate degrees at Texas A&M before coming to graduate school at Illinois, they noticed there were fewer and fewer women—especially women of color.
Guhlincozzi, a PhD candidate in geography and geographic information science, and Cisneros, a PhD candidate in geology, wanted to begin to affect change themselves.
So, they came up with the idea to conduct a camp for middle school girls to break down barriers to geoscience. And on August 12-13, their vision became a reality, as 30 campers from local middle schools came to campus for two days of weather balloon launches, volcano demonstrations, drone flights, and other experiments and lessons in geoscience, including a live Skype discussion with NASA scientists.
It was an immediate success. In fact, Guhlincozzi noted that demand for the camp was so high that they had to turn away about 40 students because they didn't have the resources to take more. That should change next year, though, as the graduate students are planning to expand the camp.
"We're really invested in science education and getting more students like us into the geosciences," Guhlincozzi said. "We're both Latina and we both come from non-geoscience-heavy backgrounds, and we love it. We think this is a wonderful field to be in, but, unfortunately, it's not something that gets accessed by a lot of people of color and people of underrepresented backgrounds, (or all) financial backgrounds as well."
The two of them reached out to the School of Earth, Society and Environment early last year about the possibility of running a camp program. Their vision was a cost-free camp consisting of engaging activities designed to ignite interest in geoscience careers.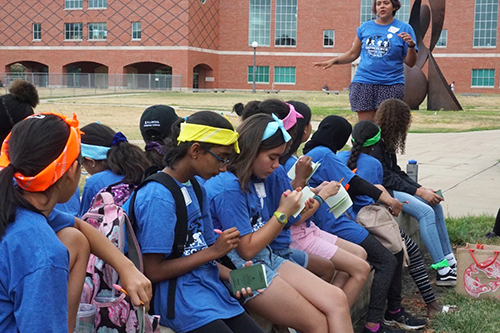 SESE gave the green light to approach this daunting task, and Cisneros and Guhlincozzi began reaching out to Champaign middle schools where there might be interest. Franklin STEAM Academy agreed to let them come to the school to pitch the camp directly to students, and, when SESE gave Cisneros and Guhlincozzi full support and funding for the camp, the students also received permission from Franklin STEAM Academy, Jefferson Middle School, and Edison Middle School to email camp information to parents. Next year, the camp plans to work with Urbana schools as well.
Speaking of igniting interest, the camp kicked off with an explosive 'trashcano' simulation, which replicated a volcanic eruption. Then, the campers conducted GPS surveys of explosion debris to simulate the volcanic debris from Olympus Mons, a Martian volcano that stands as the largest planetary mountain in the solar system.
That aspect of the camp stuck out to Tode Wilson, a camper.
"I was really excited for the Mars mission (simulation) when I saw it on the flyer," Wilson said. "That's what I'm really excited for. I'm also just excited for the camp in general."
After the campers finished their GPS data collection — which was also aided by a drone flown above the Bardeen Quad — they watched as camp staff launched a weather balloon. For Wilson, being able to see and engage with the experiments and simulations made for a valuable experience.
"(In science), you can learn things that you never learned before and do experiments that are extremely cool," Wilson said. "People who do science, on places like Youtube, they mess with things that you would never really expect to mess with."
Another camper, Aarnavi Kollipara, had her interest piqued by the activities, and was able to articulate what makes science so appealing.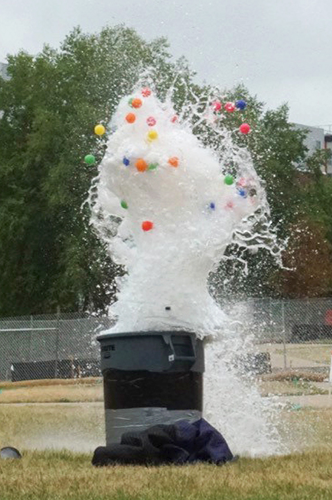 "I like how it's so out there," Kollipara said. "It's about multiple things… Science is all about the world. I like that."
It only got sweeter when NASA and Mars scientists Liz Rampe and Briony Horgan Skyped in to speak with the campers. 
Cisneros thought that the discussion was a special experience, particularly because both Rampe and Horgan are women scientists who have broken through in the geosciences. According to a 2018 feature in Nature Geoscience, the geosciences in general are the least diverse of all the STEM fields, and they have not seen an increase in representation across demographics over the last several decades.
"They had a full-hour discussion," Cisneros said, of the women scientists. "It was like, 'What does it take to be a scientist? What does it take to decide rover operations? What is the science that we're asking and how do we go about doing that?'"
There is also tremendous value in getting middle schoolers on a college campus to do work that college students might do, according to Guhlincozzi.
"When you don't know what (college) is, what it means and what it looks like, it's scary," Guhlincozzi said. "Once you know, it becomes way easier. Then when you get pushback, you can say, 'No, no, no, I've done it. I've been there, I know people who can help me.' I think that's the biggest thing, giving them confidence and the opportunity to see what's possible."
Cisneros said that having campers do real work, such as using the Natural History Building's computer lab and programs to analyze GPS data from the trashcano explosion—and expand that to an Olympus Mons-size eruption—gave campers confidence and grew their interest.
Cisneros and Guhlincozzi said that every single one of the campers who came to campus for the camp can go on to have successful, fruitful careers in geosciences — or in any field, for that matter.
"I think it's empowering," Cisneros said. "It gives you an example of something you can do and it shows you that it's tangible."