Humanities Expo highlights academic and career opportunities for students
First-of-its-kind event hosted by Humanities Professional Resource Center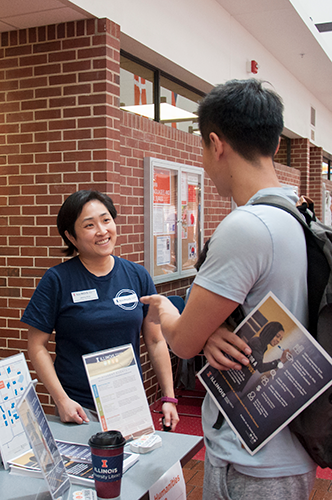 You might call it Quad Day for the humanities. The first ever Humanities Expo was conducted last week at the Foreign Language Building, where almost 50 registered student organizations and academic units set up booths and tables for students to learn about majors, careers, and other opportunities available to those interested in the humanities disciplines.
Presenters at the expo included everyone from campus institutions, such as the Spurlock Museum and the Siebel Center for Design, to student clubs, such as Books 2 Prisoners and Students for the Study of Religion.
Molly Smith, a sophomore in the College of Fine + Applied Arts and stage manager for the What You Will Shakespeare registered student organization, said being a part of the humanities at the university is how students learn how to interact with people. Smith was at the expo to help spread information about her organization.
"I always believe humanities are the gateway of the soul to our world," she said. "The importance of literature and especially theater is [that] they are what keeps us human. We get to look back into history and pull out lessons and stories and we can spread messages that make people feel alive."
The expo was hosted by the Humanities Professional Resource Center (HPRC), a newly created program to offer career advising and opportunities for students studying humanities. Center director Kirstin Wilcox said the expo will be a yearly event to give students a chance to see and understand the humanities programs that are available to them on campus.
"Humanities degrees give you a lot of useful tools that can be applied in different ways," she said. "The Humanities Professional Resource Center is there to help students figure out what it is they want to build their skills in and how they want to use them."
The HPRC was created from an investment for growth proposal to fund humanities and professional resource centers. In February, the University of Illinois System created a $2 million initiative to celebrate the humanities over the next two years. Because of this initiative, programs such as HPRC are able to offer students useful resources such as the Humanities Expo.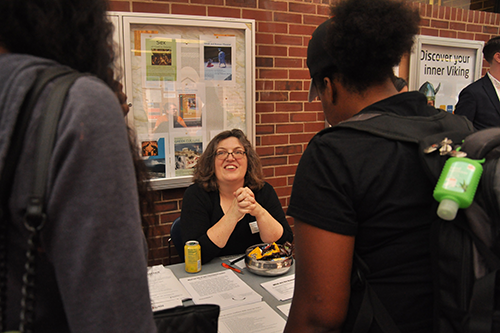 The programs and organizations at the Expo helped guide students to ways of getting relevant experience beyond the classroom and thinking about career paths. Anna Ivy, an academic advisor in the Department of English, said humanities degrees can be important to many careers.
"Every professional realm needs people who are good at the kinds of things humanities students are good at, even in STEM fields," she said. "We want our students to be valued and visible. We are really hoping campus will see and the students can recognize their own value."
Wilcox, for example, said every industry needs people who can solve problems with words and critical reasoning—which is exactly what many humanities disciplines are well-suited for.
"It makes sense for students to major in the area of the humanities that interests them most, because they'll all develop similar capacities in writing, language, communication, and building relationships," Wilcox said. "The Humanities Professional Resource Center didn't exist last year, but there clearly seems to be a need and an interest in it."