Realizing the potential of humanities
New Humanities Professional Resource Center helps students focus life and career plans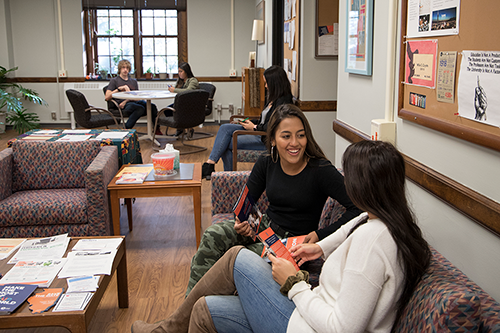 For students studying everything from Shakespeare to social issues facing minority populations, an underlying question is this: How will the things I'm learning in class help me in the future? A new center, established by the College of LAS, is designed to help humanities students realize their career possibilities.
The Humanities Professional Resource Center, launched this year with help from the Office of the Provost's Investment for Growth program, is the first center on campus intended specifically to help humanities students land jobs and other opportunities after graduation.
"It's really targeted toward students in these majors, the particular skills they develop, and the ways they can apply those skills in the world," said Kirstin Wilcox, director of the center.
The center offers one-on-one advising sessions to help humanities students turn the skills they learn in their classes, such as critical thinking or communications skills, into abilities that they can market to employers. Housed in 105 Gregory Hall, the center also contains a lounge where students can study and quiet office space that students can use for phone and video interviews. 
"Students are in demand. We just have to direct them on where to go," Julie Higgs, an advisor at the center, said. "People with humanities degrees have a wealth of knowledge to draw from."
The center started meeting with students at the start of the current academic year. So far, Higgs and Wilcox have advised about 75 students. They run the gamut from senior humanities majors applying for jobs and editing their resumes to freshmen unsure if they've even chosen the right major.
For example, Higgs said that she recently helped a student review her resume and talk about how to network with recruiters. The student attended an information night hosted by Visa at the center, and she was offered an interview the next day for an internship at the company.
Another student, Megan Resurreccion, a senior majoring in creative writing, planned to visit the center after learning that it offered professional advice.
"I think I want to get an internship this summer, but I'm not really sure where to look. I'm not sure what companies want," she said. "I know there's a lot out there, so I'm just trying to narrow down what I can apply for and what I might be interested in. I'm coming (to the center) to talk with one of the advisors so they can help me out with that."
The center is a project funded through the Investment for Growth Program, an initiative that invests in the university's missions of education, research, and public engagement.
The center hosted an open house in October.