University of Illinois connects 2019 World Series contenders
LAS alumni played a role in historic Fall Classic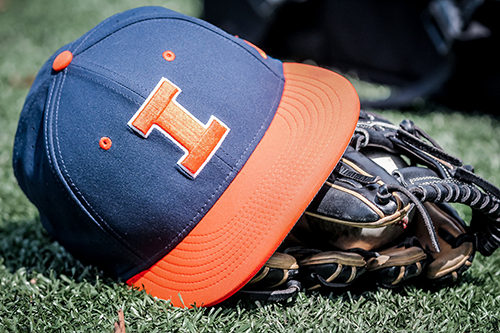 When the Washington Nationals and Houston Astros closed Game 7 of the World Series, the connection between the two teams was secured in Major League Baseball history. The historic series gave the Nationals their first championship and dashed the hopes of the Astros securing two titles this decade.
However, that isn't the only connection between the two teams.
The 2019 World Series contenders have a surprising number of ties to the College of Liberal Arts & Sciences at Illinois. For example, Nationals General Manager Mike Rizzo graduated in 1988 with a degree in speech communication. From the Astros, Brady Ballard (BA, '01, economics) serves as the minor league Corpus Christi Hooks assistant general manager, Ehsan Bokhari (MS, '11, statistics; MA, '12, psychology; PhD, '14, psychology) is the director of R&D for baseball operations, and student intern Charlie Young (an Illinois senior majoring in CS + Astronomy and statistics) will join the Astros fulltime as a quantitative developer following graduation.
Then there is Dan O'Neill, senior director of business operations for the Astros. Fresh off his second World Series experience, O'Neill (BA, '99, communication) said the many Illinois connections—even those outside LAS—within MLB are notable but not all that rare.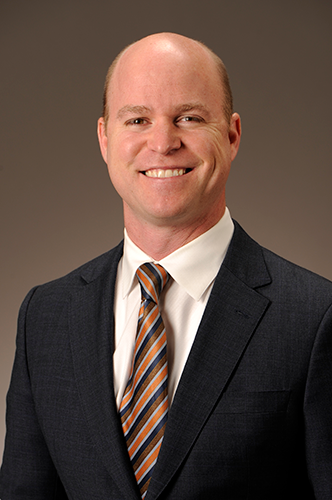 From the Astros to the Nationals, the Indians, the Yankees, the A's, and the Marlins, to name only a handful, the Illinois-MLB connections are vast and winding. Though not everyone played for the Illini, O'Neill says, the Orange and Blue connection is helpful when reaching out to colleagues and is a common ground while connecting within the league.
In November, O'Neill celebrated his seven-year anniversary with the Astros. As director of business operations, he is responsible for the financial and strategic operations of the Astros-owned minor league properties including Corpus Christi, Tex.; Fayetteville, N.C.; Greeneville, Tenn.; and West Palm Beach, Fla.
However, this wasn't the plan he had in mind for making The Show.
The 1995 Champaign Central hall of famer became a member of the Illini as he followed his passion for baseball. He was a four-year varsity letter winner for the Fighting Illini baseball team and was named First-Team All-Big Ten in 1998 when the Illini took the conference title.
O'Neill decided on Illinois, because he was made a priority during the recruitment campaign. However, before arriving on campus, he wasn't quite sure what he wanted to study. After careful thought, he decided on communication with the idea that the area of study could translate to many professional areas.
"It became something I really enjoyed," he said of his studies. "It was a well-rounded education experience. I realized in anything I would be doing I would need to know how to communicate—to write and to speak well. I developed tangible skills that relate to my career every single day, and these are skills that are applicable to any career."
O'Neill remembers taking a speech class with senior instructor Tom Costello. During an activity, Costello asked students to pull random objects from a sack and create a short statement about the item.
"It might have been a ketchup packet, but we were to make a three- to five-minute speech about that item," he recalls. "Sometimes you were afraid to feel silly and make mistakes, but you had to recover and make it through. Those are the kind of lessons and skills, I didn't realize at the time, that I would be using throughout each of my future roles. It helped me develop that confidence to be in front of people. In reality everyone in a business setting is required to do that. I really learned a lot about myself and how to engage an audience."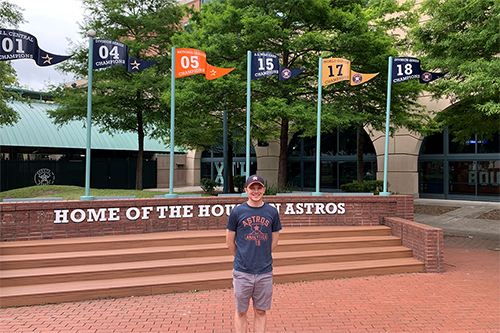 O'Neill says his Illinois classes focused on organizational communication and interpersonal communication, which are skill sets that are critical for his day-to-day function at the office. Interpersonal communication focused on emotional intelligence and how to be an empathetic speaker and, in turn, a listener who is able to see another's perspective.
"I believe that is something that helps set apart a good leader from a great leader," he said.
While in a class led by David Tewksbury, a professor of communication who is now executive associate dean of social and behavioral sciences, he learned the media influence upon public perception. Though he was in the classroom as the internet was in its infancy, he says the concepts they discussed are relevant today to anyone using social media as a means of marketing.
"These are skills that are used, not just in baseball, but, in any area of business—those running their own business and those working in large organizations," he said.
Following graduation, O'Neill was selected by Philadelphia in the 1999 Major League June draft and played two seasons in the Phillies minor league system. That's when he thought his time in baseball had run out.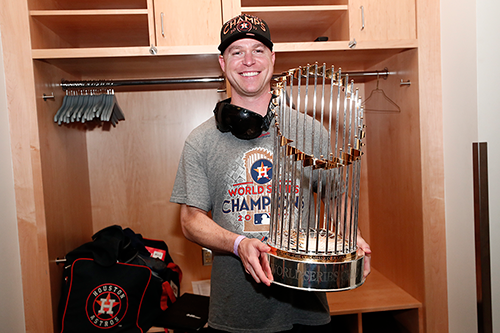 He entered graduate school in Chicago and spent seven years in the hedge fund industry with Mesirow Advanced Strategies, Inc., a global multi-strategy hedge fund, then as partner and chief operating officer of Oak Street Capital Management, LLC, a long/short equity hedge fund, in Chicago. However, as the housing market crashed in 2008 the banking industry was in upheaval.
That's when he turned his sites toward finding a way back to baseball. It took around three years, but O'Neill found his connection to the game in 2012 when Jeff Luhnow asked him to join the Astros' front office to work in baseball operations.
"It was a unique role right when I took it, as he was working to overhaul the office," he said. "I was in charge of team logistics, arranging advanced scouting, and the spring training sites. Now I'm mostly charged with overseeing the minor league properties, responsible for the business, marketing, and real estate of those properties."
In 2017, the Astros beat the Dodgers for the World Series title. O'Neill spent the postseason traveling with the team and overseeing more of the day to day for those within the clubhouse.
"During the World Series, everything happens so fast," he said. "It's an incredible experience that comes with stress and high stakes."
However, in the 2019 post season, as the Astros fell to the Nationals, O'Neill was able to take in the experience from the view of a standby employee without as much of a hand in the moment-by-moment experience. In his new role, O'Neill recently oversaw the development of the franchise's South Carolina minor league property.
"Even as I've switched roles, it's been an amazing experience," he said. "It's been fulfilling to be a part of this—to go from 111 losses to having the best record in baseball. To see Luhnow set the vision and strategy, then to see it come to fruition over the last seven years. To see success, it takes a lot of work from great colleagues and little bit of luck, too. We are a close-knit organization, so it's exciting for everyone who has a large or small role. I knew a lot of these guys when they were rookies, and to see them compete at this level is incredibly satisfying. There's also a lot to look forward to."
Now having experienced MLB from the game and business side, he says his career path came together in a unique way that allowed him to develop through both of his passions—baseball and business.
O'Neill will return to Champaign, his hometown, for the Thanksgiving holiday with his family: wife Jillian (Sitter) O'Neill (BS, '00, elementary education) and their four children. The O'Neill family resides outside Houston in The Woodlands, Texas.
Editor's note: Read Charlie Young's LAS Insider blog post about joining the Houston Astros here, and read a feature about his work with the Illinois baseball team here.