Soles with good intentions
LAS Student Academic Affairs Office wins campus fitness challenge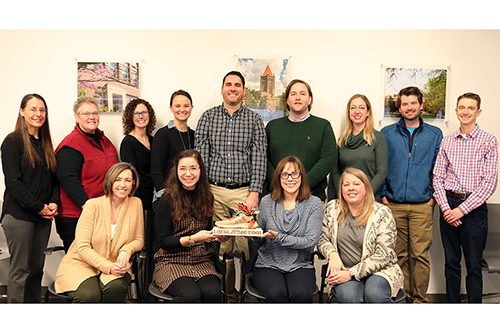 If someone had four weeks to walk the 550 miles from Chicago to Little Rock, they'd have to cover about 20 miles a day. For most people, this might seem impossible, but for Richard DePaolis-Metz, he'd just be sticking to his normal routine.
DePaolis-Metz was the lead walker/runner for the College of LAS Student Academic Affairs Office (SAAO) that recently participated in the U of I's Miles to Monuments Challenge, a four-week fitness event last fall where U of I employees competed to log the most miles of exercise.
The 13 participants from the LAS Student Academic Affairs Office came in first out of some 600 participants and 34 teams—thereby winning the Golden Shoe Award—by logging an average of 172.5 miles per person. They narrowly edged Shelter Medicine, a program at the College of Veterinary Medicine, which averaged just more than 170 miles per person.
As for DePaolis-Metz? The director of recruitment and admissions logged a total of 534 miles over the four-week challenge, and that wasn't even counting activities such as cleaning the house or running errands. He only kept track of what he ran and walked with his Apple Watch.
"I'm an avid runner and walker," DePaolis-Metz said. "I run a lot on the treadmill in the morning and I usually like to get in walks on my lunch break. I have two little dogs that I like to take on walks in the evenings, so it wasn't anything I really changed for the challenge, but I became more conscious of the miles I typically do."
Michele Guerra, director of the Wellness Center, said the university has been offering challenges to employees for seven years in an attempt to promote fitness, but this has been the first departmental challenge.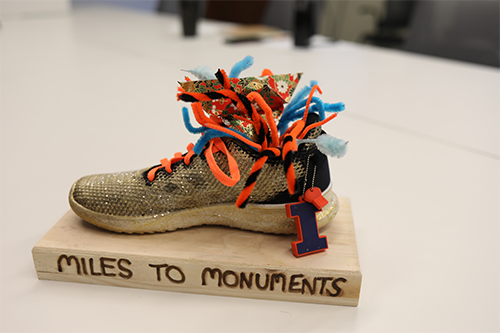 To keep the walks—or alternate exercise activities that were converted into walking miles—interesting, participants tracked their miles in an online log that showed which national monuments they would have reached if they added up all their miles and set course from campus. For example, after reaching 86 miles, participants received a congratulatory email with a photo and description of the Lincoln Home National Historic Site in Springfield, Illinois, which sits 86 miles from Urbana-Champaign.
While DePaolis-Metz may have been the miles leader for LAS SAAO, he had a lot of strong teammates. Team captain Tabbey Cochran, an office support specialist for LAS SAAO, said that the team benefitted from a lot of positive, competitive people who would compare activities and strategies for increasing miles. One team member loaned a couple of Fitbits to his teammates so that they could track their miles more easily.
For her part, Cochran helped keep the challenge as fun and team-focused as possible through weekly emails that updated their ranking and suggested ways to add miles.
"Those emails might not sound that exciting, but they were peppered with some great memes and YouTube videos that we bonded over as a team and made the challenge fun," she said.
Guerra said that they were happy with the campus participation overall, too. She said the Wellness Center will be launching an individual challenge in the spring, and the Miles to Monuments challenge will take place again in the fall.
"This is our first year piloting a challenge that was focused on work units competing in a friendly way with each other so that individuals have the opportunity to improve their health habits at their own pace," Guerra said. "They also had the opportunity to bond with their coworkers and have a friendly competition as well."
News Source
Therese Pokorney and Dave Evensen