CyberGIS Center produces platform to track and help prevent COVID-19
WhereCOVID-19 provides users with interactive ways to study the coronavirus pandemic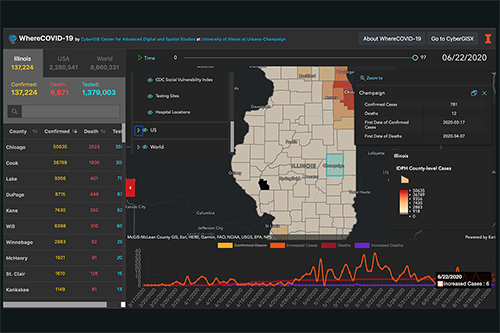 The CyberGIS Center for Advanced Digital and Spatial Studies (CyberGIS Center) at U of I has teamed with the state of Illinois to produce a system of interactive maps, charts, and animations to better help understand and prevent the spread of COVID-19.
Called WhereCOVID-19, the project aims to support decision-making in regards to COVID-19 by answering critical "where" questions: where cases are and will likely be; where vulnerable populations live; where containment measures should be applied; where health care services might be overwhelmed; and where additional testing and other health care resources should be deployed.
By relying on a variety of data sources, including COVID-19 case counts from the Illinois Department of Public Health (IDPH) and analyses of population characteristics and the availability of health care resources, the makers of WhereCOVID-19 have created an interactive online platform with mobile device support that allows users to obtain information about the spread of the coronavirus around the state, nation, and world.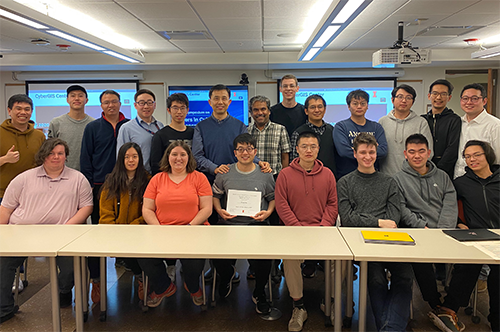 The WhereCOVID-19 platform is made available to a broad range of stakeholders, research and education communities, policy makers, and the public in general. A mobile app for the platform is scheduled for release this week.
The project was created under the request of the U of I President's Office and the Illinois Governor's Office. It is being led by Shaowen Wang, professor, head of the Department of Geography and Geographic Information Science, and director of the CyberGIS Center; Sara McLafferty, professor of geography and geographic information science; Vincent Freeman, professor of biostatistics and epidemiology at the University of Illinois at Chicago; and Bill Jackson, director of the Discovery Partner Institute.
"WhereCOVID-19 supports rapid measurement of spatial accessibility to healthcare resources, which provides an improved understanding of how well healthcare infrastructure is equipped to save people's lives during the COVID-19 pandemic," Wang said. "Such spatial accessibility knowledge enables policymakers and public health practitioners to allocate existing healthcare resources or distribute new resources for maximum access to health services."
Many factors have been integrated to make WhereCOVID-19 easy to use and understand–even for people with no background in geographic information science and systems (GIS), Wang said. Leveraging support from the National Science Foundation and National Institutes for Health, WhereCOVID-19 integrates big data analytics, computationally intensive geospatial analysis and modeling, and computationally reproducible cyberGIS notebooks that enable scalable integration of heterogeneous cyberGIS and cyberinfrastructure capabilities.
McLafferty is one of the earliest people to begin to use GIS to map and analyze health issues. For more than three decades, she has examined issues such as cancer, access to health care, infectious diseases, infant and maternal health, and, now, COVID-19. She just finished teaching an undergraduate class on spatial analysis which covers methods for analyzing locational data on people, places, and environments.
Some students in the class used spatial analysis to map and analyze COVID-19 prevalence with published data from hospitals and testing centers in the state.
"Mapping and spatial analyses are really important," McLafferty said. "We can use these maps and try to predict where the disease will spread next."
Wang said that although the work has been intensive, it has been going well.
"We have rapidly established the online WhereCOVID-19 platform designed to provide spatial decision support based on exploration and discovery of spatiotemporal patterns of the pandemic and its impacts," Wang said. "The user interface of WhereCOVID-19 is friendly for presenting multi-scale geospatial information, and thus no in-depth technical knowledge of cyberGIS or cyberinfrastructure is required of end users."
WhereCOVID-19 has required vast amounts of data and collaboration. For example, McLafferty said that when a physician reports a case of COVID-19 to IDPH, the data can be made available to the WhereCOVID-19 team for integration on the platform.
"The overall goal is to leverage the knowledge and skills of the University to help the state improve its response to pandemic," McLafferty said. "We're a crucial state entity and this is an unprecedented time. It's to help Illinois and all of us."