Get to know Dean Robinson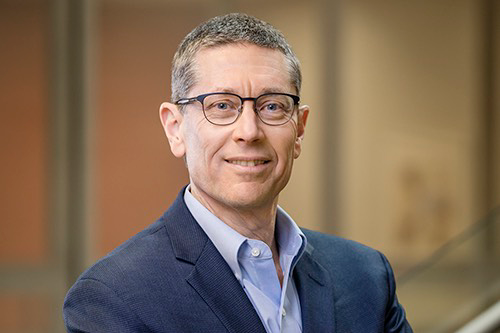 As the fall semester begins, there is a new name the College of Liberal Arts & Sciences community will want to note – Interim Dean Gene Robinson, Swanlund Chair in Entomology. 
Robinson began his new role in Lincoln Hall on July 1; although, he has spent his entire 30-year career at the University of Illinois. 
"This is a big university, and that means two things," he said. "First, you'll always find ways to learn new things, there's always going to be an expert on what you're interested in. Second, even though it's a big place, it's an incredibly friendly and open place, and that holds for students as well as faculty and staff." 
For those who aren't familiar with Robinson, he is a member of the National Academy of Sciences, the National Academy of Medicine, the American Academy of Arts and Sciences, and the recipient of the prestigious Wolf Prize in Agriculture. Also, his research has been featured on the Colbert Report, he loves to cook, and his favorite book is "The Time of our Singing" by Richard Powers. Here are a few other things you may find interesting about the new dean of LAS. 
He loves honey bees. 
Robinson loves honey bees, and he's made researching the insects his life's passion. He fell in love with the balance of chaos and order of the honey bee society while temporarily helping at an apiary at age 18.
"I knew at that point I wanted to work with honey bees for the rest of my life," he said. "I was helping a commercial apiary with tens of colonies, which means millions of bees. Initially it seemed chaotic – loud buzzing, bees flying around everywhere – but when I actually opened up a bee hive, I could see the social order. Different bees were doing different jobs. That combination of chaos and order just really captivated me, and I wanted to learn how it works. That was it. It was the up-close experience that made me want to learn more." 
He plays guitar and sings.
He confesses his musical taste is pretty well frozen in the late 60's and early 70's with mostly folk and folk rock in his rotation. 
"My mother was trained to be a concert pianist so she started my two siblings and me with piano lessons when we were very young," he said. "When I was 9 years old, the Beatles appeared on Ed Sullivan for the first time, and I was smitten. I quickly changed from piano to guitar!" 
Today, he enjoys playing guitar and singing with his family.
He took a non-traditional route to the dean's office.
While many campus leaders take the helm of academic departments and schools before moving into the dean's office, Robinson hails from the research side of campus as director of the Carl R. Woese Institute for Genomic Biology, and before that, director of the campus Neuroscience Program. He's taken a hiatus from his role as IGB director to focus solely on leading the College of LAS; however, the experiences he's had with IGB will serve him well during his year in the dean's office.
"The IGB addresses grand challenges and big problems facing science and society," he explained. "So, the mode of attack on those problems is to build teams of scientists that work in different disciplines — biology, engineering, social sciences, and the humanities. It provides a really powerful way to solve some of the biggest problems that we are facing. It's understood that even the most technical problems are not only going to be solved solely from a technical perspective, they also must involve people from the social sciences and humanities. The pandemic is a perfect example of that. With COVID-19, in order to address the pandemic, one has to have a deep knowledge of science and specific parts of science, and we also need to understand and address the inequities of people with policy, social sciences, and the humanities. I thus really love the breadth of LAS, with excellence across the natural sciences, social sciences, and the humanities, and look forward to working with LAS faculty, staff, and students."