More than 40 new faculty members begin fall semester in the College of LAS
Specialties range from migration to cognitive science and the impact of hip-hop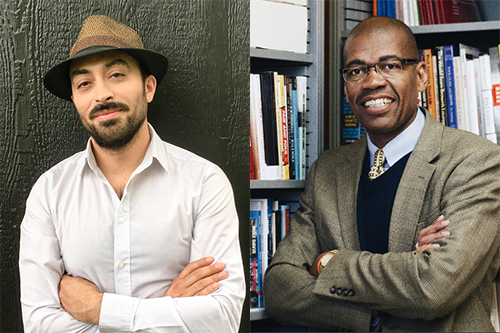 With research interests ranging from migration to hip hop, and personal backgrounds ranging from Texas to Tajikistan, more than 40 new faculty members in almost 25 departments joined the College of LAS this fall.
Their experiences as new faculty members have been different than any before them. They have spent the first few weeks of the semester teaching and researching under campus safety measures in place due to the COVID-19 pandemic—while preparing for the days when normalcy returns.
Here are snapshots of a few of them: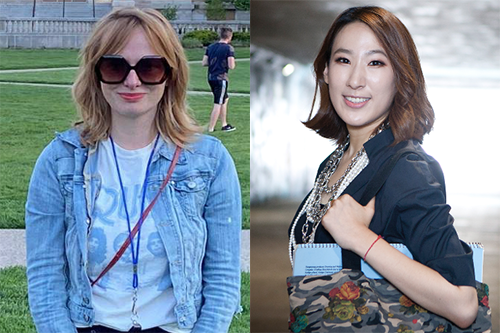 Nikolai Alvarado 
Geography and geographic information science
For Nikolai Alvarado, professor of geography and geographic information science, joining the University of Illinois and the College of LAS this fall semester was an easy decision.
"The University of Illinois has one of the top geography programs in the country, with a long history of pushing the boundaries of our discipline," Alvarado said. "I was motivated to be amongst some of the leading geographers in the world and the intellectual and scholarly growth that comes with being in such an environment."
Alvarado studies migrant urbanism, a topic which includes how migration is a key force in creating and shaping urban space. More specifically, he examines the street politics of migrants living in informal settlements in Latin American cities, and how these migrant struggles create alternative citizenship arrangements that provide access to rights and urban resources. 
Although having time outside of work may be unusual, Alvarado said he and his family used to go hiking at Mount Evans or Echo Lake in Colorado. However, now that they're in east-central Illinois they are looking for new family activities, which may include custard from Jarling's several times a week, he jokes. He also enjoys listening to and playing music.
Through his work at the University of Illinois, Alvarado hopes to add a strong Latin Americanist tradition to the Department of Geography and Geographic Information Science. He also is committed to building bridges between U of I and the communities that he researches, including through leading field courses.
"I think everybody first and foremost envisions a long and successful career as a scholar," he said. "Following the tradition of my department, I aim to push the boundaries of geography by shedding light on urban and migration processes taking place elsewhere, in regions that have existed at the periphery of our discipline, such as urban Latin America."
Reuben A. Buford May
Back in 2011, one of Reuben A. Buford May's students in Texas came across a video of him performing rap music and asked him to perform for the class. Was he good? Check out #rappingprofessor Reginald Stuckey and see for yourself.
Not only has May written books and won awards for his teaching, but he's well-known for his rap music about racism, basketball, and other topics. He's performed at Kyle Field, the Chicago House of Blues, and other venues in major cities.
He's also a top scholar. May arrived at Illinois this fall as the Florian Znaniecki Professorial Scholar and professor of sociology. He's the author of three books and has been a fellow at the W.E.B. Du Bois Institute for African and African American Research at Harvard University and a Dr. Martin Luther King, Jr. visiting professor at the Massachusetts Institute of Technology. May's research focuses on race and culture, urban ethnography, sports, and other topics.
Overall, May said that he's interested in how people interact with each other in the context of race, class and culture. Recently, May has been studying racial discrimination in night clubs and how young men gain access to clubs.
Because of the COVID-19 pandemic, his research on night clubs is limited, but, along with teaching, May is developing his research team at Illinois so that he can resume research in earnest as pandemic restrictions lift.
Outside of work, May produces rap music and also raps himself.
"I enjoy being out seeing nature, so I take time to relax through rapping outside," he said.
While at the U of I, May said he hopes to create positive interactions between people with different backgrounds.
"I'm excited in finding out what U of I students are all about and how they engage," he said. 
Eleonore Neufeld
Eleonore Neufeld's field of teaching and research—philosophy—is one of the oldest in academia, but the new professor's interests in the topic touch some of the most pressing issues of our time. The native of Tajikistan said that the possibility of working with experts in a wide range of fields made coming to the University of Illinois a good choice. 
Neufeld's research explores questions surrounding the basic representations and operations involved in cognition. Her research interests include philosophy of language, philosophy of mind and cognitive science, and social philosophy.
As her research is very interdisciplinary, Neufeld is excited to establish research connections with members of other departments and programs. She is especially interested in the lexical structure of concepts and its role in our linguistic competence and social cognition, as well as its relationship to social ideologies.
"Ideally, this would lead to long-term research collaborations and activities, such as reading groups, workshops, seminars, or research clusters," she said.
Neufeld is currently working on research involving cognitive essentialism and the nature of linguistic meaning. Her most recent paper, which argues that pornography dehumanizes women through essentialization, was published in the Australasian Journal of Philosophy.
After recently completing her PhD at the University of Southern California, Neufeld is looking forward to growing as a researcher, teacher and advisor—and she's also excited to explore her new community more thoroughly once the pandemic subsides. Neufeld enjoys running, yoga, trying new restaurants, and hiking with her pit bull, Pico. 
"Our new aim is to explore and sniff through all hiking trails in Central Illinois," she said.
Myoung-Sun Song
East Asian languages and cultures
Born in Seoul, South Korea, Myoung-Sun Song spent three years as a child in Virginia. That's where she had a life-changing moment: She listened to Coolio's "Gangsta's Paradise."
"I was still learning English at that time, so I could not understand the lyrics," Song said. "But the beat was enough because it was unlike any other song I had heard before. From this moment onwards, I became an avid fan of hip hop."
Today, Song's research centers around the intersections of race, gender, sexuality, class, and identity in Korean media and popular culture. Her book, "Hanguk Hip Hop: Global Rap in South Korea," is the first scholarly book-length study in the English or Korean language on the subject of Korean hip hop.
"Throughout the chapters, Korean hip hop is examined through the notion of "buran"—personal as well as societal anxiety or uncertainty—and how it manifests in the dimensions of space and place; economy and cultural production; and race and gender," Song states. "Ultimately, I argue that buran serves as a metaphoric state for Hanguk hip hop in that it continuously evolves within the conditions of Korean society."
Illinois' commitment to diversity and inclusion significantly contributed to Song's decision to join the Department of East Asian Languages and Cultures.
"The Inclusive Illinois: One Campus, Many Voices vision aligns and reflects very well with what I hope to accomplish in my own work and teaching," said Song, who received her PhD in Communication from the University of Southern California.
Song is excited to work closely with students and the community to foster a deeper understanding and appreciation of diverse cultures. Song is also looking forward to collaborating with various departments across campus.
"I hope to participate and contribute in interdisciplinary projects that expand our perspectives on identity and representation," she said.
A complete list of new faculty this fall follows:
Benjamin Auerbach, molecular and cellular biology
Mikael Backlund, chemistry
Katelyn Bishop, anthropology
Sian Butcher, geography and geographic information science
Salvatore Callesano, Spanish and Portuguese
Jose de la Garza Valenzuela, Latina/Latino studies
Rodrigo Delgado, Spanish and Portuguese
Eva Fischer, evolution, ecology, and behavior
Nicholas Flores, Latina/Latino studies
Decker French, astronomy
Angel Garcia, English
Asma Hatoum-Aslan, microbiology
Jared Hotaling, psychology
Nicholas Jackson, chemistry
Isak Ladegaard, sociology
Feliz Leditzky, mathematics
Jingbo Liu, statistics
Pamela Martinez, microbiology
Leonard McKinnis, African American studies
Paola Mera, microbiology
Adam Newman, religion
Oanh Nguyen, mathematics
Zhiyu Quan, mathematics
Yuridia Ramirez, history
Brandon Ritchison, anthropology
Joseph Sanfilippo, biochemistry
Matthew Soener, sociology
Jesse Thorner, mathematics
Emily Van Duyn, communication
Corey Van Landingham, English
Emma Velez, gender and women's studies
Damian Vergara, gender and women's studies
Shulei Wang, statistics
Nora Webb Williams, political science
Nicholas Wu, molecular and cellular biology
Shihan Xie, economics
Xinzhu Yu, molecular and cellular biology
Susu Zhang, psychology
News Source
Samantha Boyle, Kimberly Wilson, and Dave Evensen