High-res satellite imagery service offered to faculty and student researchers
Individuals and units on campus team up to acquire access to Planet Labs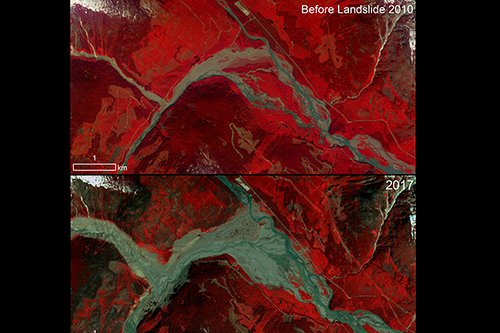 Satellite imagery of Earth has been available for years, but it keeps getting better and better. That's why several academic units across the University of Illinois Urbana Champaign and the University Library have teamed up to acquire high-resolution satellite data from a private aerospace company, as researchers seek to grow their understanding and teaching of what's happening on our planet's surface.
Jim Best, the Jack and Richard Threet Professor of Sedimentary Geology and professor of geography and geographic information science, said that free training workshops have begun that can be attended by all U of I personnel on how to use the data from Planet Labs, Inc., which relies upon a fleet of "dove" satellites, each the size of a shoebox, to generate high-resolution, continuously updated images of Earth.
Much of the imagery that's accessible through the new contract with Planet Labs has a ground resolution of about 3 meters, Best said, meaning that researchers can resolve features of this size. Some of the imagery is even better, with a ground resolution of 0.5 meters. The images are recorded often enough so that daily changes can be observed, Best added.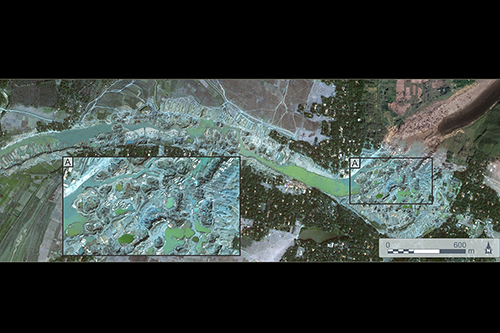 Access to this resource will be through the University Library and a webform. Those wishing to use the imagery will simply need to complete a short application that will then be rapidly reviewed before access is granted, Best said.
"The applications for this imagery are enormous, and will be of use to all those who wish to detect change on the surface of the Earth, and use this imaging within their research and teaching," Best said. "Such imagery has been very successfully used to examine natural disasters, such as floods, landslides, the tracks of tornadoes and the effects of hurricanes—and critically aid in the planning and response to such events."
Besides features of the "natural world," Best added, the imagery allows observation of human-made changes and features, such as dam construction, new buildings, urban sprawl, and the growth of road networks. The imagery also covers many areas that are remote or inaccessible by land or water.
Several researchers on campus have already used imagery from Planet Labs in the past. For example, Chunyuan Diao, professor of geography and geographic information science, uses Planet imagery to study the responses of temperate deciduous forests to climate change through the lens of forest phenology. Kaiyu Guan, professor of natural resources and environmental sciences, and PhD student Hyungsuk Kimm have used Planet imagery to develop scalable methods for reliable estimation of crop productivity at high spatial and temporal resolutions. Geography and geographic information science PhD student Mishel Melendez-Bernardo and professor Piotr Cienciala are using Planet imagery to examine how rivers are affected by large landslides, which may instantaneously deliver vast quantities of sediment into a river valley.
Access to the Planet Labs data may be adjusted to fit demand, but initially researchers all across campus will have access to at least 500,000 square kilometers of imagery for research and teaching purposes. Students can also access the data for classwork and research projects.
The contract with Planet Labs was financed by the University Library, the Department of Geology, and faculty members in nine campus units, including the Departments of Geology, Geography & Geographic Information Science, Atmospheric Sciences, Natural Resources and Environmental Sciences, and Civil and Environmental Engineering; and the Illinois State Geological Survey. The University Library has played a critical role in enabling and setting up the contract and facilitating data access, Best added.