University of Illinois welcomes record-breaking incoming class
College of LAS sees the most first-year students since 2008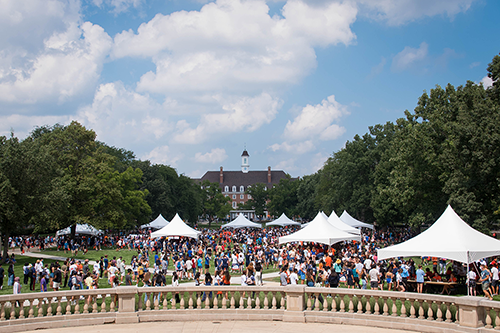 With a first-year student enrollment of 8,303, the University of Illinois Urbana-Champaign has welcomed a record-breaking incoming class for the 2021-22 academic year. The new class brings total student enrollment to 56,299, the largest in university history.
The trend is mirrored in the College of LAS, where first-year enrollment this fall stands at 2,678. It's the highest since 2008, when the Division of General Studies, home for thousands of undeclared students, moved out of LAS to become a campus-wide unit. Total student enrollment in the College of LAS is 14,712, which includes 12,160 undergraduates and 2,552 graduate students, according to the Division of Management Information.
"We're thrilled and proud to welcome the class of 2025," said Venetria K. Patton, Harry E. Preble Dean of the College of LAS Designate. "This year's strong LAS enrollment is testament to both the value of the liberal arts and sciences and the resilience of faculty, staff, and students during this challenging time. We continue to work together toward a brighter future."
The university totals include 5,835 new students from Illinois, the largest number of in-state first-year students since 2018 and the second largest in 10 years. These students represent 92 counties throughout the state. The university also admitted a record number of in-state students this admissions cycle.
"We are so pleased to welcome this class to the University of Illinois Urbana-Champaign," Chancellor Robert Jones said. "Lifesaving COVID-19 vaccines, our unmatched COVID-19 testing program and our ongoing innovation have allowed us to continue to provide an excellent education at scale, even in the midst of a global pandemic."
Across the university, the class of 2025 includes 1,352 students from 44 other U.S. states. The class of 2025 also represents 42 countries, with 1,112 international students, contrasted with 954 students in 2019, before the COVID-19 pandemic.
In the College of LAS, 1,924 new students come from Illinois. Some 406 come from other U.S. states, and 348 are international students.
University-wide, the class of 2025 includes 20.1 percent of students from underrepresented groups and about the same percentage (20.1 percent) of first-generation students. Those numbers stand at 19 percent and 19.2 percent in the College of LAS, respectively.
The class of 2025 has a strong academic profile. The average ACT was 31.4 (29.8 in 2020) and the average SAT was 1410 (1331 in 2020). Due to the COVID-19 pandemic, ACT and SAT tests were optional for admissions this year, with approximately 58 percent of enrolling new students submitting scores. College-specific figures were not yet available.
"The University of Illinois Urbana-Champaign continues to recruit some of the brightest minds across the globe," said Andreas Cangellaris, the vice chancellor for academic affairs and provost. "Now, more than ever, we have a responsibility to mold these brilliant young minds into the leaders who will solve the world's future problems and advance society."
The total undergraduate enrollment of 34,559 is higher than the previous record of 33,850 in 2019.
"We are thrilled with the number of students who accepted their offer this year," director of undergraduate admissions Andy Borst said. "However, we do not plan to increase by this percentage every year. Next year, in order to ensure that we are maintaining our undergraduate enrollment within the bounds of university resources, we are planning to intentionally reduce our target by approximately 600 students to be more in line with previous years."
Fall 2021 enrollment also set records for total number of graduate students – 20,567, up from a record 17,866 last year – and 1,173 professional students in law, veterinary medicine and medicine, up from a record of 1,123 in 2011. With the COVID-19 pandemic, many international students deferred admission from 2020 to 2021, resulting in 2,859 new international student enrollments for fall 2021 – up from 1,521 a year ago.
Additionally, online graduate programs continue to be attractive options and now account for 45 percent of all graduate student enrollment. These include the Coursera programs in the Gies College of Business (enrolling 5,440) and the Grainger College of Engineering (enrolling 1,387).
The demand for master's programs – both online and on-campus – have led to a 22.8 percent increase, now representing 66 percent of total graduate student enrollment.
"We are experiencing robust growth in virtually all sectors of graduate education, particularly in master's degrees and online programs," said Wojtek Chodzko-Zajko, the dean of the Graduate College. "We are encouraged that so many students want to take advantage of a graduate education at the University of Illinois Urbana-Champaign."
News Source
Allison Vance, Public Affairs, and Dave Evensen