What is it about Altgeld Hall that endures so long in the imagination?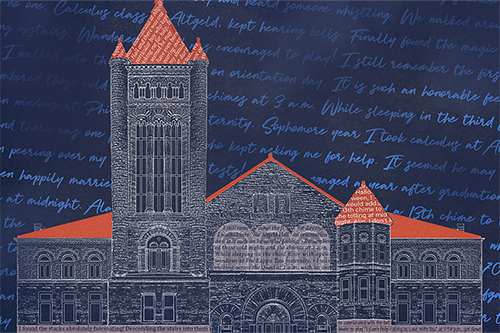 What is it about Altgeld Hall that endures so long in the imagination?
We asked, and people who've spent time there replied: Love, friendship, learning, fiery protests, mysterious footsteps, and, of course, the ringing of the chimes. Read on for memories of this iconic intersection of mathematics and music.
Fire, bravery, and protest
The spring of 1970 was a tumultuous time. With American forces at war in Vietnam, anti-war protests were breaking out on campuses across the nation, including the University of Illinois, where the National Guard was summoned to quell some of the angriest protests campus had ever seen. Several disturbances occurred around—and in—Altgeld Hall.
On the evening of March 1, 1970, Linda Rogers (then Chapek) (BS, '69, mathematics; MLS, '70) was working as a librarian in the Altgeld Library. At around 10 p.m., Frank Povse (BS, '70, electrical engineering and computer science), who just wanted a quiet place to study, approached Rogers to say that there were bottles of gasoline in a nearby classroom. What they did during the next few moments earned Rogers and Povse letters of commendation from the university. 
"We found two clear bottles filled with a pink liquid sitting on top of a desk," Rogers recalled. "There were lit cigarettes upright on top of the bottles. Our instincts made us go in and pull the cigarettes off. Something dropped into one of the bottles and fizzled a bit. We hurried out of there and called the police. Since we had 'disarmed' the Molotov cocktails, nothing exploded. We learned that the pink liquid was ethyl gasoline."
Rogers said that she suffered a bit of anxiety after the incident. She was mostly satisfied, however, to have spared Altgeld Hall from damage.
Sandy Carter (BS, '73, mathematics and computer science) recalled one harrowing day during the same semester. She had class in Altgeld Hall, and she was relieved when she navigated through a crowd of protesters to reach what she assumed was the solace of a classroom. Then protesters entered the building.
"Something odd caught my attention," Carter recalled. "The professor, a larger middle-aged woman in a cotton blouse and broomstick skirt, began to slowly inch her way toward the exit. Immediately I became aware of confusion in the hallway. The professor continued her lecture, raising her voice to overcome the increasing noise. Suddenly the confusion reached our room. Shadowy figures pushed and shoved our door, attempting to disrupt the class. Our professor stood her ground. With her full weight against the door, she managed to deflect the rioters' intentions."
The professor told the class that universities should be the last places of disruption during turbulent times. For Carter, a first-generation college student, the professor's actions resonated deeply.
"I graduated a few years later with more than a degree in math and computer science. I gained a breadth of experiences that helped me become a better thinker and analyzer of my surroundings." Carter said. "I'm grateful to the wisdom and courage of that professor who loved and appreciated higher learning, and who left an indelible mark on one young student."
Editor's note: See the full account by Rogers and Carter here. 
Love, friendship, and more love
Altgeld Hall's serious, castle-like appearance and interior were by design. Planners wanted the building to represent solid devotion to education and show that the "spirit of the mighty past was brooding here," according to architect Newton Wells. We don't know if they knew that, with its location and musical inclinations, Altgeld Hall would also become a romantic hotspot.
Caroline Tonkin Zalatoris (BS, '83, finance) recalled that during her sophomore year, in calculus class, one boy kept asking her for help. She even noticed him peering over her shoulder during tests. Despite her outrage, their relationship deepened.
"He started driving me home after class since he had a car—pretty unusual at the time," she recalled. "One thing led to another and we began dating each other. We got engaged a year after graduation and have been happily married for 34 years."
Lifelong friendships were also born there. Donna Davis (BS, '71, teaching of mathematics), recalls taking Math 370 in the fall of 1970, with instructor Jim Anderson. This was when women were a lot less frequent in the field of mathematics. There was just one other woman in the class that semester—and Donna has been friends with her for the past 50 years.
Finally, love didn't just bloom in Altgeld Hall—it grew. Sarah Allen (BS, '18, statistics) recalled one day when her fiancé, Zack, took her on a special date of their memories on campus together. They ended at the Alma Mater, where, at 2:53 p.m., the Altgeld Chimes began playing Elvis Presley's "Can't help falling in love." 
"He got down on one knee, and asked me to marry him while the Alma cam live-streamed to our parents at home," Allen recalled. "A group of our friends were watching from across the street and ran over to congratulate us."
Want another Altgeld love story? Read "First came calc, then came marriage," about the marriage of Nathan and Betsy Alderman here.      
Lessons for a lifetime
Altgeld Hall is an academic crossroads, with students from virtually every college on campus taking class there to lay a foundation for their careers. The lessons have lasted for lifetimes.
Steve Erlebacher (BS, '88, mathematics) recalls taking a combinatorics course from the late Ken Appel, who, along with Wolfgang Haken (now a professor emeritus at U of I) proved the four-color theorem, which states that no more than four colors are required to color the regions of the map so that no two adjacent regions have the same color.
"It was a wonderful class, and having it in Altgeld Hall was special as the post office there used a cancellation stamp that read 'Four colors suffice' as an homage to Appel and Haken," Erlebacher recalled.
John Rooney (BS, '53, mathematics) recalled working as a computer programmer at Altgeld Hall, where he helped program the Illinois Automatic Computer (ILLIAC), the first computer built and owned by a U.S. educational institution, and the predecessor of the first supercomputer. He went on to program at Argonne National Laboratory and Illinois Institute of Technology before earning a Harvard law degree in 1958.
Neal R. Wagner (MA, '64; PhD, '70, mathematics) recalled how, in 1993, he finally returned to campus to present a paper on chaos theory at a conference.
"This was the only time I ever got back to the school. I also got to see my advisor, M.E. Hamstrom," Wagner recalled. "When I walked through the main door into Altgeld Hall, I felt completely at home. After all I may have gone through that door a thousand times."
Some of Altgeld Hall's academic lessons reached deeper than mathematics.
"As an aspiring architectural student in the fall of 1963, I had an advanced math class at Altgeld," recalled Jim Waddell (BA, '76, history). "It was a five credit hour class and helped me understand that I was better suited to major in history."
Mystery and music
When you bring together mathematics, music, and everything else that is Altgeld Hall, sometimes you get a vivid memory that doesn't fit any category. At times it's just about, in the words of Joseph Santangelo (BS, '54, chemical engineering), a beautiful, snowy night.
"I was walking from the chemical engineering building, where I was doing my research, to Newman Hall," he recalled, of that walk home some 60 years ago. "I was walking across the Quad with no one around except the lights, and the Altgeld Chimes began to ring. It was such a beautiful scene that I will never forget."
Ronald Kamp (BS, '56; MS, '59, mechanical engineering) delivered The Daily Illini. He would get to the basement of Illini Hall, where the print presses were located, at about 4:30 a.m. It was dark at that hour, but on Saturday mornings there would be a light in one of the windows of Altgeld Hall, and the sound of bagpipes could be heard. By the time Kamp got on his bike to deliver the papers at 6 a.m., the light was out.
"Altgeld Hall may be known for its chimes, but in the early morning hours of Saturdays in the late 1950s, the music coming from Altgeld Hall was that created by bagpipes," Kamp recalled. "Does anyone know who that bagpipe musician was?"
David Carroll (BS, '96, music education) played the chimes from 1993 to 1996, and on Halloween he would toll the chimes for a 13th time at midnight. "Alas," he recalled, "I don't know if anyone ever noticed."
And yes, there are ghost stories. Scott Croft, a building service worker, recounted unexplained incidents during the 11:30 p.m. to 7 a.m. shift in 2012.
"Two nights in a row I heard high heel shoes in the hallway headed into the auditorium," he said. "Myself and another building service worker were on the stairs near the west entry and heard someone whistling. We walked around and saw no one."
We'll leave you with a memory from Sandra Price (BS, '57, teaching of mathematics; MA, '62, mathematics), who was an undergraduate during Altgeld Hall's last significant renovation, in 1956. That was when the Department of Mathematics moved into the building. She recalled one particular class as the head of the department lectured to them above the sound of heavy construction. 
They stayed through the noise and took notes diligently. When class was done they went to leave, but they opened the door and the hallway was gone. Instead they walked out to grass and brilliant sunlight.
Learn more about the Altgeld and Illini Hall Project
The University of Illinois is in the planning stages of a $192 million project to improve and modernize spaces in data science and other mathematical sciences. It will include restoring and renovating Altgeld Hall and replacing Illini Hall with a new building. Find out more at the project website.
Editor's note: This story first appeared in the Fall 2021 issue of LAS News magazine.