Last homecoming for Illini Hall
Homecoming 2021 was likely the last for the place where the tradition started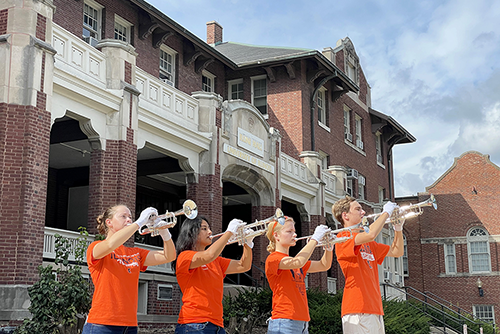 Students of campus history might have noted that Homecoming 2021 was a significant one for Illini Hall. With building demolition scheduled to begin in the next few months, this latest homecoming celebration was the last for the campus landmark—which is where the beloved tradition began.
Illini Hall, located on Wright Street across from Altgeld Hall, is slated for demolition to make way for a new, six-story building as part of the $192 million Altgeld and Illini Hall Project to modernize and grow spaces devoted to data science and other mathematical sciences. Demolition is tentatively scheduled to begin in 2022.
It was on the front steps of Illini Hall—then the University YMCA—where C.F. Williams, a member of the Phi Kappa Psi fraternity, met with W. Elmer Ekblaw, editor of the Daily Illini, in 1910 and came up with the idea of the U of I hosting a homecoming event.
"I'd like to do something really big for the old school before I leave," one supposedly said to the other, according to an account of the meeting by the University of Illinois Alumni Association (UIAA).
"We talked about this, that, and the other thing," Williams recalled in a 1930 interview, "and gradually came to a conclusion when one of us suggested a university reunion like the old home weeks of some of the towns of New England. We figured that alumni would like to come back while school was in session, and we felt that a good football game would act as a magnet."
Around the same time as the meeting between Eklblaw and Williams, members of two senior honorary societies, the Shield and Trident and the Phoenix, met in the basement of Illini Hall to plan and discuss how to urge the university to sanction an annual homecoming celebration. In May 1910, according to the UIAA account, the university's Council of Administration approved it for one year. In 1911, it was approved as an annual event.
Some at the time claimed that U of I's homecoming was the first in the country, but it later became accepted that a handful of others such as Baylor University and Southwestern University had conducted the first. Regardless, and largely in thanks to Illini Hall, U of I's homecoming tradition is one of the oldest in the country.