Scholarship funds pivotal student experiences
Life + Career Design Scholarship supports 34 students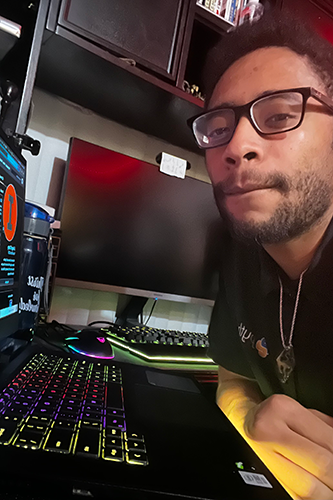 From research labs on campus to virtual internships with unique companies from around the world, College of LAS students are taking advantage of career advancement opportunities thanks to the Life + Career Design Scholarship.
During Summer 2021, the scholarship provided $81,000 in support for students representing 16 different majors. In all, 34 students benefitted.
Thanks to the scholarship, chemistry major Andrew Yue was able to continue his work in M. Christina White's lab where researchers are developing streamlined catalytic methodologies. Yue joined the lab, because he's interested in how molecular structures and functionalities can be manipulated to induce biological activity.
"I like the hands-on aspect of things," he explained. "I think it's a lot more gratifying when you can say, I made this and hold it in my hand versus something that is not tangible. Eventually, I would like to end up in academia, and what interests me is that duality of being in a classroom and being able to do research at the same time." 
When Yue was presented with the opportunity to remain on campus for the summer to continue working in the lab, he admits he hesitated.  
"I knew this was a rare opportunity to be in person during the pandemic," he said. "The scholarship pays the rent; it pays the bills. It gives me the freedom to focus on my research. I have enough to satisfy my necessities, so that I can purely hone my research and work in the lab. I have already recommended the scholarship to an incoming freshman." 
The same goes for senior Jared Canty, a double major studying brain and cognitive sciences and information science, who landed an unpaid virtual internship through SAGE Corp with a start-up company. He spent his summer working as a user interface design intern who was responsible for assessing and critiquing the current website and creating new landing pages. Immediately after accepting the unpaid internship he applied for the Life + Career Design Scholarship.
"College is already expensive, but knowing that I was going to get a scholarship relieved the additional stress," he said. "The only stress that I had to deal with was the stress of the internship itself without trying to work at the same time to pay off this experience. This program added certainty, I would recommend anyone just go for it."
The scholarship was created to support students as they inquire about, engage in, and create opportunities for professional development, said Barbara Hancin, associate dean for student academic affairs. The scholarship provides up to $5,000 to help with living, transportation, and/or other expenses related to engaging in a significant professional experience.
Scholarship recipients are also coached to make the most of their experience  through enrollment in a professional development seminar. As part of the seminar, students prepare for their experience, reflect on what they are learning and contributing to the organization, and articulate how they are becoming more career ready through their experience. 
"Most of the experiences we've supported have been internships, but the career-defining work looks different for each student and can also include undergraduate research, an extended volunteer experience, or possibly even a part-time job that the student wants to use for their professional development seminar," Hancin explained. "These opportunities are pivotal for students to clarify their career goals, develop crucial skills for their futures, and learn how to talk about their professional skills and experiences."
Canty said the professional development seminar was centered on connecting with his peers.
"You're all going through similar experiences with different companies and programs," he said. "This provided a chance to talk to your peers and edify each other and talk about responsibilities or the nature of your management."
Sarah Craig, a senior psychology major, started undergraduate research as a freshman and took on jobs each summer to fund her living expenses. Following eight-hour shifts, she would return home to review hundreds of articles to meet her research responsibilities. She continued her research this summer with the Rhodes Laboratory focusing on neuroplasticity in clownfish with assistance from the scholarship.
"The Life + Career Design Scholarship has allowed me to focus on my research and eliminated a lot of the stress that I would have had if I would have had to worry about paying my living expenses," she said. 
The Summer 2021 semester marked the second year the College of LAS has granted the scholarships, which are available for fall, spring, and summer terms.
More details about the LAS Life + Career Design scholarships are here. Read more student experiences here and here.