The College of LAS builds and innovates to be a leader in data science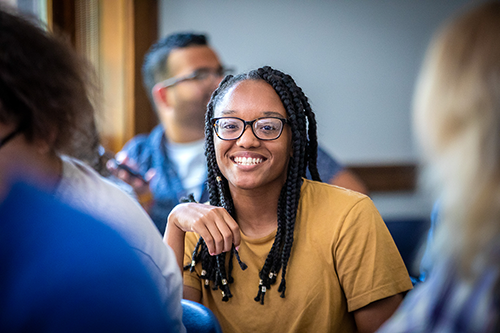 When Disha Hegde was little, her father, a software engineer, would play math games with her. He wanted her to learn mathematical and logical concepts, and it worked: by the time she was in fifth grade she was known as the riddle queen and was asked to give other students a chance to answer her teacher's riddles. She always got them right.
So where does a riddle queen go to college? In high school she became interested in physics, and she chose to come to the University of Illinois to major in mathematics and minor in physics.
"I want to continue learning about physics and maybe make some discoveries of my own," said Hegde, now a senior. "A solid foundation of math skills should help me do that."
Hegde is part of a wave of students who have, for myriad reasons, come to the U of I to study statistics and mathematics in growing numbers during the past few years. Part of that trend is societal, with skyrocketing demand for analysts and others who can interpret vastly growing amounts of information for companies, government agencies, and other organizations. The Bureau of Labor Statistics projects that occupations in mathematics and statistics will grow by 33 percent between now and 2030.
Part of the growth also stems from strategic moves at the university to accommodate growing interest in data science, which incorporates mathematics, statistics, computing, and information science to interpret data. The Departments of Mathematics and Statistics were among the first to offer degrees that combined their coursework with courses in computer science provided by the Department of Computer Science in Grainger College of Engineering. The statistics and computer science major and the mathematics and computer science major were part of the inspiration for the CS+X program which allows students to pursue a flexible program of study incorporating computer science with technical or professional training in the arts and sciences.
The statistics and computer science major and mathematics and computer science major were created in the 1980s and 1990s, but they have exploded in popularity in recent years.
"What we were finding as (we) met with employers or with people from outside the university is that they were asking, 'Can you introduce me to students whom I can hire to deal with my data issues?'" said Matt Ando, associate dean for life and physical sciences in the College of LAS. "It's a big deal. Since about 2014, utilities, chemical engineering firms, finance firms, agriculture firms—really the whole spectrum of employers that I've met with during my time at Illinois—started consistently asking us how we can introduce students to how to help with data."
The university responded, and the result, in terms of undergraduate enrollment, has been enthusiastic. Between fall 2011 and fall 2021, according to the university, the number of undergraduates majoring within the Department of Mathematics grew from 826 to 1,126, making mathematics the second-largest major in the College of LAS, after psychology. More tellingly, during that same period, the number of math and computer science majors within the department grew from 72 to 275.
The mathematics and computer science major includes the core courses that computer science majors take, with technical electives pre-selected to be mathematics, according to the Department of Mathematics.
The growth has been even more dramatic in the Department of Statistics, where undergraduate enrollment grew from 153 in 2011 to 741 in 2021. The number of statistics and computer science majors grew from 16 to 313 over the same time period. In 2019, the Department of Statistics granted more undergraduate degrees—315—than any other university, including other top programs such as UC-Berkeley, Purdue, UC-Davis, and UCLA, according to the American Statistical Organization.
"Our department has experienced very rapid growth in the last 10 years," said Bo Li, chair of the Department of Statistics. "Our graduate program also expanded quite a lot. We are increasing our faculty size to match the growth of students."
Alison Champion, associate director of undergraduate studies in the Department of Mathematics, said that when she began advising at U of I in the early 2000s, the college had three or four academic advisors for all incoming first year students in mathematical and physical sciences. Now, they have five or six summer orientation advisors for first year students in mathematics and statistics alone. The advisors were adept at Zoom even before the pandemic as they used it to consult growing numbers of international and out-of-state students.
The increase in interest in programming-oriented jobs has certainly increased the number of math majors completing computer science coursework, but the statistics and computer science major is the one that has really taken off," Champion said. "Corporate interest in data analytics—much information (is being) collected about consumers, but what do the data tell us?—is huge now."
As indicated by career data on young alumni, these programs have been successful in preparing students for the field. According to the Illini Success report, which gathers data on recent U of I alumni, 90 percent of mathematics and statistics undergraduates who graduated between December 2019 and summer 2020 had secured a first destination (either employed or pursuing further education) within six months of commencement. Their average starting salary was $79,590, the highest of any category on campus outside of computer science, computer engineering, and physics.
According to Illini Success, the companies hiring the most mathematics majors over the past three years include Amazon, Allstate Insurance Company, Deloitte, EY, Facebook, Microsoft, PricewaterhouseCoopers, and State Farm Insurance (in addition to the mathematics and computer science option, the department also offers majors in actuarial science, applied mathematics, teaching in mathematics, and mathematics). The top employers of recent statistics alumni (the department offers both statistics and statistics and computer science majors) are similar, with Microsoft and State Farm topping the list, followed by companies such as Deloitte, Discover, Experian, Facebook, and Synchrony.
The university and College of LAS continue to adjust for the growth in these areas, particularly in data science. The Altgeld and Illini Hall Project, the largest capital project in the history of the U of I, calls for the renovation of Altgeld and a new, six-story building to be constructed on the site of Illini Hall. This is meant to accommodate growing enrollment and demand in these fields; the new building will also include a data science center.
Ando said that the Illinois Board of Higher Education recently approved four new academic majors for data science at U of I. The courses for the new majors are set to include those in statistics, mathematics, computer science (offered by the Grainger College of Engineering) and information science (offered by the iSchool).
"All of those courses are being developed to be the core of a broadly inclusive data science curriculum," Ando said. "We're both learning the lessons from the success of CS+ and trying to respond to the intense interest in data science."
How else do the departments and academic units maintain this growth? Good, old-fashioned human connections help. Alejandro Martinez (BS, statistics, '21) switched his major from mathematics to statistics in his sophomore year. With help from staff and professors, the switch went smoothly and now he works as a data analyst at JP Morgan Chase.
"The advising staff as well as the professors have helped me greatly throughout these past few years, and they have always been supportive of me. I have always found them to be extremely kind," he said.
The university's growing reputation in this area is fueling the growth, too. Nithin Reddy, who is majoring in statistics and journalism, has always been a sports fan and became interested in sports statistics. He realized that the best path for him was a statistics program; he chose Illinois.
For starters, U of I has a great statistics program," he said, explaining his choice. "There are many great faculty and plenty of opportunities in research and (registered student organizations). Also I didn't want to be far from home, and being from the Chicagoland area, Illinois was a great fit."
Learn more about the Altgeld and Illini Hall project to modernize and grow spaces devoted to data science and other mathematical sciences at go.las.illinois.edu/Altgeld-illini.
Growing support for programs in mathematics and statistics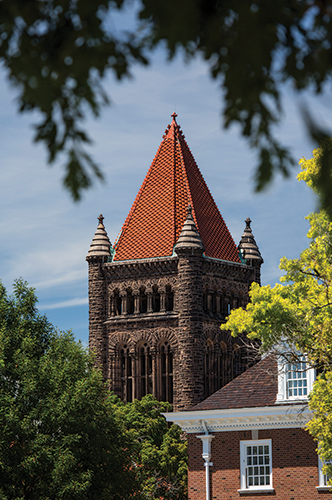 With the growth in statistics and mathematics programs at the University of Illinois has also come an increase in outside support for the programs during recent years. This support goes directly to student programs to enhance their education.
"There has definitely been an increase in corporate investment and engagement in both departments," said Tracy Parish, director of corporate and foundation relations for the College of Liberal Arts & Sciences.
Some of the recent partnerships and support includes:
Illini Statistics Club Datathon. Student participation in the event that exposes students to real-world data science problem-solving has grown fivefold, to more than 350, since it began in 2018. Corporate sponsors include Synchrony Financial, State Farm, John Deere, Sandia National Laboratories, Citadel, and Procter and Gamble. The event has generated $56,000 in revenue since 2018.
Mutual of Omaha and Anthem have collectively invested $10,000 in statistics and mathematics through the LAS Corporate Affiliates Program. Anthem led a health analytics workshop, and both companies are participating in class presentations and the Statistics and Mathematics Career Forum.
The Illinois Risk Lab in the Department of Mathematics has partnered with numerous companies on consulting projects on a broad range of topics, generating $51,000 in support from corporate partners in the last year.
The Actuarial Science Program in the Department of Mathematics recently launched a mentorship and exam fee/study course award program in collaboration with Milliman. This program covers the cost of study courses and fees for actuarial exams and also provides students with a mentor from the company. The program received $20,000 in investment for the first year.
The Center for Risk Science, Financial, and Insurance Technology, which is launching as a joint venture with Gies College of Business in 2022, will focus on developing and supporting interdisciplinary education and research in risk sciences and cutting-edge solutions in financial and insurance technology. The center's research will focus on four core interdisciplinary research areas including the intersection of the finance and insurance sectors with cybersecurity, artificial intelligence, distributed technology, and disaster mitigation. The college expects commitments of $25,000 to $50,000 annually from corporate members. 
Support from other areas as grown as well. The Department of Mathematics began a merit-based scholarship program a decade ago; it has raised more than $300,000 in support to date, according to the Office of Advancement.
If your company is interested in engaging LAS students, please contact Tracy Parish, director of corporate and foundation relations at the College of LAS, at tparish@illinois.edu.
Editor's note: This story originally appeared in the Spring '22 issue of The Quadrangle.