Scholarship investment becomes source of motivation
Eight Lincoln Scholars to graduate from LAS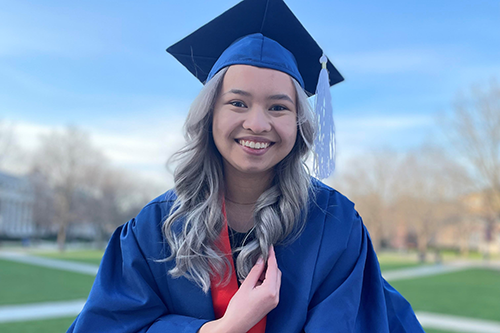 Eight students from the College of LAS will graduate with the Class of 2022 as Lincoln Scholars.
Since 2012, the initiative has supported promising LAS students from the state of Illinois by providing significant, renewable scholarships. The average unmet need to attend Illinois is around $6,000 per year, and the Lincoln Scholars Initiative helps bridge this difference. For nearly a decade, the program has provided up to $20,000 in scholarship funding over four years to more than 120 promising students who have earned the chance to study at Illinois, lightening the financial burden for their families and futures.
This year's graduating seniors are: Jeremy Bao, statistics and computer science; Ivie Osagiede, molecular & cellular biology; Omar J. Ghaleb, chemistry; Elizabeth Perez, physics; Omolabake Oyetayo, integrative biology; Sebastian Frank, econometrics & quantitative economics and Spanish; Rebecca Ducay, integrative biology; and Samuel Vance, physics.
Read on to learn about a few of the inspiring students from the Class of 2022. 
Rebecca Ducay, integrative biology
During the summer of 2019, Rebecca Ducay volunteered as a research assistant in South America where her team conducted biological surveys. The lifelong nature lover soon realized her passion for wildlife and habitat management.
"I absolutely loved conducting research and working in the field, and thus that is the path I wish to pursue," the Illinois senior said. "I've always been interested in the natural world, so a career in life sciences was always my plan."
After returning from South America, Ducay chose to study within the School of Integrative Biology. After graduation, she plans to attend graduate school to earn a master's degree in wildlife management.
"I hope to one day work in wildlife and habitat management at the federal or state level, either through the Fish and Wildlife Service or the Department of Natural Resources," she said. A top reason Ducay chose to attend Illinois was because of the financial aid offers, of which the Lincoln Scholars Initiative was a notable contributor.
"Because of the assistance it provided, I was able to study and conduct research without having to spend additional time working a part-time job," she explained. "Additionally, I am now able to graduate without the overhanging weight of student loans. That's an incredible privilege to have, and I am forever grateful for the program for getting me to where I am now."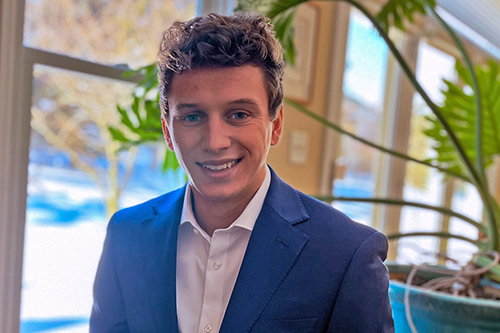 Sebastian Frank, econometrics & quantitative economics and Spanish
Sebastian Frank was a sophomore when he made a decision that changed everything. The economics and Spanish major found his niche while studying econometrics and quantitative economics.
"I knew that I wanted to do a combination of more theoretical work with quantitative material," Frank said. "Out of all the programs I looked at, Illinois was the one that had the most courses that met both of those criteria. It's really great to feel so passionate about something in college, and my career is going to follow that same path after graduation."
After interning with the asset management firm BlackRock, Frank will start work fulltime this summer at the firm's Manhattan office.
"With my Illinois classes and opportunities, I was able to discover what I was passionate about and discover this internship that turned into a fulltime role to launch my career," he said. "It's exciting to apply the things I've learned in class to a real business setting."
As a double major, Frank found Spanish to be a natural fit for his second area of study.
"While I'm at home I speak with my family in Spanish, but at school I don't really have that ability," he explained. "Picking up a Spanish major gave me that opportunity. And I also think it's an important skillset to have, regardless of whether I was a native speaker or not, I always wanted to have a mastery of a second language."
Frank has earned a variety of scholarships during his time at Illinois; however, none as impactful as the Lincoln Scholars Initiative.
"This has been the largest and most consistent funding across the board, so it's been the biggest help to make college affordable for me and my family," he said. "Without the affordability I wouldn't be here, and I wouldn't have the ability to end up where I will be after graduation."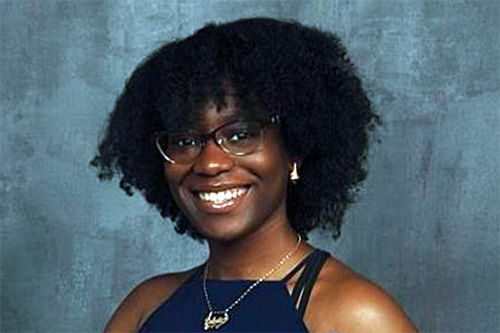 Omolabake Oyetayo, integrative biology
As a future neurosurgeon, Omolabake Oyetayo chose to study integrative biology to view life science from a more macroscopic perspective.
"I was used to learning biology from a molecular standpoint and just wanted to explore it in a different way since biology encompasses many different areas," the Illinois senior explained. "I wanted to explore the interrelationships between the organisms, the environment, and other subdivisions of biology."
Her drive to enter the medical field was solidified during the pandemic as Oyetayo realized the significant impact health care workers make within the world. In a field that is constantly evolving with discovery of new knowledge, she is anxious for the opportunity to continue learning to improve people's lives.
"This has been exemplified best during these past few years of the pandemic, and I'd like to put myself in a position to help others, as well," she said. "I am completely fascinated with the complexity of the brain and nervous system, and I'm very intellectually curious about the field."
The Lincoln Scholars Initiative impacted her student experience by lifting the financial burden from her family.
"I was able to focus on my education, extracurricular activities, and having a well-rounded academic experience," she said. "The fact that the school believed in my potential and was willing to invest in me was also a source of motivation through the years and pushed me to take advantage of the blessing."