Bruce Fouke named Ralph E. Grim Professor in Earth Sciences and Environmental Change
Longtime researcher and teacher honored for contributions to his field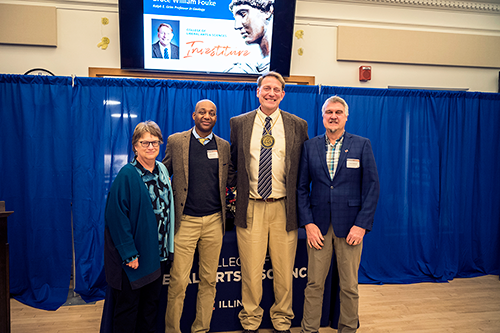 Longtime professor Bruce Fouke, whose work at the intersection of geology, biology, and medicine has widened our understanding of how life has evolved to control mineral growth in diverse natural environments and the human body, has been named the Ralph E. Grim Professor in Earth Sciences and Environmental Change at the University of Illinois.
The position was previously named the Ralph E. Grim Professor in Geology, but the academic unit associated with the position was recently renamed the Department of Earth Sciences and Environmental Change.
Since joining Illinois in 1997, Fouke has made a resounding impact on and off campus. He has received numerous campuswide teaching awards for 15 interdisciplinary courses that included guiding more than 1,000 Illinois students on geobiology field courses to study Yellowstone hot springs, Curaçao coral reefs, and the ice sheets of Svalbard. Fouke also offers a Coursera massive open online course (MOOC) entitled Emergence of Life, with an enrollment to date of  more than 450,000 students from 154 countries.
He has held professorships at Lund University in Sweden, the Center for Advanced Study and the Carle Illinois College of Medicine at Illinois, and fellowships from the Marine Biology Laboratory at Woods Hole and the American Association of Petroleum Geologists. Fouke's research has been featured by National Geographic, National Public Radio, The New York Times, Scientific American, Smithsonian Magazine, and other outlets.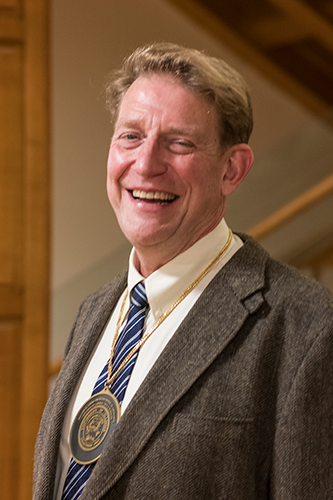 "I could not have done any of this if I were anywhere but Illinois," Fouke said. "In the Midwest we have a saying, 'To whom much is given, much is expected.' That's how things are done here at Illinois and this has been an inspirational imperative throughout my career."
Standing 6 feet 8 inches tall, Fouke naturally stands out among a crowd, but even without his height he likely would be noticed for his bright personality, said colleagues. Psychology professor Wendy Heller, associate dean for social and behavioral sciences and area centers in the College of LAS, described Fouke as "a force of nature" known for his adventurous spirit and groundbreaking research.
Fouke was raised in north central Iowa, worked on local farms, pursued underwater welding of bridges in the Florida Keys, lead cadastral land survey crews in the national forests of Colorado, and was a dedicated athlete and outdoorsman. Today his adventures include trips around the world with his wife Ann and three children Kaitlyn, Kyle, and Courtney, who are pursuing careers in neuroscience, geoscience, and wildlife rehabilitation. They have joined him on field research campaigns in Australia, Curaçao, Italy, Sweden, and Yellowstone, which have resulted in multiple family co-authored scientific publications.
Fouke's decision to delve into the world of microbiology came from the encouragement of two Illinois faculty members he refers to as "luminary" and who became his close friends and influential mentors: Abigail A. Salyers and Carl R. Woese, namesake of the Carl R. Woese Institute for Genomic Biology. He then applied these concepts and approaches to study the survival of different forms of life on Earth through geological time. Within this holistic context, Fouke could newly evaluate survival as being dependent on successfully responding to, and eventually controlling, mineral growth within the environment. This process, called biomineralization, has been an essential, unavoidable, and ubiquitously distributed force of nature that has provided essential benefits (such as coral skeletons and dinosaur teeth), as well as profound practical problems and impediments (such as human kidney stones).
Fouke's research interests globally expanded to include life-mineral-water biomineralization interactions in coral reefs (Curaçao, Australian, Vietnam), hot springs (Yellowstone, Italy), the deep subsurface of the Earth's crust (Illinois, Alaska, Scotland), ancient Roman aqueducts (Italy), the meteor impact that killed the dinosaurs (Mexico), and kidney stone formation and cardiovascular calcification within the human body (Mayo Clinic, ULCA Health, Northwestern Medicine). One of the more well-known accounts of his research was written by The New York Times, in a story called "Kidney Stones Are More Beautiful Than You Might Think." In addition, the Mayo Clinic produced a documentary that chronicles his groundbreaking GeoBioMed studies, entitled "A World in a Grain of Sand: New Advances in Kidney Stones."
Fouke is known for a holistic approach to his work, which is reflected in the recent NASA-sponsored book he co-authored with Tom Murphy, called "The Art of Yellowstone Science: Mammoth Hot Springs as a Window on the Universe," which is "Dedicated to the pursuit of truth and beauty in nature through science and art."
Charlie J. Werth, a professor of environmental engineering at the University of Texas, came to the investiture ceremony and attested to Fouke's ability to inspire others. Werth got his start at Illinois with Fouke in 1997.
"One of Bruce's really amazing talents is his ability to create this compelling vision, and to inspire others," Werth said. "I'm a reductionist, I boil things down into really simple problems, but Bruce really inspires."
The Grim Professorship was created through the generosity of Ralph Early Grim and his wife, Frances. Born in Redding, Pennsylvania, in 1902, Grim became a professor in the Department of Geology at U of I in 1948. He was among the first researchers to apply the technique of X-ray diffraction to the study of clay, and he's now known as the founding father of clay mineralogy. He worked at the university until 1967.
Fouke's investiture ceremony is more than just a celebration, according to Kevin Jackson, vice provost for undergraduate education at the U of I, who attended.
"This investiture also allows us to reflect on our shared purpose and mission as a land grant university. We reserve that honor for those faculty who have excelled in this fundamental mission," Jackson said. "The interdisciplinary nature of his work represents the very spirit of collaboration that we strive for at this university."
Fouke reminisced about national park trips with his parents and sisters and the literature that they read and discussed at the dinner table in rural Iowa while growing up. This included a book called The Outermost House, published in 1928 by Henry Beston, which includes the quote, "Whatever attitude to human existence you fashion for yourself, know that it is valid only if it be the shadow of an attitude toward nature. Do no dishonor to the earth, lest you dishonor the spirit of man."
"I've never been more inspired, I've never been more thankful and appreciative, and I'm so excited about the future," Fouke said, of being named the Grim Professor. "I am dedicated to not only advancing the legacy of inclusive excellence in interdisciplinary education and research at Illinois, but to also passing the baton to ensure a future global society that can better understand and steward the intertwined challenges of environmental change, sustainable energy, human health, and space exploration."
News Source
Christian Jones, with contributions by Bruce Fouke