What it's like being a CS + X major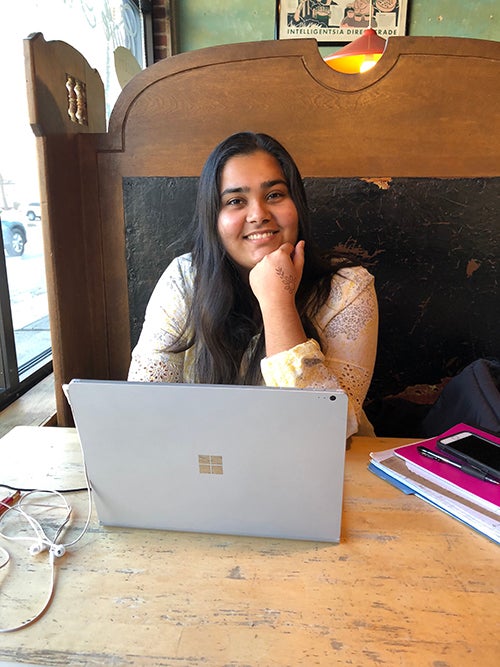 Computer science is becoming an increasingly popular field of study. However, studying computer science doesn't mean that you have work with technology only. Computer science can be applied to a myriad of fields. A degree in computer science can empower you to work in many industries from astronomy to finance – and any number in between!
Like many others, I also wished to go to a top 10 school to study computer science, but I also wanted a college that would let me pursue my other passions. I knew I was interested in the tech/science field but also in other disciplines. I wanted to study data analysis and apply it to fields such as political science, advertising, and design!  
The University of Illinois offers an amazing program that mixes computer science with other disciplines. If you're passionate about a specific subject and want to combine it with the study of computer science, the CS + X programs are perfect for you. The College of Liberal Arts & Sciences offers majors such as Statistics and Computer Science, Mathematics and Computer Science, CS + Astronomy, CS + Anthropology, CS + Chemistry, CS + Economics, CS + Geography and Geographic Information Science, CS + Linguistics, and CS + Philosophy. (Read more about these programs in an FAQ.)
I'd found the perfect major for myself: Statistics and Computer Science!  
Now you must be wondering, why is a computer-science related major in LAS? These majors are designed for students who wish to study both fields in the major. All of our majors have the same core requirements. The main difference between CS in in the Grainger College of Engineering and the CS + X majors is that the engineering version, on top of the common coursework, requires six to eight electives in specialized areas of computer science. 
The programs in the College of LAS require that students take advanced coursework in the X discipline. These majors offer solid, foundational training in a field within our college, combined with the study of computer science. You'll receive the benefit of earning a degree in your chosen field and in the core elements of CS. It's a single, specialized degree that prepares you to pursue your passions! 
At first, I thought the CS + X majors would be incredibly difficult to manage because of the requirements. Isn't it essentially a double major? I've found that all of our degree programs, while challenging, are structured so that students who take them on have manageable workloads and still graduate in four years.
The programs are rigorous, though the general education and distribution requirements may differ between CS + X degrees and CS degree in the Grainger College of Engineering. For example, students in the CS major in engineering are required to take two semesters of physics, but students in CS + X majors are not. CS + X majors in the College of LAS are required to take four semesters (or four high school years) of a foreign language, whereas CS engineering students are required only to take three. Moreover, as a CS + X major, you'll be expected to complete 300- and 400-level classes in your specialized subject.
Furthermore, as an Illinois student, you're welcome at all campus career fairs, including those hosted by Engineering Career Services and the ACES + LAS Career Fair. Employers are eager to recruit our students! While it is important to have a good academic standing as a computer science student, employers are also looking for soft skills such as working well in teams, strong oral and written communications, critical thinking, and problem solving.
It doesn't matter if you come from Statistics and CS or CS + Philosophy, the coursework prepares you such that you have the same opportunity at a software engineering job as any CS engineering major, if that is what you choose to pursue. You'll also have a shot at jobs that blend your fields of study. They'll show you have passion and are flexible enough to combine it with computer science.
Lastly, the most advantageous thing about being a CS + X major is the amount of endless resources available to students, such as the Life + Career Design Lab, where students can come in to get learn about everything from planning study abroad to securing an internship.
The professors and advisors at the University of Illinois are always there to provide any information and help you need. Everyone genuinely wants to see you succeed! As a CS + X major, you have the ability to build communities in two of our largest colleges at the University of Illinois. It truly is the best of both worlds!