Our incredible alumni network is one more reason to choose LAS
What it's like to work with the largest alumni network at Illinois
Victoria Wilson is a junior studying atmospheric sciences in the College of Liberal Arts & Sciences. Originally from the town of Clinton, IL, Wilson has grown to love living in Champaign-Urbana. She serves on the LAS Alumni Association Board as a student representative and is the president of LAS Leaders.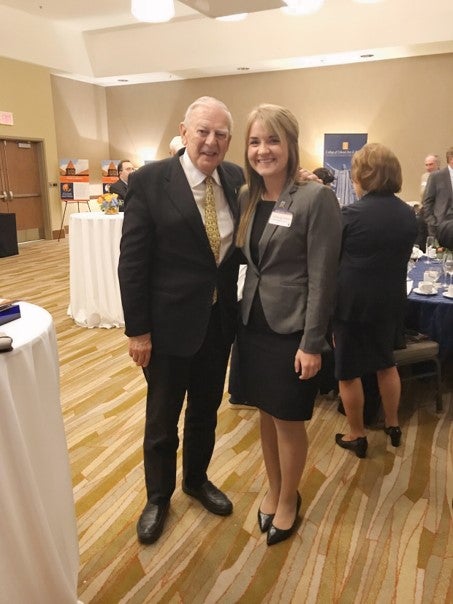 Alumni networking is something that I had not taken into consideration until I became a member of LAS Leaders during my freshman year of college. Today, alumni networking is a huge part of my college experience that I consider a very high priority. I have been given numerous opportunities to connect with, or even just be in the presence of, amazing alumni through my experience with LAS Leaders and while working with the LAS Office of Advancement. 
As a student representative on the LAS Alumni Association Board, one of my primary responsibilities is to present what the LAS Leaders have been involved with around campus, whether that be meeting and connecting with alumni, engaging attendees at LAS events, or working with one another within our organization.
I also provide a look into the student perspective when the board is discussing issues, changes, or proposals. I really enjoy having this role on the LAS Alumni Association Board, and I have had certain experiences and encounters that I would not have had if it were not for my role as the student representative. 
The LAS alumni network is unique to me due to its size, diversity, and its desire to help others succeed. LAS has over 171,000 alumni, which is the largest of any college on campus! With this large number of alumni comes a very diverse group of people. LAS has alumni that come from many different walks of life, that work in almost every imaginable industry, and that live all over the world.
Our alumni are also very servant-minded in that they strive to give back and help others grow. I may be slightly biased, but I believe that the LAS alumni network is unmatched and very impressive!
As both president of LAS Leaders and a student in the college, LAS is a part of my college experience that I take great pride in and always wish to support and represent incredibly well. LAS alumni have had a positive impact on me thus far, to say the least, and I am excited for the future opportunities I have to network with even more of these amazing, accomplished individuals.