How I'm using my humanities degree to pursue a STEM career
Megan Resurreccion is a senior in the College of LAS, where she is majoring in creative writing and minoring in informatics and statistics. Upon graduation in the spring, she plans to pursue a PhD in information science/data science, with an ultimate goal of studying how we can use technology to capture data for social justice.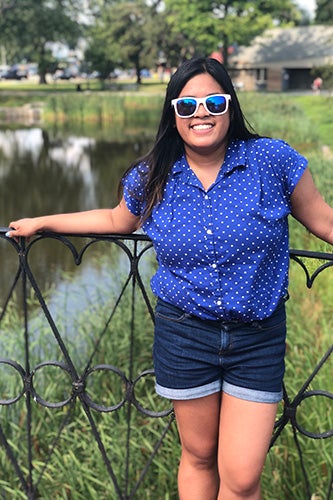 For those of us who are seniors at Illinois and anticipating graduation in the spring, the next steps in our career may loom upon us. For myself with a bachelor's in creative writing, I plan on pursuing a STEM career and will apply to graduate programs in information science and data science for next fall.
I originally started out in actuarial science, partially because I love STEM (as in I genuinely enjoyed taking calculus!). Upon deciding I wanted to pursue a master's in statistics, I became an intern at ATLAS and started pursuing research opportunities with Research Experience for Undergraduates. I could go on and on about my various internship and research experiences, but it was my most recent research experience in data science that made me realize I actually wanted to pursue a PhD in information science/data science instead.
In between this time, I transitioned to creative writing after finding that actuarial science wasn't the right career path for me. But a switch to the creative writing program with a goal of having a career in a STEM field seems like a mistake, right? Luckily, that couldn't be further from the truth!
Writing is essential to any career; pursuing a creative writing degree isn't just about writing prose or poems. It's improving your writing style to be more concise and comprehensive for technical papers. It's knowing how to edit and re-edit your own and potentially future colleagues' written material. It's improving your communication skills for meetings through workshopping other people's pieces and becoming a more understandable presenter, speaker, or leader. It's becoming a great storyteller in any genre or field.
Furthermore, I've become a more well-rounded reader and writer through having to read a variety of other authors' pieces (from 19th century British literature to contemporary poems). Obtaining a BA in creative writing was definitely the right move.
In the process of pursuing my major, I picked up minors in informatics and statistics, allowing me to build knowledge in STEM. I don't have a concrete dream job or company in mind for beyond my graduate studies just yet, but I know I want my future career to involve a focus on human-computer interaction, more specifically how visualized data and information can be best translated from technology to humans to benefit the understanding of social justice topics.
As much as I would love to write the next New York Times bestselling novel (which I may attempt, regardless!), I don't have any doubt that my creative writing degree will help me wherever I go. The skills I've picked up as a humanities student can apply to any job or career. As far as I've seen, there is never one career path, and I have full confidence that I can fulfill my data science career goals with my bachelor's of arts from Illinois. Mine hasn't been a traditional academic path, but it's a path that works for me!