How to take advantage of every opportunity with RSOs
Brendan McGovern is a junior in LAS, where he studies English and political science. He is passionate about politics and writing, and he has found registered student organizations on campus to develop those interests.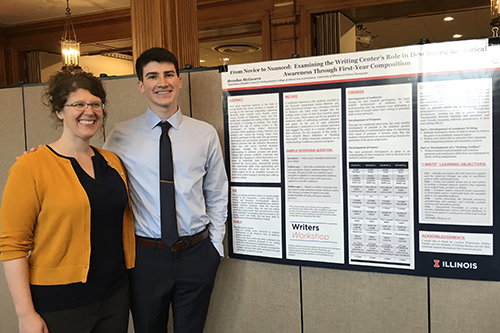 Coming to the University of Illinois can be overwhelming for a number of reasons. Between the sheer size of the student body, the demands of coursework, and number of registered student organizations (RSOs) available, getting established on campus can seem daunting. However, getting involved on campus is also one of the most rewarding experiences as a student. You can grow both personally and professionally by joining RSOs and campus activities, enriching your adventure at Illinois.
With an affinity for writing and a passion for politics, I searched for opportunities that would fulfill my interests and help me develop professionally. Quad Day presented an incredible way to see how many unique student groups exist on campus and allows all students to get a better sense of how they can get involved. 
This university-held event allowed me to begin involvement with The Daily Illini and Amnesty International. I edit the student newspaper and lobby for human rights issues, all while meeting new people and gaining real-world interpersonal skills. I quickly found that these organizations complimented my coursework in English and political science while simultaneously helping me meet new people with similar interests. 
This past spring, the Amnesty International group led a year-long campaign to assist refugees and lobby for Congress to take action to ensure better treatment of children and separated families at the border. Hosted by the University YMCA, my group members and I hosted a public presentation to educate the local community on refugee resettlement, the rights entitled to displaced individuals, and the difficulty of reuniting separated families. Our talk attracted almost twice as many people as we had anticipated and was even broadcast on local television. This experience taught me the importance of civic engagement and allowed me to see just how important the content learned in my political science courses can be when put into practice. 
Additionally, I have worked as an writing consultant at the Writers Workshop since my freshman year. This experience by far has been the most instrumental in helping me find my passion for writing, reading, and critical thinking. In addition to helping students improve their writing skills, I have had the opportunity to participate in faculty-led research, attend developmental events, and give many presentations that help students succeed academically. 
I would attribute my happiness at Illinois with the experiences I have pursued. Many of the most memorable experiences I have had on this campus were the result of meeting new people, exploring my interests, and taking on responsibility. Since you will never know until you try, step out of your comfort zone and try anything you think might interest you!
Overall, the past three years have taught me that regardless of who you are or what interests you have, you absolutely cannot go wrong when choosing the College of Liberal Arts & Sciences. While nearly every new student feels overwhelmed with the number of opportunities available to them, embracing each opportunity that comes your way will not only allow you to get the most out of your time at Illinois but will give you exposure that will grow your intellectual interests, allow you to develop as a young professional, and deliver a sense of fulfillment on campus.