LAS senior finds a home at Illinois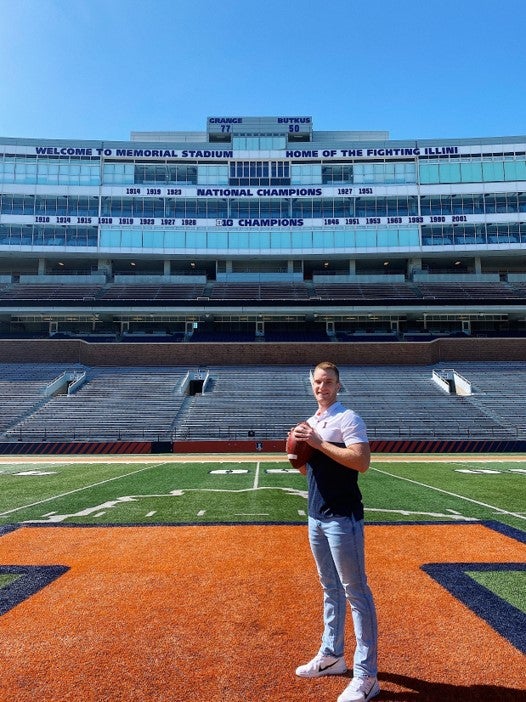 Nick Hafner is a senior studying psychology at the University of Illinois. Originally from Peoria, Hafner has also served as a student manager on the football team the past two seasons.
After the Big Ten's recent decision to resume a fall football schedule, we caught up with Nick to learn more about his time at U of I and what this final year on campus means to him.
Where are you from originally? What was the draw to the University of Illinois?
I was born and raised in Peoria, Illinois. Coming from the central Illinois area I was always surrounded by Illini fandom growing up. I wore my Illini gear during the 2004-2005 Illinois basketball season and watched Juice Williams tear up the football field during his tenure in the late 2000s. However, my true fandom started around the 2012 Illinois sports seasons. The one moment that stands out from the rest was when Illinois knocked off top-ranked Indiana at home. I was hooked. I knew I had to go to this school no matter what it took. The way the fans, students, and players reacted is something that is forever ingrained in my memory. My dad and I were watching the game as Tyler Griffey made the last second layup and we both jumped up and down hugging each other while screaming. It still gives me chills. I knew no matter what it took I had to be a part of that experience and I had to become an Illini. I wanted to bleed orange and blue.
Can you describe your involvement with the football team at U of I? When did you get started and what all do you do for the team now?
It actually all started from a bet I made with some friends back in high school. For the longest time, I told them that I was going to play Division I football. So when I got to U of I, I went to walk-on tryouts just to give it a shot. Even though I didn't make the team, I met a guy there named Andrew Boyd, who ended up connecting me to this opportunity as a football manager.
Within the team all I can say is the word family comes to mind. I work with all of the specialists (i.e. punters, kickers, long-snappers) and they have become great friends of mine. Coach Ligashesky and Coach Schwettman are amazing teachers to learn from as well. I was a bit nervous coming in because I looked up to these players and coaches; they were almost like superheroes to me! But again, I cannot stress how much of a family my unit is along with the rest of the team and manager staff. From running drills during practice, to doing laundry, and setting up for games, we do it all and there is no group of people I would rather do it with than my Illini brothers.
What are your career goals and aspirations? How do you think your experience working for the football team will help you in your career pursuits?
One of my favorite things in the world is helping others, specifically kids. I am also passionate about mental health, which caused me to really look into the realm of school psychology. Luckily going to such a prestigious university has its perks and within the Department of Psychology here at Illinois I have received an enormous amount of opportunities to further my development as a student.
Working for the football team has made a major impact in my development not just as a student but as a person as well. I had to learn how to manage my time much better due to the countless hours put into prep and practice for the team as well as being able to communicate more effectively with my teachers about my career goals knowing that my time was limited.
Along with growing as a student I have learned a lot of values in my time with the Illinois football program. Some of the amazing lessons I have learned are that hard work is everything, never let anyone tell you that you cannot do something that you set your mind to, and never let anyone out-work you. The Illinois football program has set me up with amazing life lessons that will help me succeed in every challenge I face.
Tell me a little bit about your experience as a psychology major in the College of LAS. What drew you to that degree specifically? And how do you think it'll help you after college?
First of all, for any student considering psychology I would tell them that they will not find a better school in the country. The University of Illinois has an abundance of incredible researchers, labs, and professors that help students advance academically and reach their goals. When I was a sophomore, I joined the Infant Cognition Lab, and loved working in that type of setting. I learned a great deal from the graduate students, my fellow undergrads, and Renée Baillargeon. In terms of the classes, I have nothing but good things to say. They have been extremely interesting and kept me engaged the whole time, and left me wanting to learn more and expand on the topics that I had learned in class.
You've been a part of quite the turnaround at Illinois the past few seasons, culminating in a bowl appearance last year. What has been your favorite moment of the journey so far?
I don't know if I can only pick one moment from such an outstanding season last year, so I will go with two.
First, the win over Wisconsin is something I will tell my grandchildren about. James McCourt is a great friend of mine and I knew as soon as he stepped up to kick that game winner, he had it in him. To see him get that moment was incredible. James had put in so much work in the offseason and to see it pay off was amazing. But not just him, I was proud of the whole team. Honestly, that game was a top five moment in my life.
The next one has to be the game against Michigan State. We were riding high following our three previous wins, the locker room felt like we could win, the coaches felt like we could win, Illini nation felt like we could win…and then we came out and were losing big after the first three quarters. But that fourth quarter was incredible. From Josh Imatorbhebhe bringing down the catch on 4th-and-16, our defense playing lights out, and Brandon Peters making all the throws, what more could a football fan ask for? However, the best part of the Michigan State game was getting to see the emotions of some of my friends who were seniors on the team. They had been through seasons where wins were hard to come by. To watch them get to cap off their careers with a bowl game was truly special.
How excited were you when the news came down from the Big Ten last week? What was going through your head?
I was pumped, that's for sure. Back in August, I was devastated for the guys when I first heard the news the season had gotten postponed. I knew how good this team was going to be and the possibility of not getting to see them play destroyed me. I knew that this was going to be the year that we really took a big step forward as a program, and all we needed was a chance. So hearing that the season is back is music to my ears because I cannot wait to show the rest of the Big Ten what is in store for them!
What has it been like to experience U of I COVID-19 protocols this semester?  
I want to give major props to the U of I for how they have handled the Coronavirus pandemic. They have created an amazing testing system that keeps me as a student and student worker feeling safe 100% of the time. Illinois has done an outstanding job creating a unique opportunity for us to succeed in these crazy times. The ball is in our court as students; we need to follow the set guidelines and all do our part to help get us back to normal as quickly as possible!
What advice would you give to seniors in high school who are considering the University of Illinois?
This is a special place. Illinois isn't just a school, it's an experience. From Saturday football games, standing courtside in the Orange Krush, hanging out on the quad with your friends, to getting food to eat on Green Street, this school has so much to offer. There are outstanding academics, amazing athletics, and incredible people. Whether it be on the football field, in the classroom, or the dorms, you will find that this place feels like one giant family. Everyone looks after each other and everyone cares about you, staff and student alike. This place is more than just a college, it's home. I-L-L!