Helping undocumented students navigate Illinois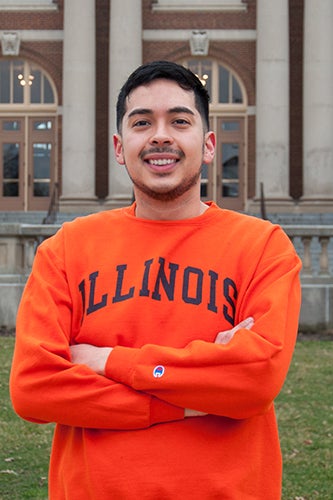 Arnoldo Ayala is a senior in political science and Spanish. He currently serves as the vice president of education for the Illinois Coalition Assisting Undocumented Students' Education (I-CAUSE). He is also the speaker of the senate for Illinois Student Government and former department director for Helping Others Personal Excellence (HOPE). 
We recently chatted with him about the organizations, how his LAS degrees are helping him succeed in his roles with them, and how students across the university can serve as allies to their undocumented student peers.
If you're interested in learning more about how the university supports undocumented students, find more information via the admissions website and Open Illinois.
Question: What are I-CAUSE and HOPE?
I-CAUSE is the Illinois Coalition Assisting Undocumented Students' Education. We are a student group that focuses on fighting alongside undocumented students and attempting to provide resources for them to afford college. We have been working on helping students find the money to fill out their DACA renewals as well as providing ally trainings across campus.
HOPE is the Helping Others Personal Excellence scholarship. It was a collaboration between I-CAUSE and the Illinois Student Government (ISG) to help students who don't qualify for federal financial aid afford to attend the school. It is a scholarship program that is meant to help students like undocumented students alleviate the financial burden of attending Illinois and gives them some type of support.
Q: How did you get involved with these groups?
I got involved in I-CAUSE because of my time spent at La Casa Cultural Latina. I was in a lot of other Latino/immigrants-based RSOs [registered student organizations], so I figured I'd join another one, and I'm glad I did!
I got involved in HOPE because of my time as a senator in the ISG. I was one of the people who created and drafted the resolution to create the scholarship and was chosen as the one to direct the project once the student body approved of it. As the director, I was the one in charge of implementing the scholarship
Q: What has been your favorite project or initiative you've completed with the groups?
The creation of the HOPE scholarship is my favorite project! Seeing as it was a collaboration between ISG and I-CAUSE, I loved that I was able to get involved with both groups simultaneously and be the one to lead the cause. I worked with a great bunch of students and faculty, and although it was stressful, it was great getting to work with so many intelligent individuals.
Q: How has your education through your majors helped you complete this work?
As a political science major, I was able to successfully navigate through administration and the student body to get the HOPE scholarship passed. My ability to think quickly and my analytical skills gained through the major were very helpful in getting everything done well with HOPE! It has also allowed me to understand people and find a way to compromise on certain issues.
Q: One part of your position with I-CAUSE is to present ally trainings to students and faculty. Do you have any words of advice for people who want to be better allies to undocumented students?
The biggest piece of advice that I would give would be to not take these issues lightly. A lot of people think they don't know anyone who is undocumented, but the reality is that there are a lot of individuals who fear speaking out about their status and a lot of people may not know. It is better to take these issues seriously and learn about them to make undocumented students and people feel safe and welcome.
Q: Do you have any other advice you would like to share with students about your experiences at Illinois?
Appreciate the moment while you're there! As a senior, I did not expect things to get cut short as they did with COVID. Being now in my last year, I wish I would have appreciated the moments with my friends and colleagues some more!
Blog Source
Arnoldo Ayala & Melissa Kuhl