LAS Honors a big reason why I love being a U of I student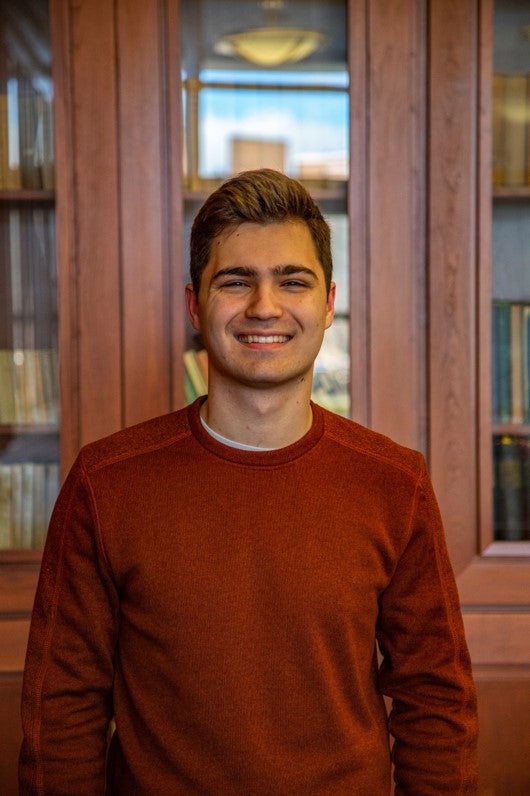 Matthew Hoyle is a senior studying statistics and astronomy in the College of LAS. Originally from Pekin, IL, Hoyle has been a part of LAS Honors since his freshman year.
It is no secret that the University of Illinois is a big school, especially for students like myself who come from a small town. I will always remember arriving on campus on the first day as one of the most exciting and overwhelming experiences of my life. So many questions ran through my mind, but an important one for me was "how do I find my place on such a large campus?" This anxiety was something I fortunately did not have to live with for long, as the LAS Honors program helped me find my place here at Illinois.
A program that helped me in both my early and later years at Illinois was the Freshman Honors Orientation (LAS 122) course. Unlike many other students who come from large high schools, I knew nobody at Illinois when I first arrived. My goal was to start making friends as early as possible, but with Registered Student Organizations (RSOs) not getting into full swing for a couple of weeks and most of my freshman year lectures being comprised of hundreds of students, I was afraid that I was going to struggle meeting people. Luckily, because of LAS 122—as well as meeting some great people in my dorm—I did not have that struggle.
The nature of LAS 122—a group of 15 freshmen taught by an upperclassman—created an environment where students new to Illinois could come together and create our own little community. These were other students who I shared classes with, saw at events, and held similar academic experiences. The other side of coin was that although we all had a lot in common, we all came from vastly different backgrounds, which allowed us to learn about different backgrounds, whether that be through ethnicity, class, or geographical location. My experience in LAS 122 was invaluable; I was given this small community of peers who were facing similar challenges, with whom I could share experiences with and lean on for support.
My experience with LAS 122 was so important and impactful that my junior year I interned as a LAS 122 instructor. I knew how impactful it was to have an older student helping guide us freshmen through our first semester, and I wanted to give back and provide that same guidance. Something that surprised me about the experience, however, was the strong community that is built amongst the interns teaching the course. Walking into our first intern orientation session, I knew I had discovered an excellent group of people—hard-working students with a passion for helping others. Us interns all faced the difficult task of instructing students only a couple of years younger than us (many of us for the first time) while maintaining our academics, extra-curriculars, and jobs. It was a challenge that we all faced together, with the incredible support of Allison Holden and Dr. Krueger. Because of the compassionate nature of the group and the challenges we all faced together, the group had become very close by the end of the semester. I have never seen a group of people who were so caring, supportive, and hard-working in my life, and I am so glad that I got to be a part of that little community.
LAS 122 provided me with a community of support not once, but twice in my time at Illinois. Both times I found a group of students who faced similar challenges and through those challenges provided support for each other. The incredible thing is that this is only one part of the LAS Honors program. Not only are there so many communities within LAS Honors, but the program helps expose you to so many other communities within the university through JSSAB, study abroad, and honors courses, just to name a few. I will forever be grateful for LAS Honors and the people I have been able to meet because of it. It is a big reason I have loved my time at Illinois so much.