LAS Honors helped me serve the community and grow as a person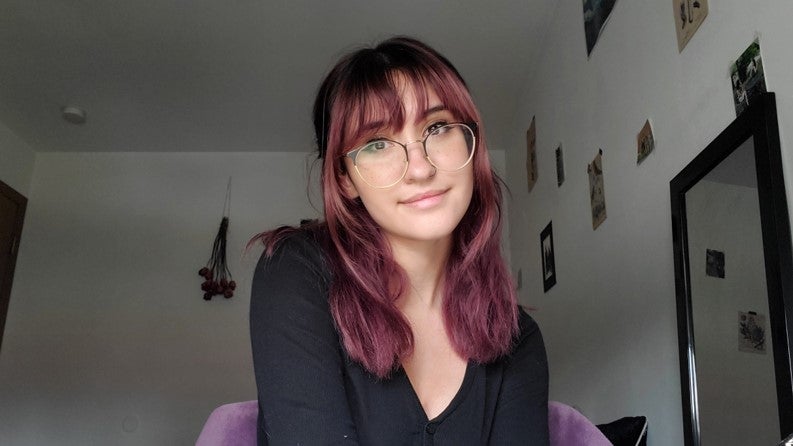 Sarayah Villasenor is a senior studying English in the College of LAS. Villasenor is also a member of LAS Honors at UIUC.
Being at a school as large as the University of Illinois can often make you feel like you're just a number. Coming from a small school, I often felt lost in a sea of people, during my first few weeks on campus. None of my close high school friends came to the U of I with me and I have always been a very quiet and shy person, so making new friends was a bit difficult for me. While the LAS Honors orientations I attended introduced me to tons of new people, it was LAS 122, the Freshman Honors Orientation, that really helped me. Without LAS 122, I would have continued feeling that way for the rest of my time here. But through this class, I was introduced to Wesley Food Pantry and my experience volunteering there really gave me a purpose during undergrad.
Our final LAS 122 project centered around doing community service and creating a presentation about our experience. My friend and I wound up together at Wesley Food Pantry where we learned about food insecurity in the Champaign-Urbana area. At Wesley, I was also able to meet and talk to so many more people that attended UIUC and people who lived in the Champaign-Urbana area than previously. I got to help members of the community grab groceries while also giving them someone to talk to. Sometimes people would just tell me about their day or I would help entertain their kids while their parents finished going through the pantry. Being a creative writing minor, writing stories and poems would almost always be on my mind and a lot of the people who came to the food pantry would ask me about my studies and even gave me insight into my characters or plots that I otherwise would not have gotten in class. The greatest thing was getting to be a part of something greater than myself and being able to give back to the community.
I even wound up connecting with my LAS intern, Jensen, who also frequently volunteered at Wesley. After our class ended, Jensen and I stayed in contact, volunteering and talking about classes together. She later helped guide me through the process of applying to graduate colleges to pursue my Master's degree in Creative Writing. Her insights into the application process and essays were one of the biggest helps throughout my last two semesters on campus and without LAS 122, I never would have met her, and I would not have been able to get through the stressful process of applying to graduate colleges.
Because of my experience in LAS 122, I met a great community of people on campus and I still volunteer at Wesley Food Pantry as often as I can. Wesley really brought me out of my shell and got me more involved on campus. My experience in LAS Honors has made me more outgoing and willing to try new things. It has been an invaluable experience being a part of the honors program and it is an experience I will never forget.