How two history students are researching topics they're passionate about
Students in the College of LAS have access to countless undergraduate research opportunities and chances to expand their knowledge in topics they're passionate about well beyond the classroom.
Connor Barnes and Zackary Landers are history majors working on completing research on topics including U.S. perceptions of Latin America through film and urban space in Black Chicago. We met with them to discuss their recent participation in the first History Showcase, where they presented their research alongside peers throughout the department.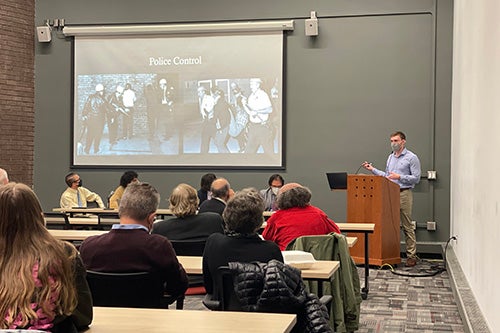 How did you get involved in the History Showcase?
Connor: My advisor, Stefan Djordjevic, sent out an email announcing the showcase. I'd been working on my research for over half a year at that point, so I jumped at the opportunity to present it to others.
Zackary: I got involved after receiving a department-wide email sent out by undergraduate advisor Stefan. It sounded like a great opportunity to present my work in a format in which I'd never before participated. After making sure I didn't have a conflict for the date, I signed up!
Tell us a little bit about your research project.
Connor: My research project is titled "Social Production of an Internal Colony: Urban Space in Black Chicago, 1945-1970." It is an examination of Black Chicago during the Second Great Migration, understanding space as socially constructed and utilizing an internal colonial model to analyze the ways in which Black space was shaped and controlled. By combining these two theories in this analysis, I was able to fully explore the intentionality with which Black Chicagoans were exploited during this period, and how closely this exploitation paralleled traditional colonial relationships.
Zackary: My project, entitled "Film Reel Statecraft: Shaping U.S. Perceptions of Latin America Through Film 1933-1945," seeks to explore the way the U.S. mass media received, discussed, and transformed the messages of motion pictures focusing on Latin America during the Good Neighbor era and through World War II. The project has (so far) examined more than twenty films from the era and my media research has focused on newspapers from across the US.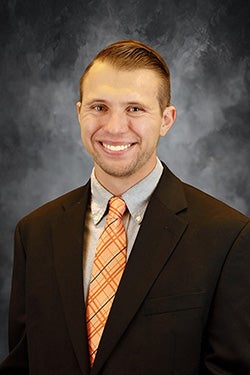 What drew you to this specific topic?
Connor: I'd always been interested in class and race issues. After taking Professor Steinberg's Urban History class last spring, I gained an interest in how urban centers intersected with these important social issues. I used the final research paper for that class to build and refine my own research on Black Chicago, trying to better understand how systems of oppression work in the city.
That research, along with Professor Steinberg's guidance, led me to two important realizations: First, that urban space is a social construct. It's shaped and intentionally manipulated by those in positions of power. Second, that space in marginalized communities is not built to strengthen and maintain those who live there, but to extract as much economic value as possible. In other words, marginalized space is built like a colony. Once I realized this, the research fell into place.
Zackary: I knew I wanted to begin a project focusing on Latin America since I am focusing my undergraduate work in history around the region as closely as possible. Further, I am double majoring in Latin American studies, a discipline that stresses the holistic study of the region, training me to work with sources from disciplines like media and cinema studies, anthropology, and political science.
Since I love early/mid-twentieth century film as much as I do history, this period presented a unique opportunity for analysis. Many amazing historians had worked with these films, but I have not found an analysis laser-focused on newspaper discourse.
What has been your favorite moment in your time completing this research?
Connor: I think the most interesting—or at least the most illuminating—aspect of my research was being able to explore the depths of racism and classism through primary sources. Its easy to talk about these ideas in classrooms, read about them in books. But in America, and for white people especially, we get a sanitized version of history that hides the worst parts of it. Reading firsthand accounts of families being harassed was more visceral and real than any secondary accounts I've seen. One Black family had rocks, trash, and homemade bombs thrown at their apartment because they moved into a white neighborhood. And there were countless other stories just as horrible as that, all of them necessary to understanding how devastating systemic oppression was and is.
Zackary: Delivering my poster presentation to my research mentor Dr. Amanda Rector. Dr. Rector helped me build this out from the ground up and, after a few false starts, helped me polish it for presentation at last year's Undergraduate Research Symposium. Of course, Dr. Rector had eyes on the project at each step, but presenting it to her as a "finished" work was incredibly fun.
What are your career and personal aspirations after college? How has the LAS community helped prepare you for this future?
Connor: After graduation I will be a social studies teacher at the high school level, hopefully in the Chicago area. Sometime in the future I'd like to go back to grad school and potentially become a researching historian and professor, but I'd be more than comfortable teaching for the rest of my life.
I think that within LAS, the history department is exceptional at preparing its students for these types of careers. The professors in the department are empathetic and engaging, they want to help. They're in academia, but they all show a passion and willingness to help history students find their own path, whether it be education, research, museum studies, or something else entirely. I can't forget how much my advisor, Stefan, has done for history students as well. He and everyone else on staff are excellent.
Zackary: After college, I will continue on to graduate school. I will also continue working toward fluency in Spanish, a personal goal of mine.
The community of scholars and staff within LAS has been incredible. I've been pushed to think in new ways and challenge myself academically while feeling secure in the fact that a diversity of ideas is accepted and encouraged. Going forward, the ability to connect seemingly-abstract ideas and concepts to people's lived experiences will make me a knowledgeable and compassionate member of any team, no matter the career field.
Any advice you would like to give to those considering attending the University of Illinois?
Connor: I would advise all incoming students to take full ownership over their education. Don't let other people tell you what classes to take or major to go into. At the end of the day, they're not going to have to live your life—you are. I started college as a chemical engineering major because of the prestige and salary associated with it, but I was miserable. Now I'm in history, a subject I'm actually passionate for, and I couldn't be happier. Make decisions in your academic and professional careers that you actually want to do, and you'll be alright.
Zackary: Spend a day (or, better yet, a football weekend) on our campus in October or November. Meet with someone in the department or unit you hope to join. Ask to sit in on a class. Talk to students about the power of the Illinois alumni network. Share your biggest goals—odds are Illinois has the resources and people to guide you to them. As I did, you'll find that these goals are often best reached using the interdisciplinary integration of ideas for which our campus is renowned.
As soon as you step on campus and start making connections, you will find that Illinois is indeed the world-class university you've seen in viewbooks, but you'll see it's also so much more. The University of Illinois is a profoundly special community in which you'll have a place for life.
Blog Source
Connor Barnes and Zackary Landers