Daria Zelen is a junior pursuing a dual degree in psychology and advertising. During the school year, she works as a digital media intern for the College of Liberal Arts & Sciences. In her free time, you can usually find her listening to new music, embroidering her old clothes, exploring CU, or playing around with graphic design.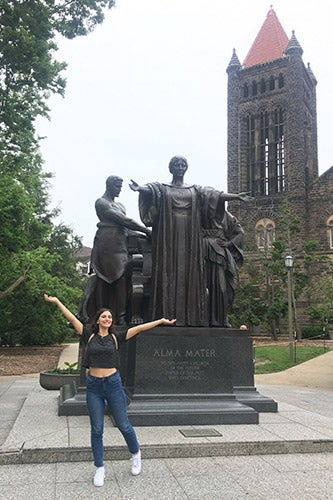 For many, deciding what college to attend is an incredibly difficult process. There are numerous factors you have to consider before finding the school that you want to call home for the next four years. When I was a senior in high school, I was terrified of making the wrong decision and ending up unhappy with the university I selected.
To combat my stress levels regarding choosing which university to attend, I began visiting all the schools I was accepted to. I was lucky enough to have a friend already attending UIUC, so I made plans to stay with her for a weekend to aid in my decision-making process.
My friend took me all around campus, starting with a tour of downtown Champaign, where we feasted on amazing food from Black Dog Smoke & Ale House. We then ventured on to Exile on Main Street, my now favorite record/vintage store, to attend a live concert played by a U of I student band on their famous record-shaped stage. I was able to mingle with current students as well as some Champaign natives to learn more about the school's environment. From the students, I learned about the ways Champaign and the university cater to their interests. One student told me, "there's something for everyone here. I found my place within house shows and the live music scene, while some of my friends have found their place within an RSO or Greek Life."
I wanted my college experience to provide me with the ability to explore activities, experience new things, and learn more about myself. Thus, knowing that UIUC offered many options to pursue interests sparked my attraction to the school even more. By talking to the Champaign natives, I learned about some fun events that go on in Champaign, like the weekly farmers market, and the places they like to visit, such as Crystal Lake Park. Since I loved the idea of exploring a new area during college, I loved knowing there was more to do in the surrounding Champaign-Urbana community than just school-related activities.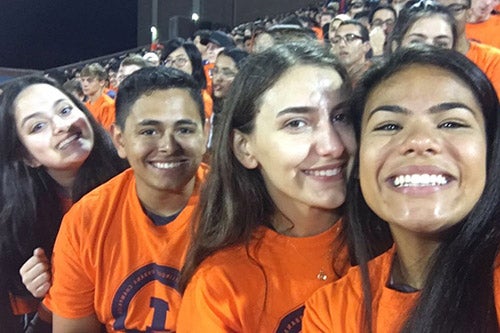 The next day, my friend and I grabbed food on Green Street and headed to the Quad for a picnic. I was shocked by the number of students my friend greeted on the Quad, and I craved to have those same connections during my college experience. While on the Quad, I watched as hundreds of students interacted with each other, whether they were reading books, painting, playing volleyball, or just sitting and talking to their friends. As I watched, I really started to picture myself attending UIUC, sitting on the Quad on gorgeous days, and making memories with new people.
Finally, we ended my U of I weekend at a football game. Looking around, all I saw were smiling faces bleeding orange and blue. I was amazed by the amount of school spirit at the games and loved participating in the bleacher traditions of shaking my keys at the beginning of the game, singing Oskee-Wow-Wow, and swaying with the crowd during Hail to the Orange. I began to truly feel a connection with the school and its students.
As my weekend away at UIUC was coming to an end, I began reflecting on everything that happened. What I remember most of that weekend was how happy I was at all the places my friend took me to, and I realized I was genuinely sad to go home. It was at this moment that I knew UIUC was the place I wanted to be my new home.
Reflecting on the last 2.5 years as a junior, I have no doubts that I made the right decision. During my time at UIUC, I have met many amazing people that have made a tremendous impact on me, I've joined RSOs through which I have learned new skills and met people from across the world, and through it all I have learned a lot about the person I am and who I want to be. It's all thanks to my incredible UIUC experience!