What I've gained at Illinois
Independence, a new perspective on learning, and exciting social experiences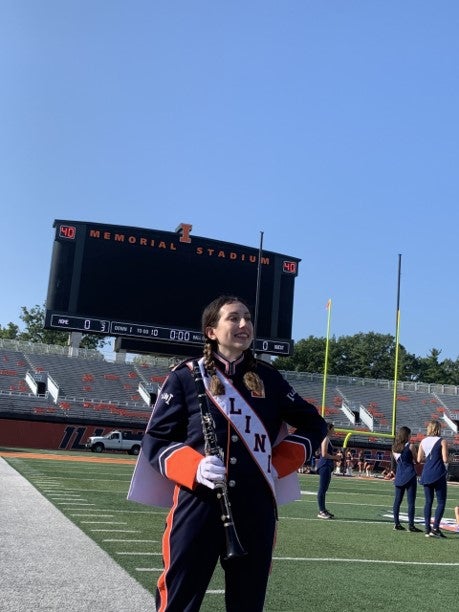 Kamila Marszalik is sophomore studying English in the College of LAS.
Since I've joined the U of I family, I've been exposed to so many new people, experiences, and events. Here are three things U of I has given me.
Independence
Coming to college for the first time can be scary because it might be the first time that students are truly on their own. Coming to U of I was my first time being independent. At first it was nerve-wracking, but developing a sense of independence here has been much needed. Each semester I create new habits and routines that are unique to me and my schedule and practice them to ensure that I am on top of my work. Additionally, living on campus and away from family has taught me how to make it on my own. U of I has provided me the opportunity to become a stronger and more self-reliant individual as I continue to navigate my way through college and eventually into the real world.
A new perspective on learning and my major
I've always enjoyed learning, but once I began taking classes here at U of I, my love of learning strengthened. My classmates, teaching assistants, and professors have made each class I've taken here so enjoyable and unique, setting me up for success. I've always enjoyed reading and writing, but it wasn't until college that I realize that I am passionate about the English language and literature of all kinds. That is because the courses I already have taken here have exposed me to so many different pieces of literature, sparking deep and insightful conversations among my classmates and me that keep me engaged and interested in all we are learning. I think it is safe to say that U of I has given me a new attitude towards my studies. I know I've made the right choice in selecting the English major and the College of LAS.
Exciting new social experiences
Social life in college is a whole other ball game to social life in high school. U of I has allowed me to meet and connect with so many students from all different backgrounds. My freshman year my friends and I always attended movie nights at Memorial Stadium and Crafts-and-Snacks events at the Illini Union. This semester, we can finally experience once again the thrill of athletic events in college such as football games, which to me are essential to a college experience. Additionally, I am a member of the Marching Illini where I have met amazing and talented individuals that I wouldn't have if I wasn't a part of the band. U of I has given me the means to enhance my social skills while having a really fun time!