Navigating accommodations at UIUC
Mia Vavaroutsos is currently a sophomore studying Spanish and English. In her free time, she enjoys baking (her current favorite thing to bake is a triple chocolate brownie) and watching movies with friends.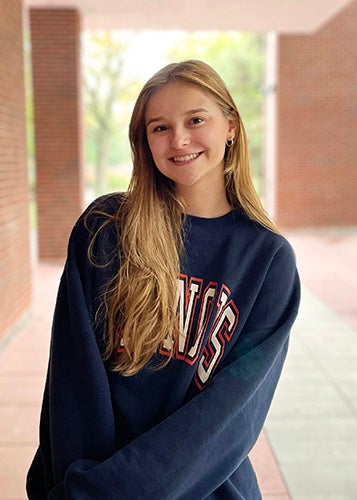 As a student with a disability, entering college is both difficult and intimidating; between struggling to find a new support system, figuring out a new routine, and navigating the various accommodations one might need, balancing a challenging academic avenue on top of it all seems impossible. This was exactly how I felt upon entering my freshman year; having an anxiety disorder myself, one can imagine that as my move-in date grew closer, the stress of this new beginning felt like a terrifying monster that I would have to face alone. However, I soon learned that the University of Illinois makes it so no one has to face things alone.
At the suggestion of my parents and my sister, I decided to register with Disability Resources & Educational Services (DRES) on campus. Even the prospect of registering with DRES was intimidating to me, but upon meeting my advisor, Dr. Teresa Davenport, much of my anxiety was put at ease. Teresa and I worked together to create a letter of accommodations, which outlined a plan of action in case I suffered a severe anxiety episode, and I review this letter with Teresa each academic year to make sure that it still best suits my needs.
Despite having my letter in place, I was still stressed about discussing my accommodations with my professors – I was worried that they would be rude, or treat me differently than my peers, as if I needed to be handled "delicately". Upon having those conversations, however, I was pleasantly surprised! Each and every one of my LAS professors has been beyond kind, and many have made efforts to reach out to me before assigning any projects or exams that I might need accommodations for. Beyond that, my advisors within LAS, Anna Ivy (English) and Brady Hughes (Spanish), have been extremely supportive. During my meetings with them, they always take care to ask how I'm doing, make sure that my accommodations are still working for me, and help me create course schedules that best suit my routine.
Not only do my LAS advisors assist in making sure that I don't create a schedule that will exasperate my anxiety, but they also provide advice as to which professors might be a good fit for me; now that I am a sophomore, I have taken classes with professors that have a variety of teaching methods. This allows me to work with my advisors so that when I choose courses, I can select sections taught by professors with teaching methods that most closely align with my learning style.
Coming to UIUC, I never expected to have so much support with my disability, especially since mental illness is often not always recognized as a disability. Being enrolled in both the College of LAS and DRES, however, I have felt more academic and emotional support than I ever thought I would. I am extremely grateful for how wonderful the staff at UIUC has been as I continue my academic career!