Completing political science undergraduate research
Thomas Ballard and Tyeese Braslavsky are Class of 2022 graduates of political science. While at the university, they both completed research through their major; in September, they received the 2022 Senior Thesis Award for their work.
Thomas and Tyeese shared their experience completing their research, as well as advice for future political science students.
Thomas Ballard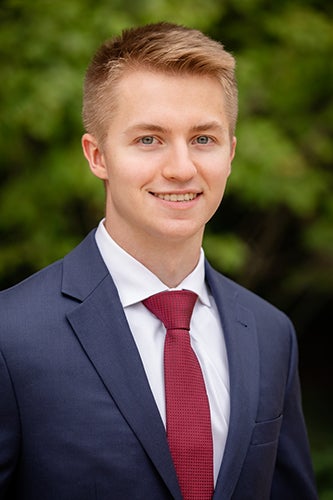 What was the title of your thesis?
What got you interested in the topic?
Use of Force in the BLM Era: How High-Profile Citizen-Killings by Police Affect Use of Force Outcomes in Dallas, Texas
My interest in criminal justice started with the Public Defender Program with the political science department sophomore year, where I was able to directly interact with incarcerated clients and hear some of their stories. I felt inspired by the new perspective I had. Moving through junior and senior year, I became increasingly interested in what kind of effects the BLM movement was having on the criminal justice system. Was it improving outcomes? Hurting them? Doing nothing, or maybe doing both?
When I started my thesis, I quickly found that one of the central impetuses of the BLM movement, the high-profile killing of black men by police, was the subject of little research as an intervention. I thought an interesting question to answer would be every time killings like these happens, how does it affect force usage subsequently? Do police feel the public eye watching, pushing them to lower force usage, or do they feel antagonized and perhaps increase force usage? I found evidence that the Dallas police department did not increase or decrease force usage on citizens, or black citizens specifically, at a statistically significant level.

How did this research benefit you?
My senior thesis was of immense benefit to my ability to answer complex empirical questions as well as my job search following senior year.
Any words of wisdom for current and future political science students?
If I had any advice to current political science students, I would suggest:
Doing the senior thesis—It has opened up a lot of opportunities to me that I was not considering before like analyst positions, pre-doctoral fellowships, and PhD programs.
Learn programming—It's not just for STEM kids! Wherever I go, being able to use programs like R has allowed me to separate myself from other political science students.
Use your thesis to help give you an area of "expertise" or a "focus," which is helpful for applying to jobs or graduate programs, again allowing you to make yourself a unique candidate.
Tyeese Braslavsky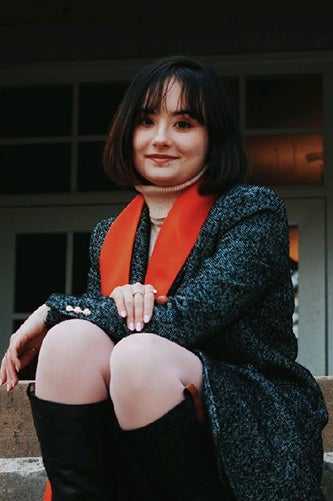 What was the title of your thesis?
What got you interested in the topic?
AmeriCAN I...?: The Effect of the Strength of American Identity on Civic Participation in Second-Generation Americans
I am a second-generation American (child of immigrant parents) who proved to be politically inclined early on—I did Model UN in high school, I am a political science major at UIUC, and I was the president of the Student Advocacy Coalition, our campus student lobbying group. I think the biggest lesson I gleaned from all of these spaces is the importance of participation in the political process.
When a decision is being made, everyone who it has the potential to affect needs to be in the room to have their voice heard. And though this seems like an obvious truth, convincing those that have historically been barred from decision-making spaces that they are not only welcome, but needed there, is quite difficult. I've had more conversations than I could count with my parents about why voting, contacting a legislator, etc. is valuable, and each time their counterarguments were the same: "they didn't want to hear my voice before, why would they want to hear it now?" "This is your country, not mine, what right do I have to tell y'all what to do?" That's completely understandable sentiment considering how they were and continue to be treated as immigrants in various spaces. But that creates a situation where perspectives are being left out, and that will only worsen as anti-immigrant rhetoric rises. This vicious cycle needs to stop, and I believe that the first step in resolving an issue is understanding it fully, which is what my research aims to help with. 
How did this research benefit you?
Because this project was so entwined with my own experiences, a lot of the information found in the literature didn't surprise me. However, I think that having concise and precise language to communicate these realities is quite helpful, especially going into spaces where decisions are being made about how to address the issues described. It's not necessary, but definitely helpful. And having knowledge about experiences you yourself might not have had is extremely valuable, too, which the literature and my own project certainly gave me. 
I am also thankful to this experience for encouraging me to be curious and think critically. Nothing is perfect, nothing is complete, and there is always more to know. This project pushed me to find gaps, excluded perspectives, and to find creative ways to fill those in, which is a skill that is applicable far beyond the reaches of the academic space. It's a difficult process for sure, but it's vital if we are to continue to strive for an inclusive and supportive community for all.
Any words of wisdom for current and future political science students?
Seek to apply your knowledge. Politics is all around you and it's important that you live out your values and use the information you've gained for the betterment of your community. It doesn't have to be by making policy or a law or anything grand like that. Even if it just makes you a more understanding and compassionate person, that's all that matters. 
Blog Source
Thomas Ballard, Tyeese Braslavsky