How LAS 101 will help you transition to campus
Matthew Crimmins is a Class of 2023 graduate who majored in molecular & cellular biology honors and minored in business. Within his time as a College of LAS student, Matthew served as a LAS 101 course intern during his junior and senior years.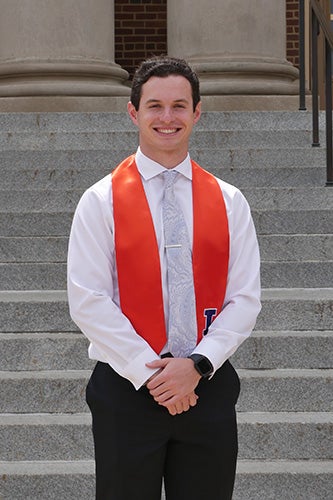 The start of college can be an overwhelming time—no matter how confident you feel coming into it. You'll most likely experience the first time living away from home, taking challenging coursework, navigating the process of making new friends, and acclimating to a new community. The ups and downs of these trials will hit you all at once during your initial weeks on campus. Fortunately, there are a plethora of amazing resources to assist you throughout the beginning of your College of LAS and UIUC journey!
You'll encounter one of these many resources right as you begin classes. As an incoming College of LAS student, you are required to take an 8-week, 1-credit hour, course during your first semester on campus. For most students, this class will be LAS 101: Design Your First Year Experience. This class is organized to aid newly-minted LAS freshmen in feeling more comfortable while kicking off their time at UIUC.
During LAS 101, students are taught about different opportunities on campus along with general, logistical, and constructive advice to assist them thrive both within the classroom and also socially outside the classroom. LAS 101 is a tangible initiative to help conquer the adjustment to college; it also introduces one of the best resources available: a successful and knowledgeable College of LAS upperclassman who serves as the mentor, guide, and friend while facilitating the LAS 101 course.
The personalized support through the LAS 101 intern combined with the class's curriculum play a critical role in acclimating new LAS students. LAS and UIUC have such incredible resources, but there are no better assets than the people here at Illinois! Not only will LAS 101 and your course intern help you during the launch of your UIUC education, but your welcoming professors, TAs, advisors, and peers will be waiting with open arms to aid along every step of the process.
The transition to college is difficult, but I encourage you to take advantage of the resources, like LAS 101, and the people within the college and university who will be here for you during the start of your transformative experience here at UIUC.