My medical assistantship at Christie Clinic
Isabel Wojcik is a senior majoring in molecular & cellular biology. During the school year you can find her at basketball games or promoting her pre med fraternity. In her free time she enjoys watching Grey's Anatomy or romantic comedies.
Over the summer of 2023, she worked as a medical assistant at Christie Clinic in Champaign.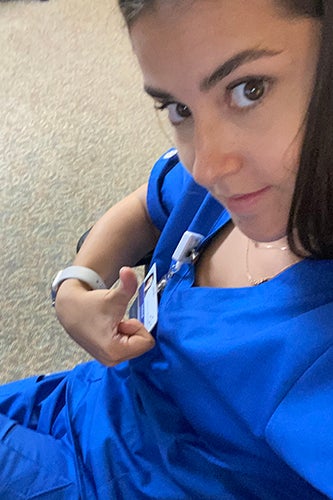 QUESTION: What type of medical assistant are you, and how did you get this position?
ANSWER: I am a medical assistant in the dermatology department at Christie Clinic in Champaign, Illinois. I got my position as a medical assistant by reaching out and submitting applications for jobs that I found via Google search and Indeed.
Q: What does a typical day look like as a medical assistant?
A typical day as a medical assistant involves setting up patient rooms in the clinic and establishing a welcoming and comfortable environment for patients and peers. I personally work on prepping and scribing patients' charts, rooming patients, and learning about different types of skin conditions and concerns. Additionally I give reports about the patients' medical history to doctors, PAs, and nurse practitioners right before joining with the provider in the room to continue scribing notes about a patient's visit. I also assist in biopsies and surgeries with providers on patients with potential precancerous skin lesions or melanomas.
Q: How has your biology major impacted your medical assistant job? Has it helped you get the role, given you knowledge, made something easier/harder, etc.?
Having an MCB major does make it helpful for the position. Mainly because my drive and eagerness to learn started from majoring in MCB, and that was even more encouraged when I was enrolled in an online course to get certified as a dermatology tech during the training for this position. Additionally, having the background of how cells and organisms work is very helpful with understanding conditions, the right questions to ask to understand a patient's circumstance, and understanding how to answer patients' questions regarding medications and treatment plans.
Q: What is a perk that comes with being a medical assistant?
There are tons of perks working here. It is a great learning and teaching environment full of supportive, nice and incredibly helpful team members. As an employee here in dermatology I get to learn a lot not only about skin cancer and skin conditions but also learn about treatment options from representatives—and they often bring lunches! Another perk is being able to encounter and help so many people.
Blog Source
Isabel Wojcik & Payton Jarzyna