Partnering against the pandemic
COVID-Corps seeks to grow outreach, connections, and learning during a challenging time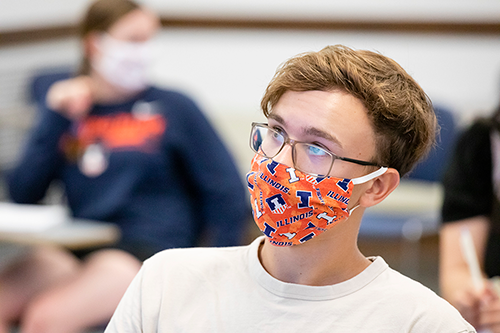 During the shutdowns, social distancing, and fear of the COVID-19 pandemic, it's easy to become isolated. That's why the College of LAS has used this unusual time to provide students with an opportunity to reach out and make the pandemic easier to overcome.
The College of LAS has created COVID-Corps: Actions for Solutions (LAS 199). The class connects LAS undergraduates with faculty and community organizations, creating partnerships to help address the pandemic. Participants in the course advance their leadership skills and social responsibility while experiencing hands-on learning and making a lasting impact on the world.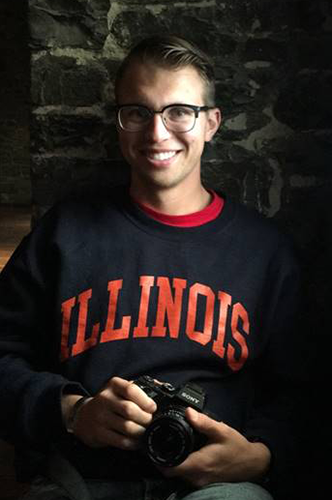 Students in the course recently have been helping to develop public health messaging. Instructors have presented students with a mix of content from media outlets, academic journals, health journalists, editorials, interviews, and other resources, which the students have analyzed and turned into messaging that can help people.
"It was really a challenge because there is almost too much coverage of the pandemic," said Kate Abney, associate director of intercultural and global learning. "Because the scientific process is unfolding in real time, the emergent research and discourse is saturated with information as well as misinformation."
COVID Corps is partnered with the Community Learning Lab at We CU Community Engaged Scholars, a relatively new organization that works to respond to community needs during the pandemic. This organization also assisted with the matching process for community outreach in the class.
"These outreach projects cement the idea that we are all responsible to ourselves and our community—in times of bounty and crisis—and we have a role to play," Abney said.
Twelve students are enrolled in the course, and it will be offered again in the spring semester. Some of the projects that students are participating in include letters to the elderly, storytelling projects, and developing virtual resources for students. Doris Shen, a senior majoring in accountancy and religion, is working on a project about public health messaging with the Champaign-Urbana Public Health District (CUPHD).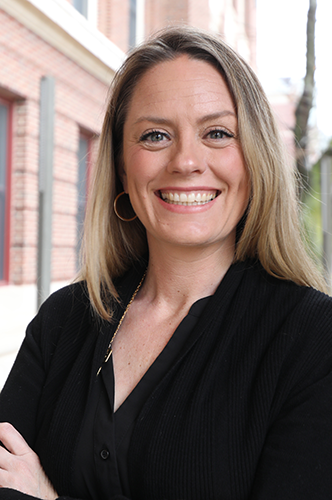 Shen is gaining an understanding of the district's response to the COVID-19 pandemic, their daily operations and the impact of COVID-19 on their work culture and overall mission, and their work to mitigate the risk of racial inequalities stemming from the pandemic. She is also gaining general overview of the social, political, and economic factors that CUPHD addresses, as well as the health agency's engagement with the university.
Shen said she joined COVID Corps after her study abroad plans were canceled due to the pandemic. This is also her first semester as an LAS student, after transferring from Gies College of Business.
"With all these points building on top of each other, I was really eager to find an opportunity for engagement at the beginning of this semester. And this class is really a good opportunity for me," she said.
Zackary Landers, a freshman majoring in history, is also working with the CUPHD, and he researches how public health messaging is shaped by authorities and received by populations, and how that dynamic has been shaped by pandemics through history.
"I joined COVID Corps because of the opportunity to engage with my peers about what I think will be one of the defining periods of our lifetime and in the history of the University of Illinois," he said. "I would like to be able to tell the next generation that as this crisis raged, I sought to understand what was happening and took action in preserving the history of my small corner of the pandemic."
As a part of his project, Landers is reviewing public documents related to CUPHD's COVID-19 response, speaking with public health decision-makers, and researching accounts of past disease outbreaks in Illinois to determine what can be learned about historical trends in public health messaging. He hopes to gain perspective on how the Champaign-Urbana community has worked to reach historically underserved communities and which kind of public health messaging that has been most successful during the pandemic. He also wants to have discussions with fellow students about how they can be leaders within the campus community during this crisis.
Toward the end of the semester, students will publish e-portfolios that demonstrate the sequence of the course, the assignments each student submitted, and, most importantly, showcase their community outreach or research. Abney said the college is hopeful that this curated experience can demonstrate the students' involvement.
"We are primarily concerned with how students are making sense of what they are reading, watching, and hearing, and how they are experiencing and interpreting COVID-19 in their own lives," Abney said. "We cannot underestimate just how historic this moment is. We want our students to be able to filter through the noise of our current mediascape and think critically about what their role might look like."
The pandemic is a crisis which presents the opportunity to change the systems—both big and small—that contribute to the status quo, she added.
"COVID-19 is merely the portal; all of these other issues are preexisting and underlying conditions exacerbated by the pandemic," Abney said. "Our course urges students to interpret, reflect and critically analyze all of these issues and make connections both locally and globally."