'It is an honor to be a small part of their journey'
Staff Spotlight: Holben enjoys working with students in SESE, geology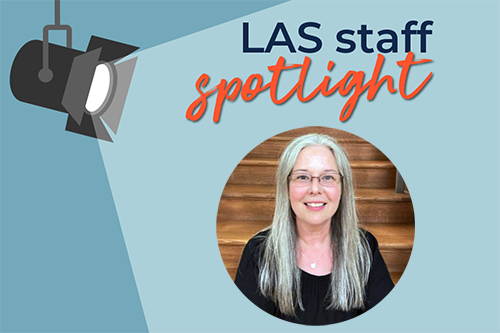 Lana Holben believes working with students is the best part of her role as an administrative aide for the School of Earth, Society & Environment and Department of Geology.
Briefly describe your responsibilities.
I work as the assistant to the director of SESE and head of geology. I also serve as the graduate contact for geology and the undergraduate contact for geology and the earth, society, and environmental sustainability major.
Where is your office located?
My office is in the relatively recently renovated (completed in 2017) Natural History Building. 
What do you remember of your first visit to campus? 
My first memories of visiting campus are attending a production for grade school children at Krannert Center for the Performing Arts and an Illini football game as a child. I don't recall which happened first, but I enjoyed them both.
What do you enjoy most about your job?
I most enjoy working with our students. I am in a unique position where I get to meet and work with both undergraduate and graduate students from the time they are prospective students until they become alumni. It is an honor to be a small part of their journey at Illinois.
Do you have a favorite project from your role with your unit?
I am fortunate to have very supportive administrators, both in geology and in SESE. I have been able to serve on and chair different committees and to develop initiatives, such as our undergraduate Geology Ambassadors.
Editor's note: This LAS Staff Spotlight profile is part of a series that features College of LAS staff and the important work they do to support units across the college. Visit here to learn more.