First-generation students rely on determination, campus resources, and loved ones to succeed at college
In 2022, the University of Illinois was named a First-gen Forward institution by the Center for First-generation Student Success, an initiative of the National Association of Student Personnel Administrators and The Suder Foundation, for its efforts to improve access to students who are among the first in their families to attend college.
A large number of those efforts occur at the College of LAS, which currently enrolls roughly 1,500 first-generation students. We asked a few of them to share their stories about arriving on campus and pursuing a degree.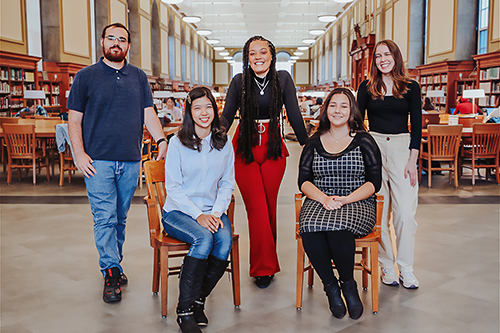 A make or break moment
Itzel Rivera is soon to be the first person in her extended family to graduate from college. Given that neither of her parents attended school past the sixth grade, her attendance at the University of Illinois was unlikely.
Rivera's parents immigrated to the U.S. from Mexico before she was born. Both of them had to leave school early to help their families at home. Realizing what they missed, they made education a priority for Rivera and her two sisters and brother. That's why, after living most of her life in California, she moved to the Midwest for college.
She attended Black Hawk College in Moline, Illinois, where a professor inspired her to major in political science when she transferred to the University of Illinois. She is also minoring in anthropology and Latina/Latino studies. While she was determined to work hard, Rivera said that coming from a different culture made some things more difficult. For example, she had no idea the importance of networking for success in college and after graduation. She was able to grasp these things with help from people at the university, however, and she is happy with the way things turned out.
"It means a lot to my parents, but I think it means a lot more to me," Rivera said. "They immigrated to this country, they didn't know the language, they didn't know how to do anything, but they pushed through barriers. I feel like it was up to me to either continue that momentum or break from it. And I'm proud of myself for finishing college."
A new country, a new school, and a new major
On her first day of classes at the University of Illinois, Judy Chiang didn't know what to expect, so she came prepared. She read and copied the lecture notes before class and showed up 30 minutes early to make sure she got a seat. She'd soon learn that she didn't need to arrive quite that early—but that spirit of preparation has made her college career rewarding so far.
Chiang, a native of Taiwan and the first in her family to attend college, adapted to not only a new country when she came to Urbana-Champaign, but university life itself. She's close to her mother, who is very supportive, Chiang said, but she couldn't help with academic-related questions. For that, Chiang learned to rely upon campus resources.
Chiang originally majored in Earth, society, and environmental sustainability, but she decided to pursue mathematics instead. Academic advisors, coaches at the Career Center, and teaching assistants helped her switch majors. A math professor gave her meaningful words of encouragement.
Now a graduating senior, Chiang pursues mathematics wholeheartedly, partaking in research through the Illinois Geometry Lab and the Illinois Combinatorics Lab. She is also a volunteer for the Association of Women in Math and has joined two research projects over the past two summers: the MIT Summer Geometry Institute and the University of Minnesota Twin Cities Combinatorics and Algebra REU.
She reflects on the people who helped her during her freshman year, including her residential assistant in University Housing and staff in the Office of Minority Student Affairs (OMSA). The help she received was inspiring, and now Chiang is a residential advisor. She's also a student ambassador for OMSA, where she organized an academic major information session during the COVID-19 pandemic. She wants to someday become a math professor.
"There are so many resources and places for me to get involved and achieve what I would like to do," Chiang said.
A family accomplishment
At one point in Gina Jagminas' life, just leaving home to live somewhere two hours away was a big deal. Leaving home to attend the University of Illinois was momentous.
Jagminas was raised in the same house where her mother was raised, which is the same house where her grandmother was raised. No one in her immediate family has graduated from college. Now a junior studying history, Jagminas is forging a new path. There have been some revelations along the way.
"I was just a little surprised that a lot of people had things—or it seemed like they had things—figured out more than I did," Jagminas said of her impressions upon arriving at college. "It wasn't, necessarily, a bad thing. I like the fluidity that I went in with."
Fortunately, her brother, who attended college for a year, and her parents were heavily involved in her process of choosing a school and a major. As a result, today her family shares her feeling of success and perseverance. Her attendance at the University of Illinois has felt like a family accomplishment.
"Every time they come down to visit, they wear their Illinois gear, their sweatshirts, their t-shirts, and they'll post on Facebook too," Jagminas said. "There's a sense of pride that comes with being (an alumna or alumnus) and your kid goes here, but my parents have been able to adopt that because I go here. They consider themselves Illini by proxy."
"I'm still surprised by myself" 
When Jason Melland started college, he was, in his own words, "completely blind." Though he came from a big family in the Chicago suburbs, none of them had chosen to attend college.
In high school, Melland struggled in honors classes and started looking at colleges too late to apply to a four-year university. So when he made the dean's list at Moraine Valley Community College, which he attended before transferring to the University of Illinois, he was happily surprised.
"I was like, holy cow," said Melland, now a senior in Earth, society, and environmental sciences. "I didn't believe I could do it myself. Even coming here to the University of Illinois and taking these extremely hard classes compared to my community college classes, I'm still having success."
Melland credits his success to a new sense of responsibility that's he's gained as a college student and to his advisors at both Moraine Valley and the University of Illinois. They've helped him find opportunities for growth.
Now, Melland's success has inspired his younger cousins, who have begun to see him in a different light. A few have even asked for his help to follow in his footsteps. That, Melland admits, makes him feel pretty good.
"If I went back in time and told my high school self what I've already accomplished, I'd be like, 'Nah, you're crazy, get out of here, you're lying,'" Melland said. "I'm still surprised by myself every day, and honestly completely shocked by the opportunities that come my way."
The flower of the future
As a child, Maya Moutry gained a respect for education from her mother, who'd tell her, "Knowledge is power. If it's at your fingertips, why not take advantage of it?"
Her mother passed away last year, leaving Moutry more determined than ever to attend college. With a 4.63 grade point average in high school, she had no shortage of options (she was accepted at 26 schools) but being the first in her family to go to a university was still daunting.
"I would say the biggest challenge that I'm dealing with, being a first-generation student, is just learning how to learn in college," said Moutry.
Moutry, now a psychology major on a pre-med track, receives support from her father, younger sister, and close friends, but she had to learn about college life on her own. To do that, she became involved. Moutry became a member of several registered student organizations (RSOs), including Black Business Network and Wishmakers. She and five other African American students started a student organization called The CommU.N.I.T.Y., and Moutry also started a podcast to help students talk about their college experiences.
Along the way, she learned that the University of Illinois offers many resources and networking opportunities.
"You can literally grow into anything," Moutry said. "I think of college as the soil of your life. It's really what you use, and it's your foundation. When you meet the professors and when you go to RSOs and you meet new friends, those are the rain and sunshine and nutrients that you need to grow. And the flower is your future. That's what I really feel like college is."
College and university offer extensive support for first-generation students
There are several avenues of support in the College of LAS for first-generation students, including the LAS Access and Achievement Program (AAP). Kristy Valentin, director of AAP, said that some 55 percent of students in the program identify as first generation, and through the program they have access to various retention and enrichment services to help navigate the University of Illinois. The college also offers transition classes for students, including transfer students who make up a significant number of the first-generation students in LAS. The university's Student Success, Inclusion & Belonging office has also created a new first-generation student program.
Editor's note: This story first appeared in the Spring 2023 issue of The Quadrangle.
News Source
Christian Jones, Olivia Vamos, and Dave Evensen