Learning the meaning of leadership at Illinois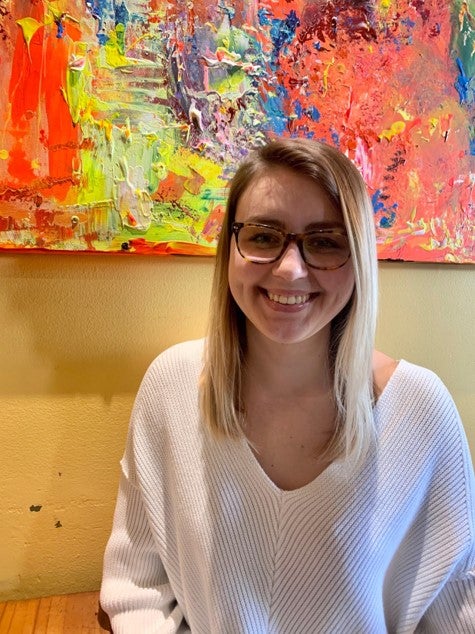 Angie Orzel is a sophomore in LAS, where she studies molecular and cellular biology. During her time in LAS, Angie has been an LAS James Scholar (also known as LAS Honors), a program which offers opportunities for high-achieving, highly-motivated students to go further during their time on campus.
Before coming to the University of Illinois, I didn't have a lot of leadership experience and struggled to develop my leadership skills. I knew I wanted to change this, but I wasn't sure how or where to start. LAS started and supported the growth of my leadership skills by offering me opportunities that taught me different qualities present in a successful leader. Specifically, being a James Scholar in LAS has offered me many experiences in developing this crucial life-long skill and prepared me for future leadership positions.
Beginning my first semester here on campus, LAS 122 sprouted my interest and goal of becoming a better leader. This class focused on the importance of leadership and service, and it opened up a new side of leadership that I had not realized before. Being a leader is about more than just being in a position of power and guiding others. We learned that there is also a level of self-awareness and empathy necessary to be successful as a leader. This class showed me that being a leader requires being aware of how you can impact others in your position and how that will affect your broader work environment. As I finished the first semester of my freshman year, I was already beginning to learn so many essential qualities of a successful leader.
Another opportunity that LAS Honors introduced to me was the I-Programs, run by the Illinois Leadership Center. These are great opportunities to expand your leadership skills; there are several I-Programs that focus on diversity, self-management, ethics, and teamwork, all of which are important for leadership. I personally participated in "Inclusion" and "Ignite."
Going into my first I-Program, I wasn't sure what to expect, and I was a little overwhelmed when I walked into a huge room filled with so many unfamiliar faces. After introducing ourselves in our small groups and heading into our discussions, my nerves were eased as my small group facilitator was so welcoming and engaging, and overall everyone was really friendly.
"Inclusion" taught me the importance of understanding the effects of equality, diversity, and privilege in a professional environment, as well as understanding other's social identities and my own. "Ignite" taught me how to make an impact on a social issue that I feel strongly about without actually having a high-level leadership position. I learned that you can make a difference towards a good cause by being a leader, even if that's not part of your formal position or role in an organization. I would strongly recommend that any LAS student take at least one day out of their schedule to experience one of these programs, as they are greatly helpful in developing your leadership skills.
There is a need for strong, healthy leadership in the world around us, and I feel like LAS is preparing me towards that end. LAS 122 and the I-Programs opened my eyes to different qualities that make up a leader and what others want to see in their leaders, while also building my confidence as I look forward to taking on more opportunities in the future.