Three things U of I has given me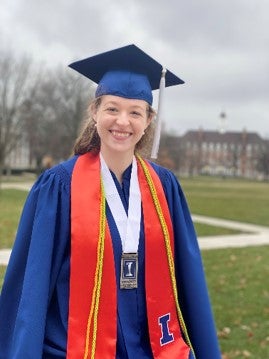 Riley Masterson is a recent graduate of UIUC, where she majored in global studies and French.
Here are three things I gained as a student at U of I.
A passion for human rights
As a student at U of I, I've taken classes on a variety of topics related to human rights, including immigration, governance, and disability. Through studying key documents and theories, I was encouraged to think critically about them. Human rights are constantly evolving, and while there isn't a universal definition, I have a clearer understanding of nuances because of my education.
I have extended this passion through Registered Student Organizations (RSOs). As a member of Amnesty International on campus, I have contributed to organizing events and demonstrations for many different human rights issues, including reproductive rights, free speech, and migration. We've planned demonstrations on the Quad, community education nights, and social media campaigns. Through my work with RSOs, I've seen that it's possible to take action on any scale.
Resiliency
Everything changed because of the pandemic, but the campus community adapted. While I was unable to study abroad in Paris as planned, I participated in Illinois in Paris, a virtual program offered in the summer of 2021. Through attending classes and working in a team for my internship, I got to know other U of I students who were interested in gaining intercultural experience while working for a social justice cause. The project I was assigned involved redesigning the volunteer program of a nonprofit based in Lille, France. While COVID presented challenges to the campus community, the people at U of I remained resilient.
Irreplaceable opportunities
Going into my freshman year of college, I hadn't given much thought to my plans for the summer. By that May, I found myself living in Washington, D.C., and interning with Congressman Bobby Rush. This was possible through the Illinois in Washington program at U of I, a program in which U of I students live and intern in D.C. for a semester.
One of my most popular stories from the program is the time I ran into senator Bernie Sanders while walking home from work! My internship presented amazing opportunities like that every day. I ran cosponsorship sheets to the Capitol building, I wrote "memos" on briefings and hearings I attended, and I managed the addition of cosponsors to a specific bill throughout the summer. I will never forget the amazing experience I had through Illinois in Washington!