How an RSO helped me adjust to UIUC
Amelia Kolany is a senior studying Spanish and psychology. She currently serves as president of Mi Pueblo, where she leads planning events, meetings, and helps in the overall organization of the club. Mi Pueblo is a registered student organization (RSO) that gives students a way to practice their Spanish and meet new people at the same time.
She provided some thoughts on the organization and how it helped her adjust to life at UIUC and expand her studies past the classroom.
Question: What initially drew you to Mi Pueblo?
Answer: Freshman year was difficult, with homesickness and adjusting. Mi Pueblo helped with the transition. I loved that it was a very small group, and it just felt very comfortable. It was only an hour long, but it just elevated my mood so much to be able to be with people who also enjoyed speaking Spanish, and to do it in a less formal setting that wasn't so high-stakes and that wasn't really a classroom setting.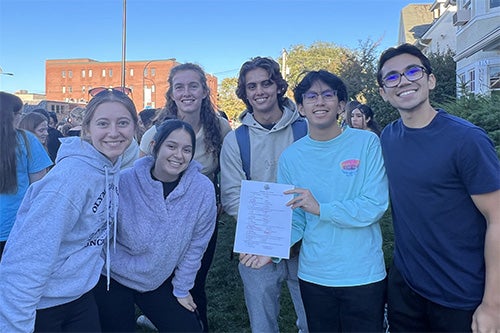 Q: Once COVID hit, you found a way to continue the RSO. Can you tell us about that?
A: Mi Pueblo's faculty advisor, professor Brenden Carollo, had sent out an email about getting Mi Pueblo back on its feet and asked if there were any students who would be interested in helping to do this. I responded—I didn't want to see the club fade away! [Switching to virtual meetings] was difficult, because it's just harder to speak any language over Zoom. However, when we were finally able to meet in person last year, that changed everything. Having that face-to-face interaction, even though we still had masks on, it was more interactive, and we started to see more regular members coming in. We all started to get to know each other and had a great group of leaders form. All of Mi Pueblo's Exec Members and Facilitators have contributed greatly to Mi Pueblo, and we appreciate all that they have been doing!
Q: You've started implementing more activities for the club, such as holding a horchata hour and an event for Dia de los Muertos. How has that been helping?
I think it just made us closer. Being open to new ideas is something we love to do, too. If a facilitator or member has an idea about something, they're more than welcome to bring it up to us, and most of the time we're really excited about it and find a way to implement it into what we're doing.
Q: Anything else you want to add?
Q: We're all there to improve our Spanish, and our motto is that it doesn't matter what your level of Spanish is...if you're just beginning, if you're fluent, or if you're somewhere in the middle, we want everyone to participate and feel welcome, and to not be afraid to use their Spanish! If people are interested in finding a group that can help them meet people and make friends, RSOs like Mi Pueblo are a great way to do that.