Brandi Gee is a senior pursuing a communication degree. During the school year, she worked as a course instructor for LAS 101 and 102, and she was a part of the Illini Transfer Ambassador and Hub for Brand Innovation and Advertising Technology Brand Ambassador Program. In her free time, you can find her spending time with her dog, Fiji, making homemade meals, or streaming games on Twitch.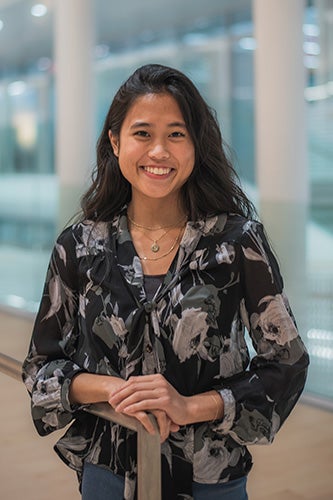 LAS 102 is a course that I would highly recommend to any transfer student joining the College of LAS. The class is a one-credit hour course tailored to provide resources and mentorship for transfer students. It meets once a week with a peer mentor who will act as the first point of contact, teach valuable campus resources, and help kickstart your career as an Illini. Upon reflecting before my graduation, I can confidently say that taking LAS 102 was a pivotal moment in my college career.
As a first-generation transfer student, I had little guidance when it came to the college process. I found myself asking tons of questions to people who couldn't relate to my situation. It wasn't until I took LAS 102 that I found a space and community where I felt I belonged. My instructor was a transfer student herself and expressed patience, kindness, and empathy toward each student, despite their drastically different upbringings.
Initially, as a transfer student, I felt overwhelmed and couldn't help but compare my success to that of others. However, this sparked inspiration to do more during my two years at UIUC. As I began to explore the campus, I discovered a wealth of opportunities. By networking and asking others about their interests and involvement, I was able to connect with individuals who opened new doors for me. Though it can be tempting to wait for the "right time" to take advantage of these opportunities, I challenged myself to step out of my comfort zone to say "yes" more often.
With the support of the College of Liberal Arts and Sciences, the LAS First Year Experience team, and the Illini Transfer Ambassadors, I created my own community at UIUC to support transfer students. My decision to come to UIUC was not easy; it was a new environment filled with unfamiliar faces. Although the process of transitioning to a new school can be nerve-wracking, you can trust that Illinois will provide you with the support you need. As an Illini, I take pride in knowing that this university is dedicated to its students' success.
LAS 102 helped to open my eyes to the abundance of resources and opportunities available on campus and provided me with valuable guidance on how to tap into them. The course directed me to people who were not only willing but eager to lend a helping hand. As a result, I was able to chart a new course as an Illini and found myself surrounded by genuine individuals who were invested in my growth and success. The impact of LAS 102 went far beyond my academic experience, and I can proudly say that it was an essential part of my overall college journey.