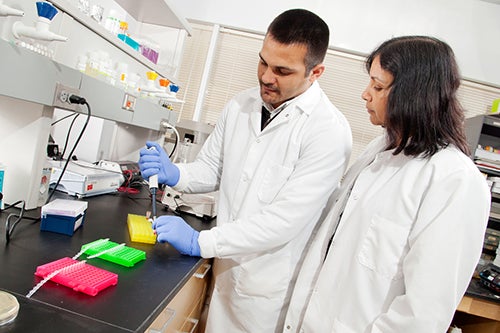 The College of Liberal Arts & Sciences has long been a campus leader in health-related research and teaching. Our goals are to advance diagnostics, treatments, and prevention techniques and to better train health care professionals. We have research and teaching strengths in many health-related areas.
LAS also has ambitious plans to partner with the Carle Illinois College of Medicine to contribute to medical education and research.
 
Cutting-edge research
LAS faculty from across the college are making contributions to health and medicine. Researchers are developing anti-cancer drugs, sequencing genomes, exploring new ways to improve communication in health-care facilities, and examining how environmental stress contributes to negative health outcomes. From the natural and life sciences to the social sciences and humanities, we are at the leading edge of discoveries that will transform human health in the 21st century. 
Training the best minds
Our faculty members are training the best young minds through classes and student research projects. Our alumni work as doctors, drug developers, global health administrators, psychologists, health educators, and more. With an LAS degree, our alumni tackle current issues in health while anticipating and solving new ones.
Reaching into the world
Work happening in labs and classrooms is important, but it's not the only way those in LAS contribute. Our faculty members are touching the lives of others through clinical trials and bringing drugs to market. They're training the next generation of health communicators to improve public advocacy and assist patients. Our students volunteer for many related organizations. A few examples: contributing to the health of others through Alternative Spring Break, volunteering for non-profits providing low-cost medical and dental care in the local community, and serving as peer listeners while raising awareness about mental health issues.
 
LAS news stories about health