Big achievements, big hearts
This year's LAS alumni award winners have a common theme: giving back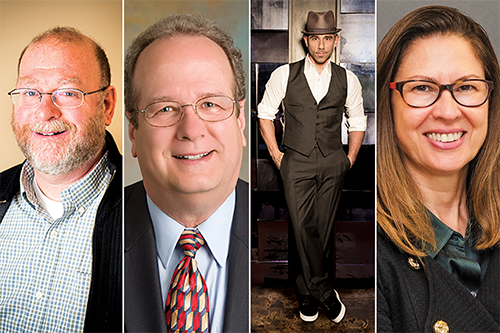 Billy Dec knows what it's like to be on the receiving end of help. When he wanted to come to the University of Illinois in 1991, he couldn't afford it, so he drove down from Chicago and showed up at the financial aid office. A staff member noticed him looking distraught, and over the next few days this person walked him through the entire process of finding money to live on and go to school.
"I owe everything to that financial aid office," he said.
Dec has received the LAS Alumni Achievement Award, as one of seven people being honored with LAS alumni awards this year during Homecoming. Like Dec, all of the winners have found ways to share and grow the compassion that was demonstrated to them--and that they exhibited--during their days at Illinois. 
These alumni are all high achievers, making an impact in everything from entertainment and chemistry to medicine and microchips. But they also have big hearts, whether it's founding a health clinic for struggling high schoolers, mentoring disadvantaged youth, helping students land scholarships, seeking research projects with the biggest impact for the most people, working with elderly patients, or establishing a chaired professorship.
As Alison Kirby, this year's LAS Humanitarian Award winner who started a volunteer-run health clinic for children in Washington, put it, once she saw the problems in her community up close, she decided, "How can I look away and pretend this problem is not there?"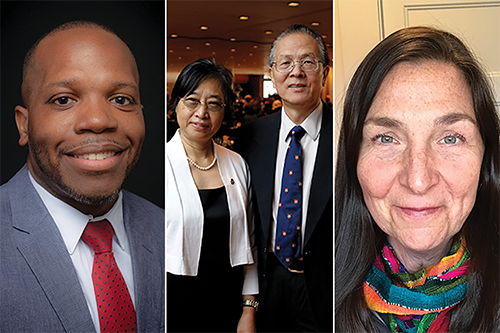 Read about their achievements below—and read the full profiles at the links provided.
Howard Aizenstein, (BS, '86, mathematics; MS, '88; PhD, '93, computer science; MD '95)
LAS Alumni Achievement Award
Over 113 years ago, amyloid plaque and tangles were identified as indicators of Alzheimer's disease, but how they act in the brain remains a mystery even today. Howard Aizenstein, a psychiatrist at the University of Pittsburgh, is helping to unravel this mystery.
As director of Pitt's Geriatric Psychiatry Neuroimaging Lab, Aizenstein and his colleagues were among the first to find a way to measure amyloid plaque in living patients. They discovered that 20 percent of adults who didn't show any signs of dementia surprisingly had a significant amount of amyloid plaque in the brain.
In addition to work on dementia, Aizenstein uses neuroimaging to explore depression in older adults. His team demonstrated that vascular changes in the brain in older adults can contribute to depression. They also discovered a way to use functional MRI to predict which patients will respond to antidepressants.
This new scanning method is not yet FDA approved, but it is going through a larger, confirmatory study.
Read Aizenstein's full profile here.
John Coady (BA, '74, political science)
LAS Distinguished Service Award
When John Coady was a junior at Illinois in 1973, he ran for the newly created student seat on the University of Illinois Board of Trustees, but he lost to an opponent who outworked him. Coady vowed he would never be outworked again in a campaign, and he went on to a distinguished career as circuit judge in the nine-county Fourth Judicial District of Illinois.
However, Coady doesn't just give 100 percent to political passions. He also gives in service to others. Over the years, he has mentored students interviewing for scholarships, started a girls YMCA soccer program, chaired a United Way drive, chaired the Christian County Prevention Coalition, and served with numerous judicial groups. After his 2009 retirement, he became the first retiree to ever serve as president of the Illinois Judges Association.
For the U of I, the Department of Political Science appointed him to its charter Board of Visitors in 2010, and he served as president of the LAS Alumni Association Board from 2015 to 2017. He and his wife, Kathy, also opened their home through a program welcoming high school seniors accepted at Illinois.
As if that isn't loyalty enough, their family dog is named Oskee Bow Wow, and the license plates for the family's two cars read LUV IL and ILINI 7. 
Read Coady's full profile here.
Billy Dec (BA, '95, economics)
LAS Alumni Achievement Award
Billy Dec was devastated when two of his family's elders passed away on the same day in 2018, and he suddenly realized his grandmother had only one last remaining sister in the Philippines.
So Dec pulled together a film crew, and they traveled to the Philippines to track down family elders and learn their recipes. The result is the PBS documentary, "Food. Roots." 
Food and family are at the core of Dec's life, as co-founder of one of the most successful hospitality and entertainment companies in Chicago (and now Nashville)—Rockit Ranch Productions. He also appears regularly on the "Today Show," "Windy City LIVE," and KISS-FM. He has acted on TV and in film, started his own film company, supports numerous philanthropic causes, won two Midwest Emmys, was appointed to two task forces by President Obama, and is launching new ventures in both human resources and marketing.
When he was searching for his life's work, he said, "Some soul searching led me to the fact that I liked to solve problems quickly and make people happy."
Read Dec's full profile here.
Hariklia "Lili" Deligianni (MS, '86; PhD, '88, chemical engineering)  
LAS Alumni Achievement Award
When Hariklia Deligianni was being interviewed for a position on the prestigious Lubomyr Romankiw research group at IBM, Romankiw said she could work with his team, but only if she was up to the challenge of solving problems that others said could not be solved.
Naturally, she joined his team.
Deligianni thrives on challenges. At IBM, she and her colleagues introduced electrochemical technology to the development of solder bumps, which connect a microchip to a package. This resulted in more solder bumps on a chip and more chips on a silicon wafer, improving performance dramatically and lowering power consumption.
In another landmark project, she was part of a team that replaced aluminum wiring on a chip with copper wiring, enabling current to pass through microchips much faster. This increase in speed has made possible everything from high-speed gaming consoles to smart phones and even neural networks.
In recent years, Deligianni has been drawn to new challenges in solar energy and biomedical devices.
"I still desire to be involved in solving big problems," she said. "Bigger problems mean bigger challenges."
Read Deligianni's full profile here.
Peixin He (PhD, '85, chemistry) and Xiaoming Chen
LAS Dean's Quadrangle Award
The year 1980 was a turning point for LAS alum Peixin He.
By 1980, China had been opening up to the world, and Peixin He was coming to the University of Illinois as a visiting scholar through the first exchange program between Fudan University and Illinois.
1980 was also when He began to do research under Larry Faulkner, professor of chemistry at Illinois. Little did He know that working with Faulkner would change his life and that of his wife, Xiaoming Chen. The research they did in Faulkner's lab helped to launch their careers.
He and Chen went on to build CH Instruments, Inc., a successful electrochemical instrumentation company based in Austin, Texas. They also decided to give back to Illinois by establishing the Larry R. Faulkner Endowed Chair in Chemistry in 2016. The first person named to the new chair was chemistry professor Catherine Murphy.
"We remain thankful to Larry Faulkner," He said. "Larry is a great person and a great scientist. And he was wonderful to us."
Read their full profile here.
Jerrod Henderson (PhD, '10, chemical engineering)
LAS Outstanding Young Alumni Award
Jerrod Henderson was a youth growing up in North Carolina, when he took a field trip that changed his life. Henderson went to the Black Engineer of the Year Awards and Conference in Baltimore, where he encountered adult engineers who took the students seriously.
"While I didn't know what chemical engineering was at the time, I left the conference saying I wanted to be one," he said. Today, Henderson is a chemical engineer. He also co-founded the St. Elmo Brady STEM Academy—a successful program in two states that mentors African-American, Hispanic, and other underrepresented males in science, technology, engineering, and math (STEM) subjects.
Henderson named the academy after St. Elmo Brady, the Illinois student in chemistry who in 1916 became the first African-American to earn a PhD in the United States.
Beginning in 2013, Henderson and his co-founder ran the academy at two elementary schools in Champaign before taking the idea to Texas, where Henderson is now an instructional associate professor at the University of Houston.
Read Henderson's full profile here.
Alison Kirby (BS, '84, biology)
LAS Alumni Humanitarian Award
Pediatrician Alison Kirby was practicing medicine in Walla Walla, Washington, when the principal of an alternative school asked her to do free physicals for the kids joining their basketball team. Lincoln High School was for students whose behavior or academic problems bumped them out of the main high school.
"But as I began to see these students," Kirby said, "I asked them when was the last time they'd been to see a doctor. They'd say, 'Not since kindergarten.' How could that be? These were 16- to 17-year-old boys!"
Kirby took action, co-founding a school-based health clinic that helped to turn around both the school and the lives of hundreds of students. The clinic and school have drawn nationwide attention, being featured in "Paper Tigers," a documentary about Lincoln High School directed by Robert Redford's son, Jamie.
The health center was so successful that the model of school-based health centers expanded to other schools in Walla Walla, including elementary schools, a middle school, and even the main high school.
"There is no such thing as a throwaway kid," Kirby said. "We heal their wounds."
Read Kirby's full profile here.