New scholarship supports professional experiences
From NASA to the White House, students pursue career development opportunities with help from LAS Life + Career Design scholarships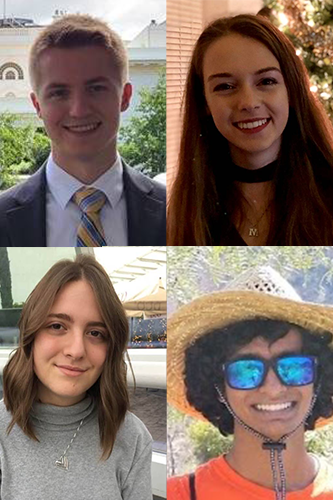 To most people the term "shoot for the moon" is a figurative term for high ambition, but Rishi Chandra would, in fact, like to get to the moon. The physics major is following an individual plan of study in planetary science.
"There's something romantic to me about the exploration of the Solar System," he said. "I'd really like to be a part of the renewed international push to go back to the moon."
Don't count him out. He's just getting started, and already he found a NASA planetary scientist who agreed to work with him this summer on a lunar geology project. Before he could do that, however, he had to address a more Earthly concept: money. Chandra needed to somehow pay expenses as he devoted his time to collaborating with the scientist.
That's when he saw an advertisement for an LAS Life + Career Design scholarship that helps fund unpaid or underpaid student internship opportunities.
"Just when we thought all hope was lost, I saw an email advertising the LAS Life + Career Design scholarship," Rishi recalled. "It offered to fund career opportunities that would otherwise go unpaid or underpaid. The scholarship enabled me to work on that project, and since I'm hoping to do lunar science in grad school, it became the perfect confluence of opportunities."
Almost 30 LAS students have made use of the new LAS Life + Career Design scholarships this summer. The scholarships provide up to $5,000 to help with living, transportation, and/or other expenses related to engaging in unpaid or underpaid work in a professional experience. The opportunity can be an internship, undergraduate research experience, extended volunteer experience, or even a part-time job or any extended experience that can advance professional development.
Scholarship recipients are also coached by a career development professional on campus through enrollment in a Professional Development Seminar. As part of the seminar, students prepare for their experience, reflect on what they are learning and contributing during their experience, and reflect on how they are becoming more career-ready.
This summer was the first time that the College of LAS has granted the scholarships, and they have been even more important this year as the COVID-19 pandemic has limited travel and paid internship opportunities. They are available for fall, spring, and summer terms, and the next deadline for applications is September 15. More details about the LAS Life + Career Design scholarships are here.
"In LAS, we care deeply about students' professional development, and our Life + Career Design initiative supports them to inquire about, engage in, and create opportunities for that development," said Barbara Hancin-Bhatt, associate dean for student academic affairs. "We are delighted to be able to support their early professional experiences with this scholarship and look forward to being able to support many more students with this new scholarship."
Another student who took advantage of the scholarship program is Thomas Ballard, a junior studying political science, economics, and Spanish. He is developing skills that help him become a better writer, reader, speaker, and listener — all things that are necessary to be a successful lawyer.
To that end, Ballard researches international diversity standards as an intern with the Cline Center for Advanced Social Research, works as an intern at the Champaign County Public Defender's Office, works as a residential advisor for University Housing, and serves as vice president of Volunteer Illini Projects. Finally, he landed an internship at the White House in the Office of Presidential Correspondence, which was possible with his LAS Life + Career Design scholarship.
"I was able to use the funding for housing, food, and transportation costs while in Washington, D.C., one of the nation's most notoriously expensive cities," Ballard said.
Miranda Johnson is studying Earth, society, and environmental sustainability, and business, with plans to complete a certificate in environmental writing. As she follows a strong urge to do something to address the global climate crisis, the LAS Life + Career Design scholarship has helped her complete two virtual and unpaid internships at Seaside Sustainability, a non-profit organization dedicated to ocean sustainability. 
"I knew I wanted to intern this summer, but the pandemic unfortunately limited a lot of the internships that were paid or provided housing in other parts of the country," she said. "With the funding from the scholarship, I've been able to (cope) with not having a source of income this summer and focus on gaining the most from my internship."
She added: "I would normally work a part-time job over the summer, so I was definitely concerned to be doing an unpaid internship, especially since I was paying rent for an apartment that I wasn't even able to live in due to COVID. This scholarship alleviated some of those worries and let me really enjoy the experience. I learned so much and am really grateful."
Katrina Rbeiz has wanted to pursue psychology for as long as she can remember. She chose Illinois for its clinical psychology program, and she added a major in global studies—and a minor in French—to help explore how cultural factors could explain differences in behavior and values.
Rbeiz's LAS Life + Career Design scholarship supported her research endeavors throughout the summer and allowed her to continue pursuing a topic she loved without having to worry about financial burdens.
"The University of Illinois has provided me with plenty of opportunities to develop my career readiness upon graduation, and this summer experience further cemented these competencies as I move into the next stage of my life," Rbeiz said. "I feel better equipped to conclude my honors thesis, as well as to integrate what I've learned into my fall responsibilities as a research assistant because of the LAS scholarship."
To learn more about how LAS promotes life-long learning in career development, and how to support programs such as the LAS Life + Career Design scholarships, visit here.
News Source
Therese Pokorney and Dave Evensen