Annual career fair just the latest example of how LAS has supported my development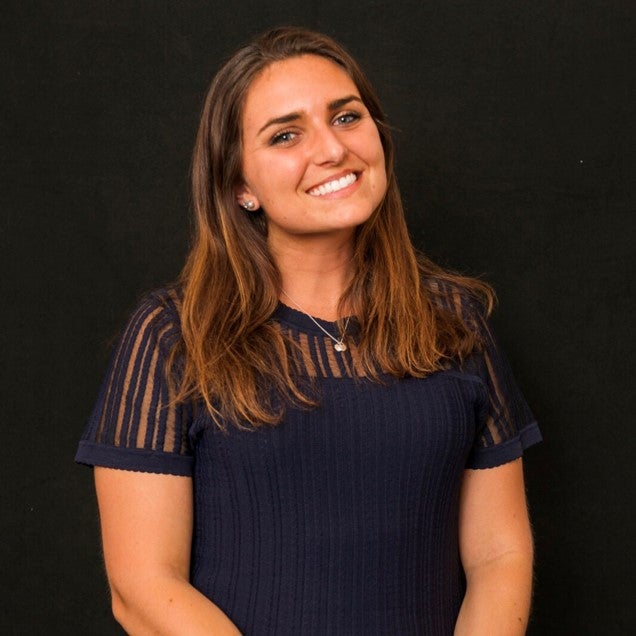 Maggie Vacchiano is a senior in LAS, studying molecular and cellular biology.
Senior year of high school is a lot like senior year of college. You are about to enter a whole new chapter in your life. You will probably end up in a new place, making new friends and creating lifelong memories. Senior year is filled with a lot of excitement and happiness but also a lot of questions about what to do next.
Luckily for seniors in the College of LAS, each academic year begins with a career fair on campus. This career fair is open to any student in LAS, and there are hundreds of companies that come. The companies are looking for summer interns, part-time positions, and full-time positions. The ACES + LAS Career Fair is always packed with driven students who are thinking about their futures and great companies who see the potential in undergraduate students in the College of LAS at Illinois.
Leaving the career fair this year, I felt very confident and happy with the companies I was able to talk with and the amount of resumes I was able to hand out. I'm hopeful that the work I put in to go to the fair and network will result in a great full-time job.
But now that I'm a senior, I'm beginning to realize all the ways that the College of LAS has supported me so I can achieve my career goals. Yes, the career fair is a great example of this, but the support extends beyond just that one-day event.
The College of LAS has supported me from the moment I stepped onto campus through an introductory course every freshman/transfer student has to take (LAS 101 or LAS 102). This course helps students navigate the university, plan out their time at Illinois, and understand how LAS will lead them to their career goals. In addition to all the valuable skills that are built into the curriculum of the course, each teacher of the course is a current junior or senior in LAS. This allows the freshman students to better relate to their teachers and learn from how they navigated college. I remember taking the class and thinking about how great the undergraduate who taught my class was and how she motivated me to do more.
Also, LAS has supported me by having a wide variety of courses from physics to history to political science. I really like this aspect of the college because I am interested in many things. I am a molecular and cellular biology major with a global studies minor, and I hope to be a doctor someday. I am interested in healthcare, public policy, history, biotechnology, and much more, and LAS has allowed me to explore all my various interests. LAS allows students to be a well-rounded individual, which is critical in finding a satisfying and meaningful job or internship.
The LAS Honors program has also prepared me for my future career goals by encouraging me to step out of my comfort zone and try new activities and classes I wouldn't have otherwise. It has allowed me to experience many different things LAS has to offer while also helping me and my peers to be more self-aware.
I could go on and on, but you get the point. The annual career fair, my LAS 101 class, the wide-ranging coursework, and my LAS Honors experience have all been part of helping me become a well-rounded student who is ready to take on the real-world with confidence!