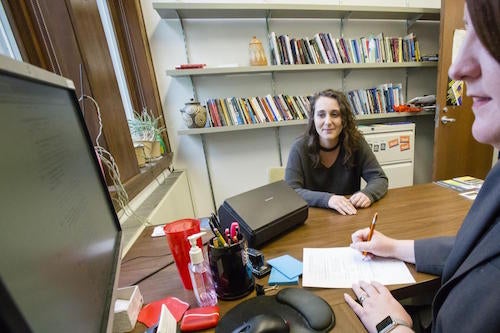 The LAS Student Academic Affairs Office supports the academic, personal, and professional development of every student. Through academic advising, we promote inclusive dialogue, recognize diverse experiences, encourage students to design their life and career, and to take responsibility for their success. 
Meet our Student Academic Affairs leadership team.
Hours: 8:30 am to 4:40 pm, Monday, Tuesday, Thursday, and Friday
10 am to 4:40 pm Wednesdays
College-level advising in response to COVID-19
Although the LAS Student Academic Affairs Office is not available for walk-ins, we are online during regular business hours (Monday, Tuesday, Thursday, Friday, 8:30 a.m. to 4:40 p.m.; Wednesdays, 10 a.m. to 4:40 p.m.) to assist you. 
If you would like to speak with a specific college-level advisor, please make an appointment. Select "LAS Student Academic Affairs Advising," "LAS AAP Advising," "LAS International Programs," "LAS Career Development" or "LAS Honors."
If you have time now and would like to speak with a dean or advisor, add your name to our virtual advising queue. You will then receive a Zoom meeting invitation from one of our staff and will have five minutes to accept that invitation. If you select a phone call option, an advisor will call you.
If you have a question that isn't urgent or you don't have the tools or time for a Zoom meeting, you may send a message to las-studentoffice@illinois.edu.

It may take up to three business days to respond, given the high volume of virtual communications we are experiencing

.
ICT info sessions
The LAS ICT Info Session scheduled for Tuesday, March 24 (11 a.m. CT) will be offered on the same date and time via Zoom. Students should plan to join the Zoom meeting using this link. At the end of the presentation, participants will be asked to register their attendance. When the session is over, those who attended will receive a link to our ICT request form. If you are not able to use the Zoom platform, please contact us and we will work on another method for our ICT information sessions in May.
Campus resources
The Student Assistance Center in the Office of the Dean of Students is continuing with virtual operations, 8:30 am to 5 pm, Monday through Friday. After 5  pm and on weekends, the Emergency Dean is available.
 
LAS college advisors can assist with:
Changing majors when you are already enrolled in another LAS major (curriculum changes)
Changing majors when you are enrolled in another college at the University of Illinois (intercollegiate transfer: ICT)  
Dual degrees
Transfer student applicants and Parkland Pathway information
Re-entry into the College of LAS
Questions about academic standing
Information regarding college policies and procedures
College advising holds
Withdrawal, late, or retroactive Drops
Final exam conflicts
Information regarding campus resources
Assistance of any kind
 
Our mission: