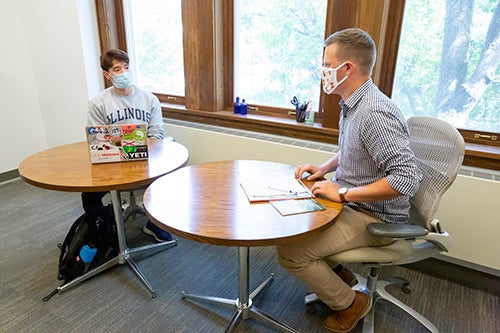 The LAS Student Academic Affairs Office supports the academic, personal, and professional development of every student. Through academic advising, we promote inclusive dialogue, recognize diverse experiences, encourage students to design their life and career, and to take responsibility for their success. 
Meet our Student Academic Affairs leadership team.
College-level advising in response to COVID-19
Student Academic Affairs Office encourages students to use the online methods of communication indicated below, including chat, online advising appointment calendar, queue and online forms for program change requests. 
Our offices are temporarily closed for walk-in traffic and we hope to resume our open door should campus conditions allow.
If you would like to speak with a specific college-level advisor, please make an appointment. Select "LAS Student Academic Affairs Advising," "LAS AAP Advising," "LAS International Programs," "LAS Career Development" or "LAS Honors."  Appointments will be held via phone call or Zoom.
If you have time between 8:30 am and 4:40 pm Monday through Friday, or 10 am to 4:40 pm on Wednesdays, and would like to speak with a dean or advisor, add your name to our virtual advising queue. You will then receive a Zoom meeting invitation from one of our staff and will have five minutes to accept that invitation. If you select a phone call option, an advisor will call you. 
If you have a question that isn't urgent or you don't have the tools or time for a Zoom meeting, you may send a message to las-studentoffice@illinois.edu.

It may take up to three business days to respond, given the high volume of virtual communications we are experiencing

.  
NEW! If your schedule or time zone makes it difficult to contact us during regular business hours, try our live chat feature Monday - Friday, 6:30 am - 8:30 am, or 7 - 9 pm CST.  Just click the 'chat with us' box below.
Campus resources
The Student Assistance Center in the Office of the Dean of Students is continuing with virtual operations, 8:30 am to 5 pm, Monday through Friday. After 5  pm and on weekends, the Emergency Dean is available.
 
LAS college advisors can assist with:
Changing majors when you are already enrolled in another LAS major (curriculum changes)
Changing majors when you are enrolled in another college at the University of Illinois (intercollegiate transfer: ICT)  
Dual degrees
Transfer student applicants and Parkland Pathway information
Re-entry into the College of LAS
Questions about academic standing
Information regarding college policies and procedures
College advising holds
Withdrawal, late, or retroactive Drops
Final exam conflicts
Information regarding campus resources
Assistance of any kind
 
Our mission: