LAS offers resources to help students find success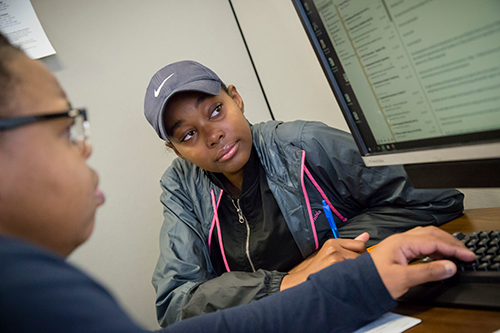 Being engaged as a student will guide you to many different resources, aid in your collegiate journey, as well as, help you focus and stay motivated. By investing in yourself and investing in your network, you can have meaningful experiences, explore your passions, and progress towards success. Success is different for everyone, but is typically defined by the achievement of your desired visions and life goals.
As we look at student engagement and success, some of the College of Liberal Arts & Sciences academic advisors and intern shared insight on how LAS supports students' academic, personal, and professional development. 
Tenaya Reifsteck, assistant director of advising
Tenaya says that the College of LAS uses a holistic approach when working with students, because they recognize that students' academic, personal, and professional development are intertwined. It is important to help students identify academic paths that will fulfill their personal goals and interests, as well as help them connect with experiences outside of the classroom to support their personal and professional development. She believes students are the future and their LAS experiences are molding them into the people and professionals they desire to be in the future.
Tenaya believes being a part of the students' journeys is rewarding and having the opportunity to see their evolution throughout their time at Illinois is quite special. When students leave her office, she makes certain they have plans of action. This might include setting up regular check-ins, adjusting class schedules, changing their majors, or asking questions about different campus resources. Tenaya hopes that when students leave her office they know what's available to them and that they have the support to help them when they face challenges thrown their way. 
Steven Cox, academic advisor for general curriculum 
Steven interacts with many different students throughout the day and stresses to each that LAS offers a multitude of support opportunities for students to utilize. Academically, LAS offers drop-in advising where they address items such as student crises, academic probation, processing major changes, late or retroactive drops and withdrawals, etc. For personal success and engagement, LAS offers support through the first-year experience program, international program, and the Life + Career Design Lab. These programs help students find their paths and explore different interests. As far as professional development, LAS hosts a career fair, implements programs such as LAS Success workshops, encourages undergraduate research and study abroad, and helps students develop leadership skills. 
Steven believes that investing time, skills, and resources in students is a way to help them create a better future. The LAS office is extremely supportive and values every student that comes into the office so that they can one day give back to Illinois. This will only happen if students feel welcome and later remember LAS as a home for engagement and positivity.
Steven does not follow a set plan for every student, because every student is different. He is rooted in developing rapport with students, creating a welcoming environment, letting them know that as advisors they have their best interests in mind, and that they will explore many options for a solution. Students are his top priority and their wellbeing is important to him. Students should utilize the resources they have at their fingertips, and, if there is a challenge, know they can solve it in a professional manner. One key message that Steven likes to leave with his students is about the "return on investment" of their actions in class selection, work experience, and student group participation. 
Brian Neighbors, director of career development 
The LAS Life + Career Design Lab is one of the best resources for students who are in the College of LAS. Brian says academic advisors, faculty members, and college staff support students' academic development through helping identify majors, minors, electives, and semester schedules that are of interest and building skills to use in the future. LAS supports personal development through leadership opportunities and providing services to help students take an active role in their physical and mental wellness. The Life + Career Design Lab and other units in the college help students through career coaching, resume reviews, job search help, and more.
When helping students find a career path, LAS has a lot to offer with courses, events, workshops, and coaching that help students no matter where they are in the process. It is vital that students get involved early and start networking. Brian suggests students attend career fairs, update your resume, explore internships, and talk with alumni and other professionals. LAS 201: Design Your Illinois and LAS 250: Design Your Life + Career help students build valuable skills that employers are seeking today. Handshake @ Illinois, is also a great place for students to look for jobs and internships. To learn more about these opportunities, visit the Life + Career Design Lab or department career office. 
Ariana Daneshbodi, Hood intern 
From a student perspective, Ariana believes that LAS offers a wide range of opportunities for involvement. Undergraduate research, study abroad, or LAS internships are all great ways to discover or solidify academic pursuits, develop deeper cultural awareness, and build valuable skills such as communication and problem solving. Going to The Career Center and The Writer's Workshop can also aid students in applying for jobs, internships, and graduate school. Ariana says that investing in your future as a student ensures a smoother transition into the next steps of adult life.
Whether it be a job, graduate school, or something else, we all have goals for ourselves. These pursuits are what brought us here in the first place. There are so many resources available to us as U of I students and taking advantage of them can help turn our dreams into realities. Because she is involved in undergraduate research, she leans on her cohort for support. Their guidance and assistance helped her when applying to graduate school and into a PhD program. 
Ariana believes there is an opportunity in LAS for everyone to become engaged and prepared for success. Her biggest advice to students is to get involved early and get out of your comfort zone.